| | | | |
| --- | --- | --- | --- |
| Two way Loudspeaker cross-over | | | |
The resistance of loudspeakers is characterized in a frequency depending on the destination and their press. Loudspeakers are distinguished, as for the destination, in loudspeakers of low frequencies, woofer intermediate, mid-range and high tweeter. Their resistance in W is 4W, 8W and 16W. Cross-over that we present it is intended for loudspeakers 8W. The loudspeakers are distinguished by various characteristics that him make distinguish between them. That characteristics that us interest for the manufacture that we make, are their complex or more simply resistance and diagram that us gives the relation of attribution of sound as for frequency (sensitivity).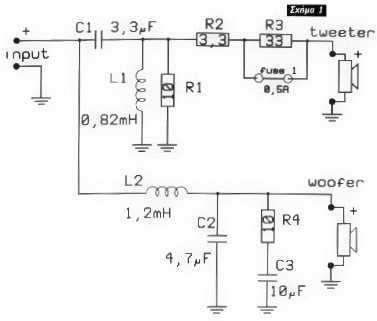 Cross-over they are netting usually with passive materials that have aim to separate a region of frequencies in smaller. Cross-over the manufacture that to you we offer it separates the acoustic region in two sub areas in order to we lead two loudspeakers for the high frequencies and for low. Cross-over they are essentially for the operation of combination of loudspeakers. Without them, two things happen: on one side are led all the frequencies simultaneously to different loudspeakers and otherwise is consumed pointlessly force in loudspeakers that cannot him attribute rightly. Cross-over depending on the number of loudspeakers that leads they are distinguished in two streets and three streets, even if they can result also complexes. The each region is figuratively named street, through which will pass the corresponding region of frequencies in order to it leads the corresponding loudspeaker. The simpler system is that of two streets. In that acoustic region it is separated in two sub areas with two filters: one of low passage and one high. The filter of low passage leads the loudspeaker for the low frequencies and the filter of high frequencies the loudspeaker for the high frequencies. The loudspeaker for the low frequencies is known as woofer and the loudspeaker for the high frequencies as tweeter.