| | | | |
| --- | --- | --- | --- |
| 4x15Watt 12volt power audio amplifier | | | |
While I would have liked a 4 channel chip with about 20 Watt per channel, the local parts store didn't have any yet, so I opted for two TA8215AH stereo chips, selected by their low price in this particular store. The design? Oh well, there isn't much to it. The circuit I used is almost an exact copy of the circuit suggested in the Toshiba data sheet. I only made a very few changes, but including an important one - the one that makes it possible to use this circuit in a computer, without getting power supply and hard disk noise!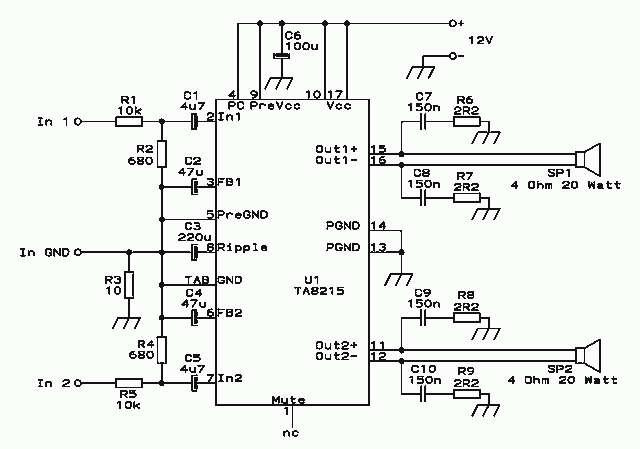 These chips can deliver 15 Watt RMS per channel, into 4 Ohm loudspeakers. That's more than enough even for loud home use. The peak power current consumption, when saturating all four channels at the same time, would be 12A, which gives good chances that the computer won't reset from power supply shutdown in such a situation! When using 8 Ohm speakers, the output power and the current consumption are cut down to one half. In fact, that's my situation, because my present speakers are 8 Ohm. The amplifier has a typical distortion in the neighborhood of 0.04%. That's good enough, in my opinion, for a computer sound system, while surely with discrete parts I could have obtained even lower distortion. The gain delivered by the TA8215 is a whopping 50dB, which is MUCH more than needed. So I had to include an attenuator at the input, in order to be able to use the full dynamic range of the sound card. Here is the complete schematic diagram of one stereo amplifier. Of course, I used two of these for my quad amplifier - and if you want, you can use three to make a 5.1 amplifier! You can click the schematic to get a higher resolution version for printing. R1 with R2 forms a voltage divider that attenuates the input signal by 24dB. Considering the chip's 50dB gain, that still leaves 26dB overall gain, slightly more than enough to fully saturate the amplifier when the sound card works at maximal output. C1 blocks DC at the...