| | | | |
| --- | --- | --- | --- |
| 60W Bass Amplifier and Preamp | | | |
This design adopts a well established circuit topology for the power amplifier, using a single-rail supply of about 60V and capacitor-coupling for the speaker(s). The advantages for a guitar amplifier are the very simple circuitry, even for comparatively high power outputs, and a certain built-in degree of loudspeaker protection, due to capacitor C8, preventing the voltage supply to be conveyed into loudspeakers in case of output transistors' failure. The preamp is powered by the same 60V rails as the power amplifier, allowing to implement a two-transistors gain-block capable of delivering about 20V RMS output. This provides a very high input overload capability.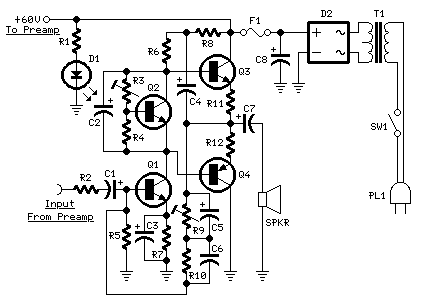 The value listed for C8 is the minimum suggested value. A 3300µF capacitor or two 2200µF capacitors wired in parallel would be a better choice. The Darlington transistor types listed could be too oversized for such a design. You can substitute them
Recommended videos
Good quality audio pre amp with volume/ bass/ high/loudness control (schematic)

Make a Great Sounding LM386 Audio Amplifier with Bass Boost
News
Home Theater Review

It features local HDMI, coaxial, and analog outputs, but it can also pass to the new M-120e four-zone via a single CAT-5e cable. Together, the two new products can deliver a two-stream/four-zone system for $1,995. The MMS-1e and ...<

Custom PC Review

Custom PC Review Following Sennheiser's launch of the GSP 300 gaming headset, Sennheiser is also launching the GSX 1000 and GSX 1200 PRO gaming . Key features of the Sennheiser GSX 1000 include an onboard DAC (Digital to Analog Converter)

Yahoo News

Yahoo News The company proved this at Gamescom last week with the introduction of the first in a new line of gaming headsets and two new aimed at those who want to take their gameplay to the next level. "We're very excited to be in

SlashGear

Techaeris Sennheiser has taken the wraps off three new audio products: a pair of audio amplifiers, the GSX 1200 PRO and the GSX 1000, for PC and Mac, as well as a ...Sennheiser unveils range of new gaming products at Gamescom ...Tech

CEPro

CEPro Take Power to the Next LevelWe will be launching our new Architect distributed that offer higher power levels, digital audio inputs and feature compact 1U and 2U chassis. Additionally our new Director 'M' series offers full signal

Gizmodo Australia

Gizmodo Australia For Hardcore PC GamersWith aviation-grade acoustic sealing, the new GSP 300 headset will work on PC and Mac, as well as PS4 and Xbox One, and it's joined by two new standalone that promise the best possible sound sound

WhaTech

market 2016 raw material suppliers, equipment ...Global Audio IC and Market 2016 (Major Manufacturers profiled in this research report):- Cirrus Logic, Qualcomm, Yamaha, Realtek, TI, ADI, ON Semiconductor, STMicroelectronics, NXP, Dialog,

Electronic House

Electronic House There are so many ways to enjoy audio in your home. You can relax in a particular room of the house and be engaged in a movie soundtrack. Or you can stroll ...Marantz Introduces Nine-Channel SR6011 AV ReceiverHome Th

CNET

CNET

CNET For my taste, the Woo Audio WA7tp Fireflies headphone amplifier is the best looking component of this century. I mean that, pictures don't do it full justice.
Components & Modules Datasheets