| | | | |
| --- | --- | --- | --- |
| High fidelity amplifier circuit | | | |
This circuit for a compressor uses a high-fidelity external op amp, and a high gain and wide bandwidth. A compensation network input is necessary for stability. The rectifier capacitor (Cg) is not grounded. but it is linked to the output of an op amp circuit.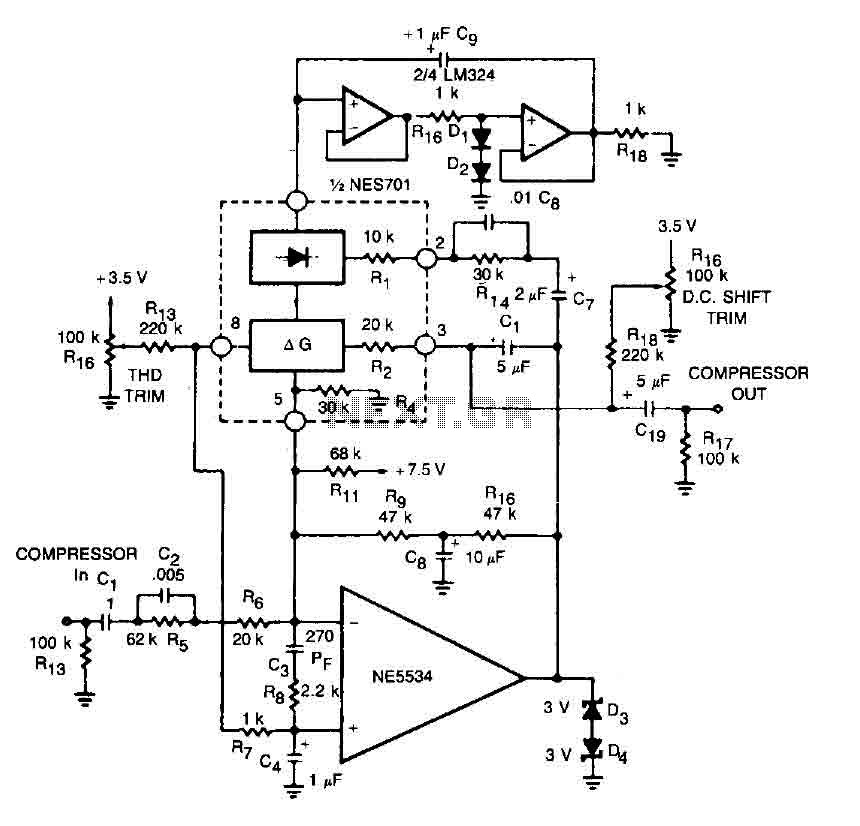 When a compressor is running at high gain (input signal of small size), and is suddenly struck by a signal, overload.
Recommended videos
Electronics:

Mini Hi-Fi PAM8610 Audio Stereo Amplifier Circuit Board Dual Channel D Class 12V

Electronics: Basic Amplifiers 1963 US Army Training Film
News
Electronics EETimes (registration)

Electronics EETimes (registration) targets car infotainmentThe TAS6424-Q1 from Texas Instruments is a 2.1MHz Class-D specifically designed for automotive applications. Supporting high-resolution 96-kHz digital input, the 10.35x18.42mm u

Audio Media International

Audio Media International chosen for China's Jinguan TheatreThe sound reinforcement kit was supplied to Xi'an Genius & Vision Technology Co. Limited, and system design was carried out by Zhang Xianjun from EZPro's Xi'an office. His

Guitar World Magazine

Guitar World Magazine In this new video, which was posted today over at Guitar World's YouTube channel, Guitar World Tech Editor Paul Riario demos and discusses Positive Grid's ...

CEPro

CEPro over EthernetLeverage an existing wired network for whole-home distribution, and stream from any eSeries-enabled Mirage Music Player to multiple eSeries . eSeries devices can pass streams directly from media server to without&n

Stereophile Magazine

SI-300.2d integrated My entrée to high-end was in the late 1990s, when I bought a used pair of Cary CAD-572SE tubed monoblock to add to my Marantz CD player, Note M2 preamplifier, and ProAc Response One SC loudspeakers. This syst

TV Technology

Crystal Vision has released two audio distribution amplifiers for its new Vision frame system – the DADA-VF for AES and the AADA-VF for analog audio.

Audioholics (press release) (registration) (blog)

7140 7CH PreviewOutlaw had lofty goals when designing their 7140. How do you take a great and give it increased power, improved performance, greater reliability, AND an enhanced user experience for only $100 more than the original price

Forbes

Forbes Mid-Range Streaming Hi-Fi Offers Big Sounds At Affordable PricesAs a and, Camidge has been around since the late 1960s and it's built up a reputation for excellence and affordability. It's latest range of network players and inte

Home Theater Review

Meridian-258.jpg Meridian has introduced the Meridian 258 targeted at the custom installation marketplace. This compact, rack-mountable eight-channel Class D delivers more than 100 watts per channel into four ohms and 70 watts ...