The schematic shown, does no need any power supply because is a simple low frequency passive filter. It could be usefull if you want to drive an extra subwoofer from your stereo system.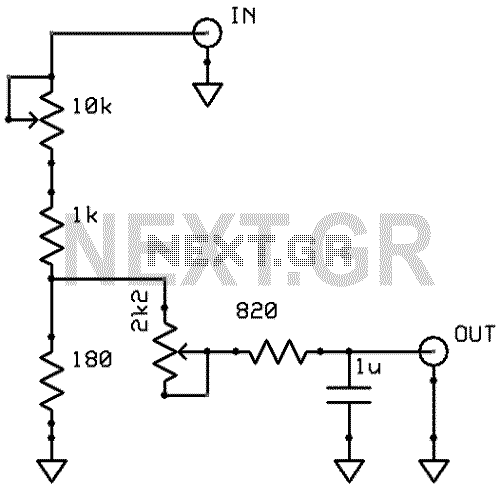 The circuit filters the frequency ranges above the 150Hz. The schematic is calculated to work with a 50 watts audio amplifier, but can be used with higher powers as well. The frequency can be adjusted with 2k2 potentiometer from 50 Hz to 160 Hz.
Recommended videos
Passive RC low pass filter tutorial!

Passive low pass RL filters

Passive RC high pass filter tutorial!
News
Economic Times

Economic Times Tung explained that he was inspired to create ForcePhone after seeing 2008 Batman flick "The Dark Knight", in which the caped crusader turns all the smartphones in Gotham City into a sonar system as high-frequency signals boun

MusicRadar.com

MusicRadar.com Compression acts on relative frequency levels, amplifying quiet frequencies and attenuating loud ones. Tone controls a high-shelf . Flattening (A only) is similar to Compression but only amplifies quiet frequencies where they o

Arkansas Online

... and the Word was God." At one point, Taunton suggested that Hitchens record this text to sell as an book. ... Finally, Taunton recalled that Hitchens, during the Shenandoah trip, was surprised to see a store display of "No Tar" cigarette

Idaho State Journal

Idaho State Journal Idaho lawmakers approved a proposal a few months ago that made the Legislature's video and archive permanent. This good decision will long improve how the public interacts with and monitors state government. From now on,

Gizmag

Gizmag The synth, which occupies one side of the wedge, packs a variable width pulse oscillator and a sawtooth oscillator and a digital low pass . There's also a basic ... There's a headphone-friendly out to help get your creations heard. To

AnandTech

AnandTech ... ushed aluminum and wood veneer, but when the product hits the market, other options could emerge. Due to its cylindrical form-factor and a tricky internal architecture, the Ola from Cryorig will have a limited amount of external

EDN.com

line vanquishes noiseWhen inserted in lines, TDK's MAF1608G noise suppression for cellular bands keeps the total harmonic distortion and noise (THD+N) of the signal at 0% (1 kHz, 8 Ω, 1 W). The device provides a current rating of

IHS Electronics360

Quiets DevicesDesigned for insertion into lines, the MAF1608G noise suppression from TDK Corporation keeps THD+N of the signals to very low levels. At the same time, the miniature component (1.6 mm x 0.8 mm x 0.8 mm) features a high ra

GearNuke

GearNuke Uncharted 4 has some unlockable render modes including a cel-shared and various . These can be unlocked by using points that are acquired by finding the collectibles in the game. The following render modes and can be ...