This circuit performs the function of dividing the input signal by a selected constant (1, 2, 4, 8, etc.). While T, Z, or L sections could be used in the input attenuator, this is not necessary since the amplifier loading is negligible and a constant input impedance is maintained. The circuit is thus much simpler and more accurate than the usual method of constructing a constant impedance ladder, and switching sections in and out with analog switches.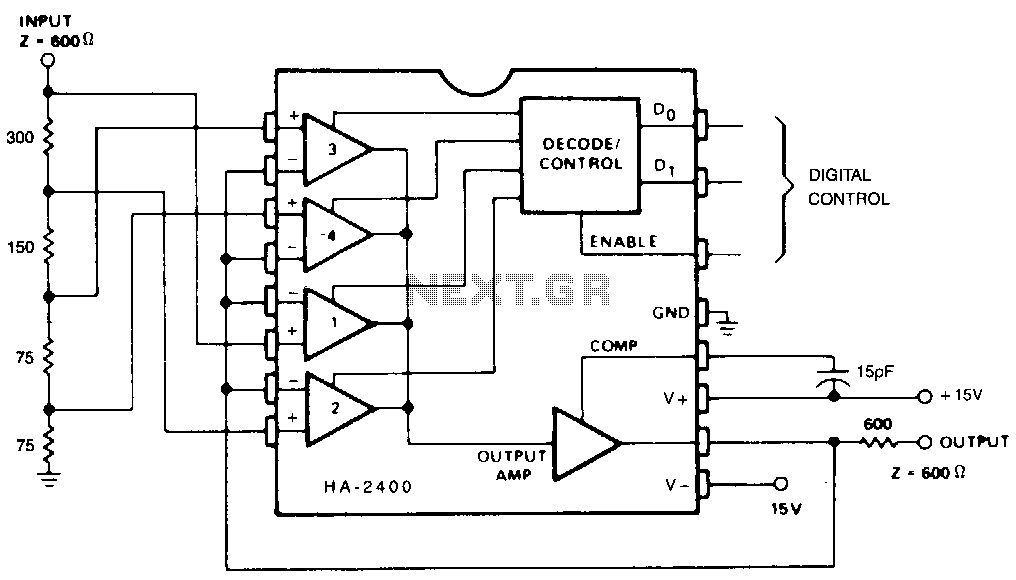 Two identical circuits can be used to attenuate a balanced line.
Recommended videos
low cut - high pass active R-C audio filter (schematic)

Passive RC low pass filter tutorial!
News
The Boston Globe

The Boston Globe It could also mean using one of a suite of "smart " that can tamp down a jet engine or boost a friend's voice at a noisy cafe. Early reviews suggest the Here One is still working out some kinks in connectivity qua

The Verge

The Verge The thing to know with the way Here One uses this technology is that, right now, what you can do with and the "Live Remix" — an equalizer in the app that lets you raise or lower specific frequencies of the world around you &

Neowin

Neowin myFFmpeg is a graphical front-end for FFmpeg, a command-line tool used to convert multimedia files between formats. The command line instructions can be very hard to master/understand, so myFFmpeg does all the hard work for you. This a

TWCN Tech News (blog)

TWCN Tech News (blog) converter software fre:ac isn't a look but better than mostYes, fre:ac does support the addition of various before converting. We did not use this feature, so we're unable to say for sure how well it works, if at a

The Next Web

The Next Web Sure, you can slap on a filter or some stickers like a commoner – or you can turn it up to 11 with Riffjam. This inventive iOS app, from the makers of the AI-based soundtrack generator Jukedeck, takes a short video clip and

ARRL

The content on this download is divided into folders which contain software for a variety of ham radio applications. You'll find handy software tools for decoding CW, creating custom DSP , and more. Bonus files include ARRL screensavers <

InfoQ.com

Liary Howler.js Has 2.0 Release to Make Some Noise about... Released Simpson describes howler.js as a "modular liary" saying that it allows for "a lean core that can be extended to add more advanced functionality, such as the wealth of tool

GearNuke

Uncharted 4 has some unlockable render modes including a cel-shared filter and various . These can be unlocked by using points that are acquired by finding the collectibles in the game. The following render modes and can be ...

Wired

Wired More importantly, Smule has ported its technology to enhance an often missing feature in other video sharing apps. While apps like Viddy allow you to add background music to a video, Strum provides as well. Each of the 21 filters