This circuit detects the presence of audio (voice) on the output of a scanner. If the scanner stops on a `dead carrie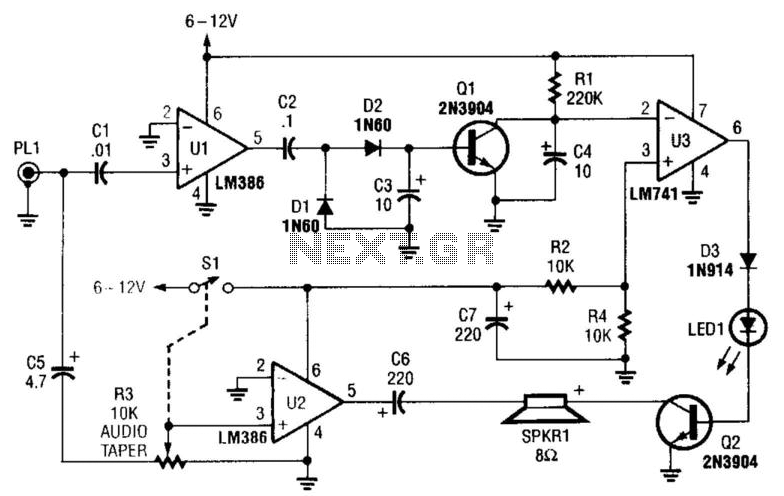 r` or noise, the circuit mutes the speaker to avoid annoying noise. Ul amplifies speech and drives rectifier D1/D2 and switch Ql. Comparator U3 drives speaker switch Ql and indicator LED1. Q2 completes the speaker path to ground. U2 is an audio amplifier to drive the speaker. R3 is a volume control. PL1 connects to the scanner speaker or to the headphone jack.
News
Inverse

Inverse ... and a free hour or so (if you had a "high speed" 56k modem) to upload a picture — Yahoo Chat! served up what was cutting edge technology: custom fonts and text color, emojis, macros, soundboards, custom avatars,

Sports Video Group

Sports Video Group As two companies working to elevate the production values and quality of online content creation, Made In Network ultimately decided to outfit their new studio with Sony's 4K and HD professional cameras, lenses, wireless a

Softpedia News (blog)

Open the File menu to create a New Note or press Ctrl+N. You can write the message and Add tags by entering text on the bottom part of the note window, search through the notes by clicking the All Notes box on the upper-left side and entering te

Audio Media International

Audio Media International The first Unity B.A.B.E (Boulder Active Bass Extender) installation has been completed at the studio of Isle Of Wight-based composer, producer and remixer Andy Gray. A long-time Unity user, Gray has added B.A.B.E to

Premier Guitar

Premier Guitar Wonderlove ReviewYou can thank Mike Beigel for nearly 45 years of quacking and bubbling guitar tones. Beigel's Mu-Tron III, introduced in 1972, was the first envelope —a wah-like effect where the is controlled not b

Hackaday

Hackaday This amplifies the desired signal, which is then sent to a demodulator, a device which extracts the required information from the carrier signal. In a simple radio, this would be the signal that was encoded by the transmitter. Final

Awful Announcing

Awful Announcing The -only version of the show also includes a short intro and outro that the hosts record themselves, a nice added touch for people who cannot (Canadians) or do not watch the show on TV. The nightly podcast is separate from O

EDN.com

line vanquishes noiseWhen inserted in lines, TDK's MAF1608G noise suppression for cellular bands keeps the total harmonic distortion and noise (THD+N) of the signal at 0% (1 kHz, 8 Ω, 1 W). The device provides a current rating of

GearNuke

GearNuke Uncharted 4 has some unlockable render modes including a cel-shared and various . These can be unlocked by using points that are acquired by finding the collectibles in the game. The following render modes and can be ...