| | | | |
| --- | --- | --- | --- |
| UPC1651 FM wireless microphone circuit | | | |
Circuit as shown. This circuit uses NEC Corporation of Japan as a major production upc1651 integrated circuit device, the circuit gain high, stable, thus ensuring high performance microphone. It consists of using the FM transmitter circuit.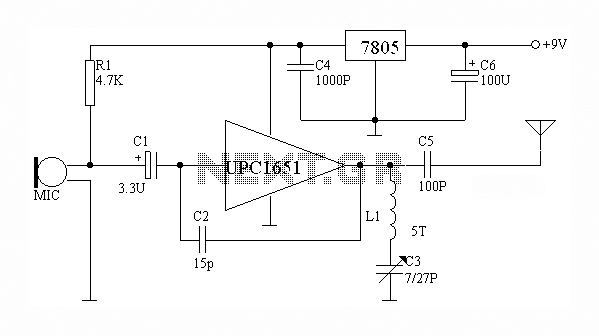 It is used as a drag line 40--50cm flexible antenna, the effective transmission range is greater than 30M. Carefully adjust the spacing L and fine-tuning capacitor, it can transmit frequency coverage of 88--108MHZ. FIG diameter L 0.51mm enameled wire around five laps were derived from the 4mm diameter cylindrical.