The proposed mixer is designed around four current-driven transconductance amplifiers contained in an SSM2024 from Precisio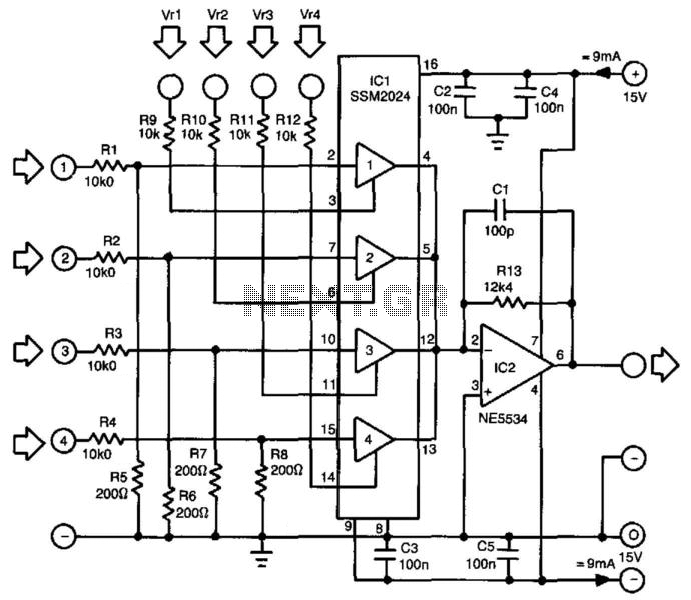 n Monolithics. To obtain a low offset and high control rejection, the four inputs should have an impedance to earth of about 200 . These impedances are obtained from resistors R5 through R8, which also form part of a potential divider at each input. With the values in the diagram, the nominal input signal is 1V (0 dBV). Distortion at that level is about 1%; at lower levels, it is not more than 0.3%. The amplification of the current-driven amplifiers (CDAs) is determined by the current fed into the control inputs. These inputs form a virtual earth so that calculating the values of the bias resistors (to transform the inputs into voltage-driven inputs) is fairly simple. The output currents of the amplifier are summed by simply linking the output pins. The current-to-voltage converter, IC2, translates the combined output currents into an output voltage. The value of R13 ensures that the amplification of IC2 is unity.
Recommended videos
Build your own audio mixer (mint tin, passive, no voltage)

simple passive DIY audio mixer demo

The Best Audio Mixer Under 100? 10 Channels?!
News
IT Business Net

IT Business Net With this groundeaking software, conference organizers only need two laptops to provide real-time, United Nations style interpretation for hundreds of ...

SHOOT Online

A kindergarten teacher clearly needs to get away as we see here in the midst of chaos in her classroom. The remedy: a vacation for which hotel accommodations can be planned with ease via Booking.com. Jared Hess of Community Films directed this s

Audio Media International

Dugan automixing and MixAssist are made available at no extra cost, while greater Sennheiser integration is also introduced across the entire 6-series range.

Yahoo Finance

Yahoo Finance

BURLINGTON, Mass., Feb. 21, 2017-- Avid ® today congratulated its award-winning and nominated customers for their outstanding achievements in sound ...

WFAE

WFAE Kevin O'Connell Finally Win His Oscar?His desk is an mixing board that spans the length of the room. He sits behind hundreds of buttons that glow and blink and rows of worn-out faders. His early work includes sound for classic fil

Hollywood Reporter

Hollywood Reporter Society Award for Sound MixingLa La Land danced off with the Cinema Society's award for sound mixing in a live action feature film, during the 53rd annual CAS Awards, Saturday at the Omni Los Angeles Hotel. The award

Hollywood Reporter

Hollywood Reporter The Cinema Audio Society will host its 53rd annual CAS Awards for outstanding achievement in sound mixing on Saturday at the Omni Los Angeles Hotel.

Military Technologies

Market Professional Survey 2017 Review With Current Demand and Forecasts 2021This 2017 market research report on Global Market Professional Survey is a meticulously undertaken study. Experts with proven credentials and a high standing with

SHOOT Online (press release)

SHOOT Online (press release) Services' Re-Recording Keith Rogers and Scott Weber Garner CAS Award Nomination for ...South Lake Services Re-Recording Keith Rogers, CAS and Scott Weber have received a nomination in the Cinema Society's