The proposed mixer is designed around four current-driven transconductance amplifiers contained in an SSM2024 from Precisio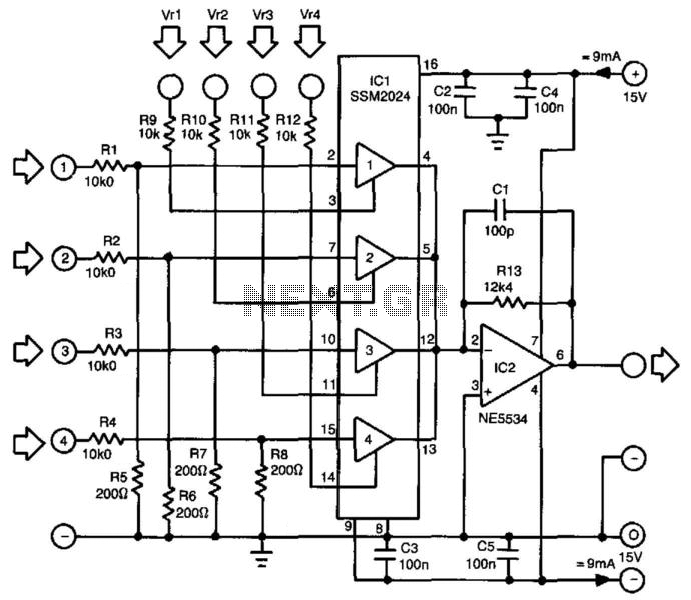 n Monolithics. To obtain a low offset and high control rejection, the four inputs should have an impedance to earth of about 200 . These impedances are obtained from resistors R5 through R8, which also form part of a potential divider at each input. With the values in the diagram, the nominal input signal is 1V (0 dBV). Distortion at that level is about 1%; at lower levels, it is not more than 0.3%. The amplification of the current-driven amplifiers (CDAs) is determined by the current fed into the control inputs. These inputs form a virtual earth so that calculating the values of the bias resistors (to transform the inputs into voltage-driven inputs) is fairly simple. The output currents of the amplifier are summed by simply linking the output pins. The current-to-voltage converter, IC2, translates the combined output currents into an output voltage. The value of R13 ensures that the amplification of IC2 is unity.
Recommended videos
Build your own audio mixer (mint tin, passive, no voltage)

simple passive DIY audio mixer demo

Yamaha MGP32X Overview - Yamaha MGP32X 4 Bus Mixing Console
News
The Missourian

The Missourian This will allow for attorneys to speak to judges with a higher volume than they do now when asked to approach the bench. Generally, those conversations are not to be heard by the jury. The work also includes the installation of

Stoney Roads

Stoney Roads For all your wanted and unwanted audio equipment, who's making the move from records?

TV Technology

Lets Six-Time EMMY® Award Winner Tom Pesa Give the Orchestra for the ..."Everyone was able to dial in exactly what they wanted to hear," says Tom Pesa, a six-time EMMY® Award winner who managed monitor and foldback for

Commercial Integrator

Commercial Integrator -over-IP Takes Center Stage at San Jose State UniversityAudio from the Hammer Theatre Center, as well as the University Theater and Hal Todd Studio on campus, is mixed using a Yamaha QL live digital and recorded ont

Sonic State

Sonic State

Sonic State PreSonus has been in touch to tell us that they are shipping the Studio Magic Plug-in Suite for the company's popular Studio One 3 DAW for Mac and Windows.PreSonus unveils Studio Magic plug-in suiteAudio Media International

Radio World

Telephone audio plays an important part in radio. But using a telephone with a nontraditional audio board — the typical inexpensive multipurpose — can be a little challenging, and confusing to a novice. Many people who are newer

TV Technology

TV Technology Phil Peters, Director of Audio Services and FOH Mixing Engineer for Christian Broadcast Network (CBN), chooses to use tools from Waves Audio, including the ...

Audio Visual News Network

Yamaha has released a firmware update for the company's TF series digital with TouchFlow Operation, inging with it expanded networking capability. The company has also released a version 4.1 update for its CL and QL digital consoles, ...<

PR Web (press release)

Firmware update—version 3.1—allows TF consoles and the recently released TF-RACK equipped with an NY64-D Dante™ interface card to connect to audio ...