The proposed mixer is designed around four current-driven transconductance amplifiers contained in an SSM2024 from Precisio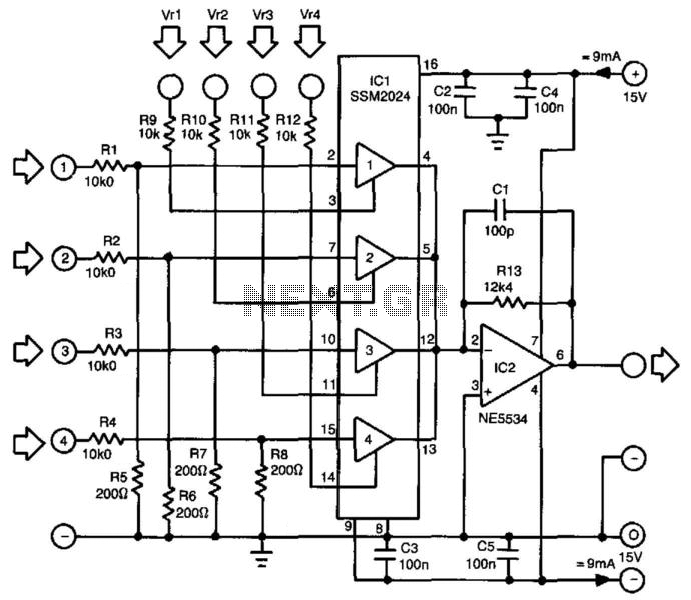 n Monolithics. To obtain a low offset and high control rejection, the four inputs should have an impedance to earth of about 200 . These impedances are obtained from resistors R5 through R8, which also form part of a potential divider at each input. With the values in the diagram, the nominal input signal is 1V (0 dBV). Distortion at that level is about 1%; at lower levels, it is not more than 0.3%. The amplification of the current-driven amplifiers (CDAs) is determined by the current fed into the control inputs. These inputs form a virtual earth so that calculating the values of the bias resistors (to transform the inputs into voltage-driven inputs) is fairly simple. The output currents of the amplifier are summed by simply linking the output pins. The current-to-voltage converter, IC2, translates the combined output currents into an output voltage. The value of R13 ensures that the amplification of IC2 is unity.
Recommended videos
Young Guru

Alesis MultiMix 4 USB FX Mixer Overview - Sweetwater at Winter NAMM 2014

Unboxings | Trident 4-Channel Mixing Console
News
Equities.com

Equities.com Aftermaster, Inc. operates as a diversified media and technology company in the United States. It develops and commercializes proprietary audio and video ...

KIRO Seattle

KIRO Seattle KIRO-TV is an Equal Opportunity Employer. In accordance with the FCC's EEO regulations, any organization that regularly distributes information about ...

Bloomberg

Bloomberg Kuok Meng Ru didn't spend much time with his billionaire father when he was growing up. As the third child of an agribusiness tycoon, he was sent off to a ...

Sports Video Group

Sports Video Group For unilateral coverage, NBC Olympics takes the submix of the OBS ambient feed for the general crowd atmosphere plus some of the near-crowd feeds so that the can have better control over shaping the sound field. "The

Live Design

Live Design Dolby Atmos surround sound technology, which delivers captivating sound that places and moves specific sound anywhere in the room, including overhead, has ...

Engadget

Engadget has a PC insideNative Instruments, which makes Traktor devices, is working with Thud Rumble to create an interface. The final Invader will have the usual ports, including the ability to switch to phono so DJs can scratch actu

Broadcasting & Cable

Broadcasting & Cable AMSTERDAM, NETHERLANDS, AUGUST 11, 2016 — Sound Devices, LLC is pleased to announce that it will be showcasing its 688 mixer/recorder with ...

Live Design

Live Design NEW YORK, AUGUST 9, 2016 – Freelance Sound Mixer Matt Sonnenfeld has been using Sound Devices equipment, such as the 633 and 688 field production ...

Broadcasting & Cable

Broadcasting & Cable LOS ANGELES, AUGUST 2, 2016 — When Simon Farmer started out in the audio industry 27 years ago, he was armed with a desire to learn and a passion for ...
Components & Modules Datasheets