The proposed mixer is designed around four current-driven transconductance amplifiers contained in an SSM2024 from Precisio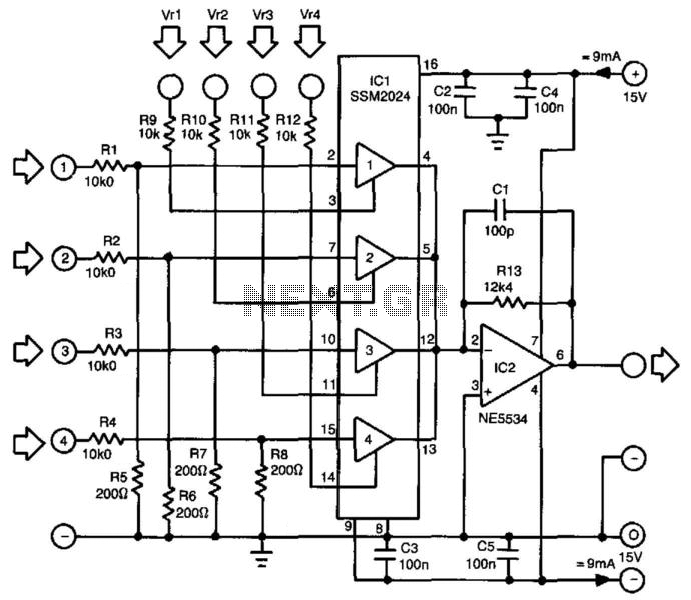 n Monolithics. To obtain a low offset and high control rejection, the four inputs should have an impedance to earth of about 200 . These impedances are obtained from resistors R5 through R8, which also form part of a potential divider at each input. With the values in the diagram, the nominal input signal is 1V (0 dBV). Distortion at that level is about 1%; at lower levels, it is not more than 0.3%. The amplification of the current-driven amplifiers (CDAs) is determined by the current fed into the control inputs. These inputs form a virtual earth so that calculating the values of the bias resistors (to transform the inputs into voltage-driven inputs) is fairly simple. The output currents of the amplifier are summed by simply linking the output pins. The current-to-voltage converter, IC2, translates the combined output currents into an output voltage. The value of R13 ensures that the amplification of IC2 is unity.
Recommended videos
How to set up a basic audio mixer (Audio mixer tutorial 1)

Alesis MultiMix 4 USB FX Mixer Overview - Sweetwater at Winter NAMM 2014

simple passive DIY audio mixer demo
News
Sonic State

Following up on the success of its StudioLive RM16AI and RM32AI 32x16x3, rack-mount Active Integration digital , PreSonus tells us that they are now shipping two new StudioLive RML-series models that offer line-level inputs, in addition to t

Huffington Post

Huffington Post )This three day global conference will feature hundreds of educational opportunities including workshops, expert panels, networking and plenaries with keynotes from prominent LGBT and ally leaders. More than 3,500 LGBT em

Live Design

Live Design She also served as International Sales Manager for AETA Systems in Paris, France, working with pro and oadcast recorders, and codec products. "I'm very pleased to have Claudia on our team at Celestion. Her experience in c

Broadcasting & Cable

WATERTOWN, MA, SEPTEMBER 27, 2016 — When Aaron Frutman, Director of Photography and Partner at DGA Productions, was looking for a reliable ...

NewsMaker (press release)

Industry: 2016 Global Market Size, Growth, Trends and 2021 Forecast ReportThe Global Industry Report 2016 is a professional and in-depth study on the current state of the industry. The report provides a basic overview of the industry incl

Chicago Tribune

The Nation The startup is funded by private investors, including Kuok's father and JamHub Corp., a maker of . "Our growth in digital has been fantastic, but long term, my dad and myself recognize that in order to truly grow and truly transfor

Audio Media International

Audio Media International "With studio quality, 96 kHz, Burr-Brown converters and integrated preamp and Fat Channel control from Studio One 3.2, RML make great interfaces, in addition to unrivaled ." AVB Ethernet networking allo

Broadcasting & Cable

SAN FRANCISCO, SEPTEMBER 20, 2016 — Claudia Katayanagi has had a long career in sound mixing and recording that has taken her on location with HBO ...

Broadcasting & Cable

Broadcasting & Cable AMSTERDAM, SEPTEMBER 7, 2016 — Sound Devices unveils Wingman, its newest wireless remote control option for the 6-Series mixer/recorder line, at IBC ...