The proposed mixer is designed around four current-driven transconductance amplifiers contained in an SSM2024 from Precisio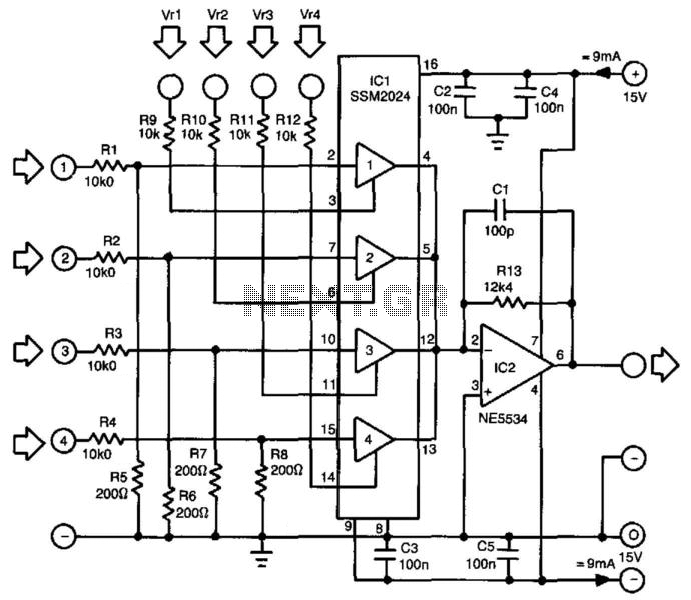 n Monolithics. To obtain a low offset and high control rejection, the four inputs should have an impedance to earth of about 200 . These impedances are obtained from resistors R5 through R8, which also form part of a potential divider at each input. With the values in the diagram, the nominal input signal is 1V (0 dBV). Distortion at that level is about 1%; at lower levels, it is not more than 0.3%. The amplification of the current-driven amplifiers (CDAs) is determined by the current fed into the control inputs. These inputs form a virtual earth so that calculating the values of the bias resistors (to transform the inputs into voltage-driven inputs) is fairly simple. The output currents of the amplifier are summed by simply linking the output pins. The current-to-voltage converter, IC2, translates the combined output currents into an output voltage. The value of R13 ensures that the amplification of IC2 is unity.
Recommended videos
Build your own audio mixer (mint tin, passive, no voltage)

Yamaha MGP32X Overview - Yamaha MGP32X 4 Bus Mixing Console

Rockville RPA6000UWM 1000 Watt 4 Channel Pro/Karaoke Amplifier
News
Macworld

Macworld The VocoPro WirelessMix-2 ($699 MSRP; $498.90 on Amazon) combines a pair of UHF wireless microphones with a capable of handling a total of eight channels. The first four inputs are mono, designed for microphones or instruments with

Refinery29

Refinery29 Two years ago, she was inducted into the Cinema Society, a guild that has but a handful of woman production sound . Beggs is uniquely young for her accomplishments — she tells me that crew members often remark on her age &md

PR Web (press release)

Celeates 30 Years of Trailblazing Leadership in Digital At the time, the Yamaha Commercial Training Seminars staff were working overtime to keep up with demand on training on this system. It was claimed by many rental companies to be the m

Sonic State

Sonic State Soundcraft has announced the new Ui24R, a complete digital mixing and multitrack recording system that they say delivers flexible I/O, pristine sound quality, ...

Sonic State

YouTube The result of nine years of R&D, PreSonus tells us that their new third-generation StudioLive Series III digital console/recorders are fully recallable. The new ...PreSonus introduces third-gen StudioLive Series III consoles<

MusicRadar

MusicRadar The fact that it is labelled an 'Analog Quadraphonic /Panner/ VCA' indicates that Koma intends this as more than a single-purpose device. Poltergeist can be switched to work as a simpler stereo-only processing device, but we'll be

PR Web (press release)

At the NAMM Show this week, Yamaha will formally kickoff the 30th anniversary celeation of its pioneering work in digital mixers, which will be highlighted.

Jobs

Audio Media International

Audio Media International Established in 1962, Audio-Technica is a worldwide group of companies devoted to the design, manufacture, marketing and distribution of world-class audio ...

Digital Trends

Digital Trends One of CES 2017's biggest trends was the proliferation of Dolby Atmos soundbars, growing from a singular offering in 2016 to a must-have for major ands.