| | | | |
| --- | --- | --- | --- |
| Extended On Time Timer Circuit | | | |
Half of a Motorola MG14538B dual, precision, retriggerable mono stable multivibrator is used to form an extended on-time timer circuit. That type of circuit can be used as a switch debouncer. Such circuits are often used in digital circuitry, where each and every bounce of a switch contact is seen as a separate digital input.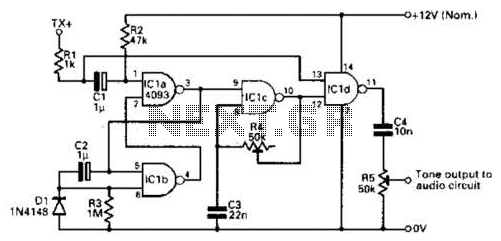 The delay on time (established by CI and Rl) is easily set using the formula, C1 Rv = T, where Cj is in microfarads, R} is in megohms, and is in seconds.