The electronic bagpipe mimics the sound of real instruments. This circuit uses two UJT oscillators and an amplifier (Q3,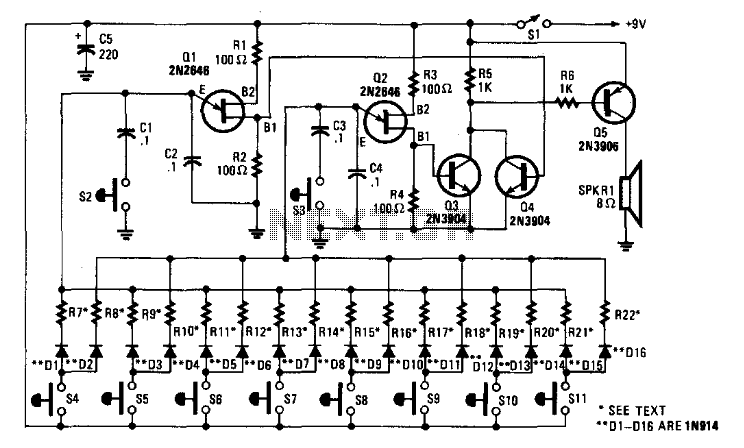 Q4, and Q5). R7 through R22 are selected for tonal range desired (typically 3 300 ). Each key selects resistors for the two oscillator circuits Ql and Q2. S2 and S3 vary the tonal range of S4 through Sll.
Recommended videos
Restoring Vintage Radios and Music Equipment : How to Clean Vintage Electronic Circuits

Dave Chello -- Active Circuitry -- Electronic Music

Electronic Circuit Design, Let
News
Cool Hunting

Cool Hunting At a conference on productivity—which touched on everything from the importance of -free alone time to the educational and emotional benefits of writing by hand (as outlined in a series of studies on the subject)—Mole

Siliconrepublic.com

Siliconrepublic.com Science Week, co-ordinated by Science Foundation Ireland, is a national collaboration between industry, colleges, schools, liaries, teachers, researchers and students to promote public engagement with science, , engineerin

RadioandMusic.com

RadioandMusic.com MUMBAI: Sanam Puri is on a roll these days. After delivering a couple of hits like 'Dhat Teri Ki Main' from 'Gori Tere Pyar Mein' last year, his success has extended to 'Ishq Bulava' from the film 'Hasee Toh Phasee' this yea

JAGJIT SINGH

RadioandMusic.com

RadioandMusic.com MUMBAI: On Monday morning, the Indian Musical heritage undoubtedly lost its priceless gem that sheltered in the hearts of millions with his unparalleled, soulful and extraordinary melodies. Ghazal king Jagjit Singh, the soul

IGN

IGN By Ken P. To a generation of children raised on the Harry Potter phenomenon, Jim Dale gives voice to literally hundreds of their favorite characters on the Potter books. To my generation, he was the villainous Dr. Terminus in Pete's Drag

Westcoast Rendez-Vous (blog)

Westcoast Rendez-Vous (blog) Touring across the Southern , the soulful singer gained a reputation and then exploded with worldwide fame when he pioneered incorporating Gospel, Country, Jazz and orchestral influences into his inimitable style.