The electronic bagpipe mimics the sound of real instruments. This circuit uses two UJT oscillators and an amplifier (Q3,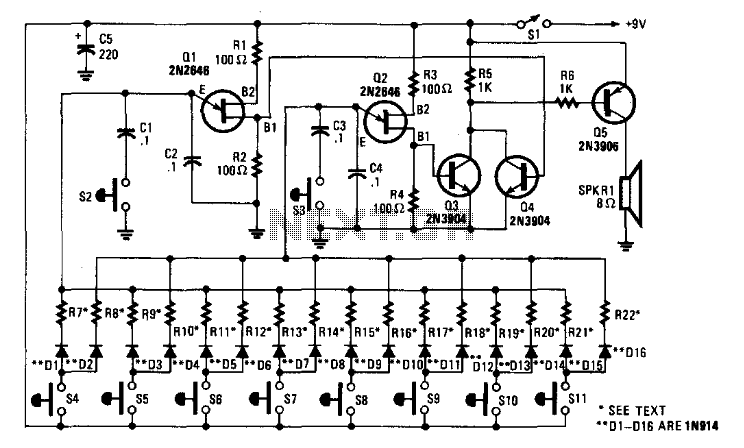 Q4, and Q5). R7 through R22 are selected for tonal range desired (typically 3 300 ). Each key selects resistors for the two oscillator circuits Ql and Q2. S2 and S3 vary the tonal range of S4 through Sll.
Recommended videos
Simple Audio Amplifier Project using LM386 Electronic Devices and Circuits University Project

Restoring Vintage Radios and Music Equipment : How to Clean Vintage Electronic Circuits

DIY Audio Amplifier (Musical Electronics - 2)
News
Houston Chronicle

Houston Chronicle LOS ANGELES - Jeff Tweedy stops strumming his guitar, unfolds himself from a couch backstage at the Ace Theater and reaches forward for a handshake, connecting a of creator and listener that has spanned more than two decade

Cool Hunting

Cool Hunting At a conference on productivity—which touched on everything from the importance of -free alone time to the educational and emotional benefits of writing by hand (as outlined in a series of studies on the subject)—Mole

High-Def Digest

High-Def Digest This new input method is employed heartily along two very distinct avenues, the live , and the expansive feed-style GHTV. Back when 'GH Live' was first announced, I had some real concerns about the lack of in-game rendered cha

DOGOnews

DOGOnews What could be better than licking an ice cream cone? How about composing music while enjoying the sweet treat? And we don't mean sweet melodies emanating from a smart player nearby, but ones that can be custom composed by the way the

Westcoast Rendez-Vous (blog)

Westcoast Rendez-Vous (blog) Touring across the Southern , the soulful singer gained a reputation and then exploded with worldwide fame when he pioneered incorporating Gospel, Country, Jazz and orchestral influences into his inimitable style.