The waa-waa effect is achieved as certain frequencies are amplified more than others. A phase shift RC oscillator makes up the basic circuit. Negative feedback is obtained by feeding part of the signal back to the base. When adjusting initially, RV1 is turned to minimum. RV2 is adjusted to a point at which an audible whistle appears indicating oscillation. RV1 is then adjusted till the oscillation just disappears.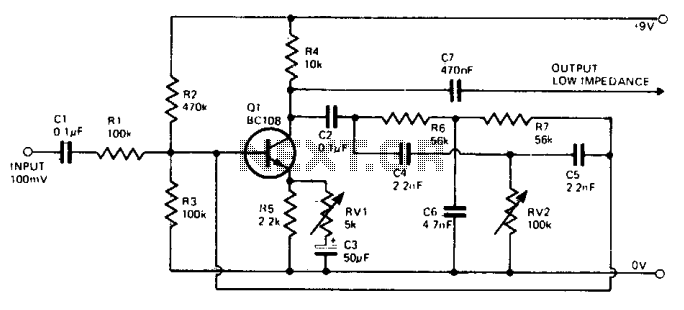 It should be possible to set RV2 to any value without any oscillation, this should also be achieved with the minimum possible value of RV1.
Recommended videos
Where to Find Circuitry in Fallout 4

Juan Alcaraz - Minions Bounce [Original Mix]

O2 Sensor Heater Quick-Fix
News
Cool Hunting

Cool Hunting At a conference on productivity—which touched on everything from the importance of -free alone time to the educational and emotional benefits of writing by hand (as outlined in a series of studies on the subject)—Mole

Siliconrepublic.com

Siliconrepublic.com Science Week, co-ordinated by Science Foundation Ireland, is a national collaboration between industry, colleges, schools, liaries, teachers, researchers and students to promote public engagement with science, , engineerin

JAGJIT SINGH

RadioandMusic.com

RadioandMusic.com MUMBAI: On Monday morning, the Indian Musical heritage undoubtedly lost its priceless gem that sheltered in the hearts of millions with his unparalleled, soulful and extraordinary melodies. Ghazal king Jagjit Singh, the soul

IGN

IGN By Ken P. To a generation of children raised on the Harry Potter phenomenon, Jim Dale gives voice to literally hundreds of their favorite characters on the Potter books. To my generation, he was the villainous Dr. Terminus in Pete's Drag

Westcoast Rendez-Vous (blog)

Westcoast Rendez-Vous (blog) Touring across the Southern , the soulful singer gained a reputation and then exploded with worldwide fame when he pioneered incorporating Gospel, Country, Jazz and orchestral influences into his inimitable style.