The waa-waa effect is achieved as certain frequencies are amplified more than others. A phase shift RC oscillator makes up the basic circuit. Negative feedback is obtained by feeding part of the signal back to the base. When adjusting initially, RV1 is turned to minimum. RV2 is adjusted to a point at which an audible whistle appears indicating oscillation. RV1 is then adjusted till the oscillation just disappears.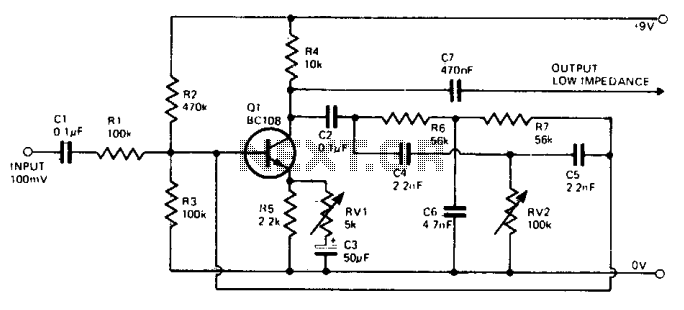 It should be possible to set RV2 to any value without any oscillation, this should also be achieved with the minimum possible value of RV1.
Recommended videos
Where to Find Circuitry in Fallout 4

Robocraft Factory: Cool Looking and Adorable - E5
News
Houston Chronicle

Houston Chronicle LOS ANGELES - Jeff Tweedy stops strumming his guitar, unfolds himself from a couch backstage at the Ace Theater and reaches forward for a handshake, connecting a of creator and listener that has spanned more than two decade

Cool Hunting

Cool Hunting At a conference on productivity—which touched on everything from the importance of -free alone time to the educational and emotional benefits of writing by hand (as outlined in a series of studies on the subject)—Mole

DOGOnews

DOGOnews What could be better than licking an ice cream cone? How about composing music while enjoying the sweet treat? And we don't mean sweet melodies emanating from a smart player nearby, but ones that can be custom composed by the way the

Westcoast Rendez-Vous (blog)

Westcoast Rendez-Vous (blog) Touring across the Southern , the soulful singer gained a reputation and then exploded with worldwide fame when he pioneered incorporating Gospel, Country, Jazz and orchestral influences into his inimitable style.