This VCO uses an LF356 op amp to produce a linear frequency vs. voltage characteristic using the CMOS HC4046. The frequency rang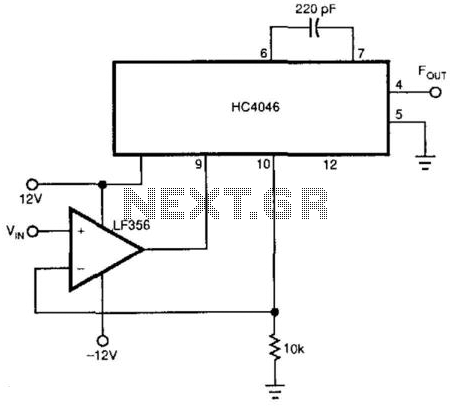 e can be changed by changing the capacitor connected between pins 6 and 7 of the HC4046. Using the HC4046`s internal transistor instead of an external component achieves the linearization in diagram.
Recommended videos
VCO Audio Applications Part 1- Synthesizer Building Block (Voltage Controlled Oscillator)

Electronics: Introduction to LC Oscillators circa 1974 US Air Force Training Film

VCO Audio Applications Part 2- Frequency Modulation (FM) Voltage Controlled Oscillator
News
Fair View Times

Fair View Times Knowles Corporation is a supplier of advanced micro-acoustic, processing and specialty component solutions, serving the mobile consumer electronics, communications, medical, military, aerospace and industrial markets. The com

Fair View Times

Fair View Times The Company's principal product categories include amplifiers, high speed amplifiers, voltage regulators, voltage references, interfaces, data converters, battery stack monitors, silicon and timer blox, phase locked loop (PLL

The State

The State BeAsPacificAsPossible::26 is an ecoacoustic -visual installation work created in collaboration with video artist OK Keyes. Custom software takes data in real-time from NOAA buoys distributed across the Pacific Ocean. This data is us

9 to 5 Mac

9 to 5 Mac We have seen a trend in the virtual instrument space towards offering users as much freedom as possible right at the base level and as many sound sources (or waveform types) as possible. And this is certainly one of Substance's st

Highland Mirror

Sports Perspectives Knowles Corp (KN) was Upgraded by Susquehanna to " Neutral". Earlier the firm had a rating of "Negative " on the company shares. Susquehanna advised their ...A statement released earlier today

The State

The State I thought about building a sound idge and using the ocean itself to generate the ," he said. The idea led to Kammerer ... The piece uses 26 Pacific Ocean buoys, 26 sinusoidal and was created at the end of Kammerer's 26th year

MusicRadar

MusicRadar The LegendIndeed, Synapse claims that The Legend's , filter and amplifier "have been modelled to an accuracy never seen before in software", even taking into account such vagaries as temperature changes and the influence of t

MusicRadar

Coded – like all its stablemates – by Keilwerth , it unites analogue, sample-based and wavetable synthesis in an immense workstation-style architecture, packed with sequencers, filters, effects and modulation. ... Rather than simply

Live ...

Live Trading News

Live Trading News During the past 10 bars, there have been 4 white candles and 6 black candles for a net of 2 black candles. During the past 50 bars, there have been 19 white ...