This VCO uses an LF356 op amp to produce a linear frequency vs. voltage characteristic using the CMOS HC4046. The frequency rang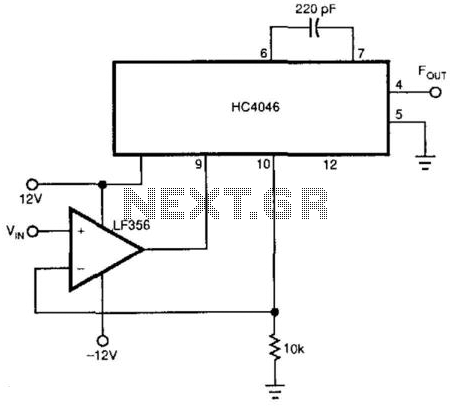 e can be changed by changing the capacitor connected between pins 6 and 7 of the HC4046. Using the HC4046`s internal transistor instead of an external component achieves the linearization in diagram.
Recommended videos
VCO Audio Applications Part 1- Synthesizer Building Block (Voltage Controlled Oscillator)

Electronics: Introduction to LC Oscillators circa 1974 US Air Force Training Film

VCO Audio Applications Part 2- Frequency Modulation (FM) Voltage Controlled Oscillator
News
Sonic State

Sonic State All modulation in VK-2 is rate, freeing you to get your creative routing juices flowing. At the end of the signal chain, ... At the heart of VK-2 are three analog modeled that produce a rich meaty sound, ready for filtering. The

Radio magazine

Radio magazine ... this became the antenna for WBZA, and remained in use till 1962. WBZ and WBZA were synchronized in this fashion: the carrier was generated at WBZ, divided downward to an frequency, fed over a phone line, then remultiplied

9 to 5 Mac

9 to 5 Mac Effects and Software Instrument Plug-insWe've already reviewed some this year including Substance, Exhale and Tim Exile's 48- swarm synth SLOO. Logic comes with a very respectable list of Instruments and Effects. From the powe

Yahoo Finance

Today, Knowles Corporation , a market leader and global supplier of advanced micro-acoustic, audio processing, and precision device solutions, announced ...

MusicRadar

MusicRadar When we reach A MIX, the mixer, we begin to encounter problems. The mixer has only three inputs, so you can't mix the two and play all four drums at the same time. Two mixer modules would have provided greater flexibility as one

MusicRadar

Often mistakenly described as akin to a polyphonic Minimoog, the Prophet bears a closer resemblance to a five-voice ARP Odyssey, being similarly outfitted with dual , an LFO, sample+hold and dual ADSR envelope generators. Like the Oddy, the&nbsp

Bloomberg

Bloomberg Calmel, a wunderkind inventor who grew up in the Parisian suburbs, made his first amplifier at 14 years old. With the help of the plainly titled French book, "How to Design Your First Amplifier," paired with the unlike

Sonic State

Sonic State

Sonic State KV331 Audio has announced availability of SynthMaster One, which they describe as an easy-to-use wavetable soft synth with an intuitive workflow available in ...

Yahoo Finance

Today, Knowles Corporation , a global leader in high-performance audio solutions, will discuss significant audio trends that influence smartphone and other ...