This VCO uses an LF356 op amp to produce a linear frequency vs. voltage characteristic using the CMOS HC4046. The frequency rang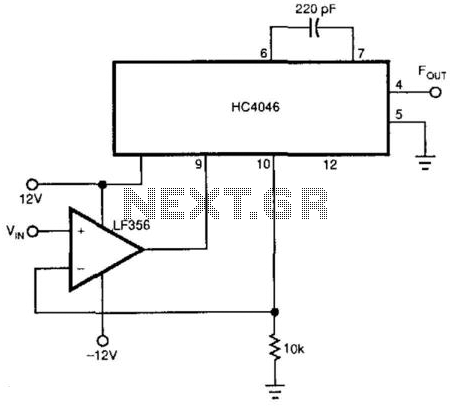 e can be changed by changing the capacitor connected between pins 6 and 7 of the HC4046. Using the HC4046`s internal transistor instead of an external component achieves the linearization in diagram.
Recommended videos
VCO Audio Applications Part 1- Synthesizer Building Block (Voltage Controlled Oscillator)

Electronics: Introduction to LC Oscillators circa 1974 US Air Force Training Film

VCO Audio Applications Part 2- Frequency Modulation (FM) Voltage Controlled Oscillator
News
EurekAlert (press release)

An optical frequency divider, which can accurately divide an optical frequency with a preset arbitrary ratio to several other wavelengths, is demonstrated by ...

Broadcasting & Cable

Above all, the Orion Studio provides industry-leading conversion thanks to Antelope renowned fourth generation Acoustically Focused Clocking jitter management algorithm and oven-controlled crystal . "I've always loved how the highs

Business Wire (press release)

Today, Knowles Corporation (NYSE: KN), a market leader and global supplier of micro-acoustic, audio processing, and specialty components, recognizes t.

ITBusiness.ca

PALO ALTO, Calif. – As part of HP Reinvention Week, HP Inc. invited media from around the world, including ITBusiness.ca, to "the Garage," the birthplace of the original Hewlett-Packard company and (according to the plaque in f

MusicRadar

MusicRadar Within a few clicks, any recording becomes an , and you can transform the with extreme transposition, filtering, enveloping and more. For even more weirdness, you can then apply unusual envelope shapes and looping techniques to cr

miPRO

miPRO MI Pro offers UK musical instrument retailers the very best in business news, analysis, and opinion, as well as investigating and profiling Britain's suppliers and ...Synchronise And Modulate Hardware Synth Parameters From ...S

MusicRadar

Rapid is the first release from Parawave , and it looks like the company has gone all-out to create an instrument that will compete with the best synths currently on the market. It promises "stunning sound and a fast workflow," and enables you t

Electronic Design

Electronic Design Comments 0. Sponsored by: Texas Instruments. Clock stability is more crucial than ever in high-speed timing circuits—and low-noise and phase-locked loops play key roles in achieving that goal. .... It's also useful fo

Computer ...

Computer Business Review

Computer Business Review It gets tens of thousands of visitors each year, but where and what is the birthplace of Silicon Valley - and what does it have to do with HP?