This VCO uses an LF356 op amp to produce a linear frequency vs. voltage characteristic using the CMOS HC4046. The frequency rang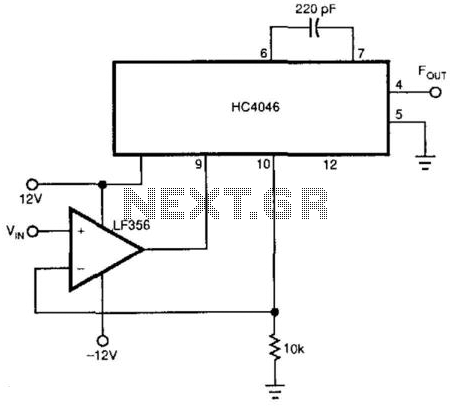 e can be changed by changing the capacitor connected between pins 6 and 7 of the HC4046. Using the HC4046`s internal transistor instead of an external component achieves the linearization in diagram.
Recommended videos
VCO Audio Applications Part 1- Synthesizer Building Block (Voltage Controlled Oscillator)

Electronics: Introduction to LC Oscillators circa 1974 US Air Force Training Film

What is an oscillator? Oscillator tutorial in HD!
News
Home Theater Review

Sony-STR-ZA3100ES-2.jpg Sony has announced the addition of four new models to its premium ES receiver line. All four models, which are priced from $799.99 up to $1,699.99, are seven-channel receivers targeted at the custom installation market an

Trade Calls

MCE includes analog and digital microphones MEMS microphones surface mounted device microphones multi-functional devices and integrated sub-systems among others. SC includes transducers capacitors and filters. The Company is ...

FACT

FACT His early experiments with sound followed musique concrète principles of tape splicing, but in 1963 he was approached by Morton Subotnick and Ramon Sender, founders of the influential San Francisco Tape Center, to build an instrum

MusicRadar

MusicRadar Far from your standard virtual analogue fare, Factory's (VST/AU/AAX/Standalone) two identical main offer a selection of ten wave-generating models, each populating the panel underneath the selection menu with its own knobs and men

SFGate

Don Buchla, an innovative designer of electronic instruments who helped develop the first line of modular synthesizers around the same time as his East Coast ...

Geek

Geek It's a well-known fact that one of the best ways to flush your extra cash down the toilet is to buy an inkjet printer and use first-party ink. HP just proved why in a big, big way. For years now, most "genuine" ink cartridges

PR Newswire (press release)

PR Newswire (press release) DALLAS, Sept. 14, 2016 /PRNewswire/ -- (CEDIA Booth #3710) -- Sony Electronics announced today the addition of four new audio-video receivers to join their ...

Page: 1 | CRN

CRN

Ahead of HP's Global Partner Conference 2016, we look at some fun facts about the tech pioneer that you might not know about. Page: 1.

Dentistry IQ

Dentistry IQ I'm seeing more lack of consumer confidence than I have in a long time, both in and outside of dentistry. So many people tell me that this is not a good time to invest in this or that, and I've started wondering why that is. Afte