This VCO uses an LF356 op amp to produce a linear frequency vs. voltage characteristic using the CMOS HC4046. The frequency rang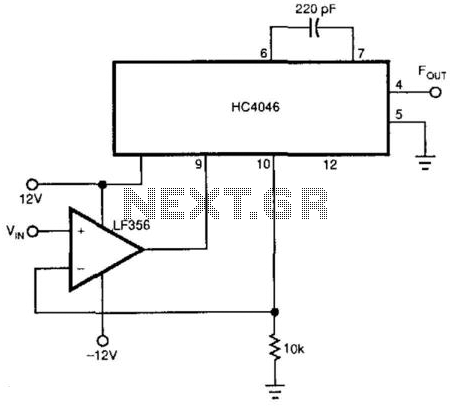 e can be changed by changing the capacitor connected between pins 6 and 7 of the HC4046. Using the HC4046`s internal transistor instead of an external component achieves the linearization in diagram.
Recommended videos
VCO Audio Applications Part 1- Synthesizer Building Block (Voltage Controlled Oscillator)

#147: Basics of Varactor Diodes | Voltage Controlled Oscillator VCO Example

VCO Audio Applications Part 2- Frequency Modulation (FM) Voltage Controlled Oscillator
News
Reverb News

Reverb News For example, one way of creating a kick drum entails patching an envelope signal onto an v/oct input, then routing that through a low-pass gate which is modulated by the envelope's signal. ... Notably, Mutable Instruments

Dealerscope

Dealerscope Combines more than 30 years of Marantz expertise in compact disc playback with the latest developments in digital audio technology.

Home Theater Review

The HD-CD1 has analog outputs and a Cirrus Logic CS4398 192-kHz/24-bit DAC, or you can use its optical/coaxial digital outputs to pass the digital signal along to the HD-AMP1 or amplifier of your choice. The CD ... This is used together with a

MusicRadar

MusicRadar If creating esoteric, droning soundscapes is your thing, then we think you might just want to get your hands on Erica Synths' new Fusion line modules.

MusicRadar

MusicRadar The LFO, like the , provides four independently shaped outputs, and CV control over LFO rate (that runs from 0.01-50Hz). The Doepfer selection is small, and would be relatively limited in hardware form if bolted into a small rack <

Electronic Design

Electronic Design It's possible to use surface-mount-device (SMD) . However, these generally power-hungry devices require upwards of 20 mA, making them impractical for battery-powered devices. Flexible clocking can also be implemented usi

Reverb News

Reverb News Disclaimer: This article uses a lot of modular synth technical jargon. If you dig the sounds Brett created in the video but feel overwhelmed by all the cables, knobs ...

Elektor (blog)

burst generatorThis simple circuit accepts a steady tone from an ordinary at its input, and produces bursts at its output. The duration of the burst as well as their repetition rate are variable from less than a millisecond to several seco

The Quietus

The Quietus A wave of synaesthesia leaves Russell Cuzner's senses working overtime as he reads, sees, feels and is touched by the latest in outsider from David Toop, Valerio Tricoli, Andrew Liles, Claire M Singer and more. Homepage photo ...
Components & Modules Datasheets