This VCO uses an LF356 op amp to produce a linear frequency vs. voltage characteristic using the CMOS HC4046. The frequency rang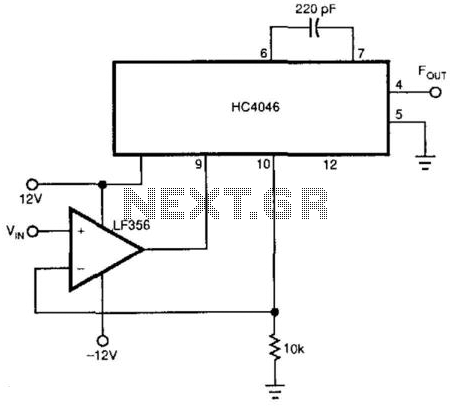 e can be changed by changing the capacitor connected between pins 6 and 7 of the HC4046. Using the HC4046`s internal transistor instead of an external component achieves the linearization in diagram.
Recommended videos
VCO Audio Applications Part 1- Synthesizer Building Block (Voltage Controlled Oscillator)

#147: Basics of Varactor Diodes | Voltage Controlled Oscillator VCO Example

VCO Audio Applications Part 2- Frequency Modulation (FM) Voltage Controlled Oscillator
News
FTSE News

FTSE News Knowles Corporation is a supplier of advanced micro-acoustic, processing and specialty component solutions, serving the mobile consumer electronics, communications, medical, military, aerospace and industrial markets. It uses micro

Market Digest

Fiscal Standard MCE includes analog and digital microphones, MEMS microphones, surface mounted device microphones, multi-functional devices, and integrated sub-systems, among others. SC includes transducers, , capacitors and filters. The Com

Press Telegraph

The Company's principal product categories include Amplifiers, High Speed Amplifiers, Voltage Regulators, Voltage References, Interface, Data Converters, Battery Stack Monitors, Silicon and Timer Blox, Phase Locked Loop Synthesizers and

MusicRadar

MusicRadar ... a range of note values, either at a user-defined tempo or synced to the host DAW, and the LFO offers ten shapes, a low-pass filter (for smoothing the action in certain circumstances) and a Width setting, which works rather like

Sonic State

Sonic State Samplescience describes AdLibXRom as a plugin instrument featuring the sound of the AdLib Music Synthesizer Card. Famous in the early nineties for being widely used in PC Windows based computers, the AdLib soundcard had a synthesi

MusicRadar

MusicRadar Then you can move to the mixer section, push levels for more saturation/clipping, add in some white noise (digital) then add the square wave sub- (more ballsy than the Prophet-6's triangle sub ). The OB-6 is certainly a killer dirt

Design and Reuse (press release)

Such kits may be complemented with Foundation, Faic and Feature IPs – such as standard cell liaries, memory generators, WhisperTrigger voice activity detector, uLP … – to combine the best power consumption, whatever the mode o

MusicRadar

MusicRadar The Model 15 offers a basic but serviceable collection of synthesizer modules consisting of a handful of , filters, envelope generators, mixers and modulation options. Unlike a hardwired synth like the ... Modules not found in the

Radio magazine

Radio magazine My experience, gained from listening to hundreds of stations, is that music formats with light processing and spoken-word formats seem to be more susceptible to noticeable audible problems, even with a small offset in samples.