| | | | |
| --- | --- | --- | --- |
| Preamplifier and high-to-low impedance converter | | | |
Thiscircuit matches the very high impedance of ceramic cartridges, unity gain, and low impedance output. By `loading` the cartridge with a 2M2 input resistance, the cartridge characteristics are such as to quite closely compensate for the RIAA recording curve.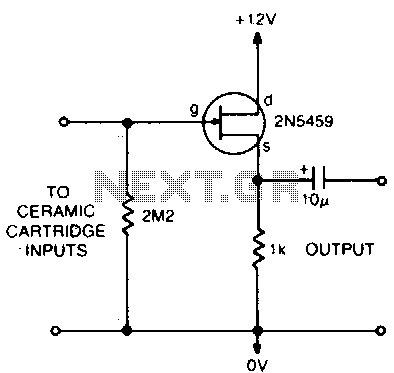 The output from this preamp may be fed to a level pot for mixing.
Recommended videos
How to Add an Input Impedance Control to Any Mic Preamp

Adapting a speaker wire to a preamp rca adapter

Best Audio Quality Setup: Explained!
News
PSNEurope

PSNEurope After formative experiences as an amateur musician, Kunimoto determined that his future lay in engineering rather than performance. Having concluded his studies at Hokkaido University, he joined Yamaha in the early 1980s ... The TF

Broadcasting & Cable

Broadcasting & Cable Launches Hot Fuzz Dual-Stomp Boost/Fuzz PedalNorth Hollywood, Calif. – At the 141st AES Convention, BAE [AES booth 1101], a manufacturer known for its high quality , equalizers, and compressors built to cl

Home Theater Review

Home Theater Review Trinnov is announcing their support for Roon music software, with availability expected in the first quarter of 2017. All existing Amethyst and Altitude32 /processors can become Roon-Ready with a simple--and free--softwar

Live Design

Live Design For MetallicaHe knew that the (30) channels of vintage the band had already in the studio would not be enough to simultaneously facilitate the multi-mic drum sound and detailed guitar micing setups he was envisioning for the

Stereophile Magazine

Stereophile Magazine & NAP 140 power amplifierListening to each unit as part of the manufacturing process reflects Naim fundamental belief in the importance of the listening experience: Naim provides very few or no specifications on

Stereophile Magazine

Stereophile Magazine BHK Signature 300 monoblock power amplifierFrom there they naturally progressed to a series of line-level . Toward the end of the '70s, PS produced the Model One, the company's first power amplifier. In the mid-1980

Stereophile Magazine

Technology Rex II line Early in 2015, I reviewed Simaudio's Moon Evolution 740P line ($10,000), and grew so enamored of its pleasures that I bought the thing. Since late summer, I've been listening to Balanced Technology's Rex II line ($

AVRev.com

AVRev.com MicroZOTL 2.0 Headphone Amp & ReviewLinear Tube , formed in 2015, is based out of Washington DC, where they hand builds tube components in their workshop. The firm is headed up by Mark Schneider, a highly experienced produ

Stereophile Magazine

4.6 PS has been such a company. Their new 4.6 , an update and cosmetic clone of the earlier, well-received 4.5, is not at the top of their range—that honor belongs to the 5.5—but it is clearly designed to be more than a price-