This ultrasonic transmit/receive circuit operates at 40 kHz.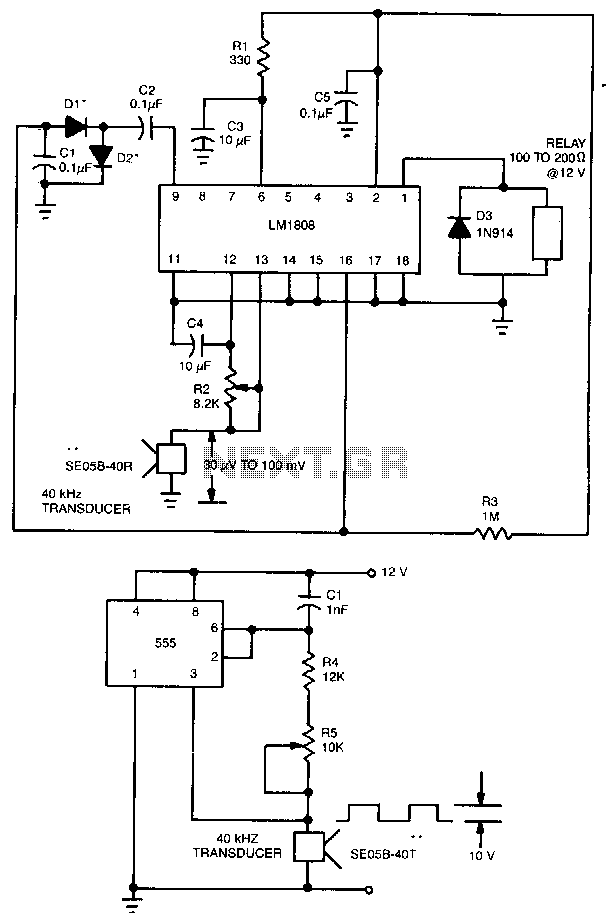 Control resistor R5 adjusts the frequency for best performance with the transducers used.
Recommended videos
Ultrasonic Generator Circuit / PCB - Beijing Ultrasonic

Ultrasonic Signal Generator Circuit - Beijing Ultrasonic

54KHz~135KHz High Frequency Ultrasonic Generator Circuit
News
Fort Worth Star Telegram

Fort Worth Star Telegram The Lexus GS-F is more than a pretty face, with lots of safety equipment and , such as 10 standard air bags, including front knee bags, front seat-mounted side air bags, full-length side curtain bags; crumple zones in

Asian Fortune

Asian Fortune In addition to extensive on-the-road and laboratory testing, -based testing of the Genesis took place in Germany, Korea and Hyundai's California Proving Ground in the U.S. High g-force assessment of the HTRAC AWD system was comp

IEEE Spectrum

IEEE Spectrum One notable cohort in the modern electronic music scene are the benders. These folks modify all sorts of -enabled equipment, including children's toys and digital keyboards, to produce sounds definitely not intended by the desi

The Verge

The Verge to share linksDo we really need a new way to share links with friends? Instead of sharing links through text, Messenger, Twitter, WhatsApp, Pocket, or the thousands of other apps that let you send links, Radon wants you to to u

IEEE Spectrum

IEEE Spectrum First of all, the tuner—which converts RF signals into and video and, essentially, makes a TV a TV—is getting pushed out, along with nearly all the other electronics in the box you call a TV today. And the screen it

IEEE Spectrum

IEEE Spectrum Illustration: Hbar A wisp of anti-hydrogen makes its way toward a fatal collision with a uranium-coated space sail. A spaceship departs Earth on a one-way, 42-year trip to Alpha Centauri. It runs on an antimatter engine that bl

IEEE Spectrum

IEEE Spectrum I'm not sure if there's any sort of metric for how successful Aldebaran Robotics' Pepper robot is at working in customer service. People are certainly buying them, but by itself, that doesn't say much about whether it works and

IEEE Spectrum

IEEE Spectrum The quadrotor itself is a conventional FR4 printed board integrating all the essential electronics as well as serving as the primary structural component of the Picobug. The crawler is designed by our collaborators at MIT using

IEEE Spectrum

IEEE Spectrum Cars: BMW 7 SeriesThe Wi-Fi–connected tablet manages just about everything, including a Bowers & Wilkins system with 1,400 watts and 16 speakers, and a panoramic roof with 15,000 LEDs forming a starlight pattern.