Circuit shown in Figure. Higher technical specifications of the circuit, is a very good OTL amplifier circuit. The frequency response of the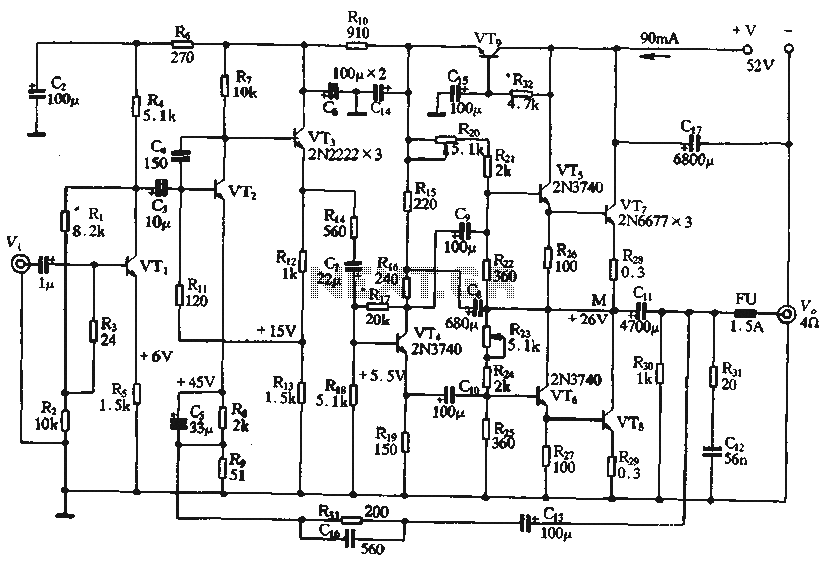 circuit of 10Hz ~ 100kH, total harmonic distortion <0.1%, which is not much in general (YFL power amplifier see o barrier circuit consists of four parts: the input stage, impedance converter stage, and power output of the inverter stage level. interstage resistance and capacitance coupling units, no large DC negative feedback loop, since each level plus deeper local feedback, so the working point of the circuit is very stable fixed O VTi and peripheral components of the input stage, in order to increase the input impedance of the circuit and stability ,, rTc emitter using a high-value resistor 1_5kfl of O VT2, VT3 composed of direct-coupled amplifier input stage and it is coupled by a capacitor C3 o Rl l-oriented electrical negative feedback stage resistance, to stabilize the operating point of the level oVT3 using emitter output, to reduce the output impedance, easy and inverter stage VT4 match, improve inverter stage VT4 push capability.
Recommended videos
How Tube Amplifiers Work, Part 1: The Power Supply

Vacuum Tubes (Valves):

Vacuum Tube Amplifier James Audio Output Transformer
News
Champaign/Urbana News-Gazette

They're heavy because there's so much iron for the transformers; you need the power transformer and the transformer, and four to eight . So when did you found the company? I had the idea about five years ago, as an undergraduate in ...<

Sacramento Bee

Sacramento Bee Stone Vintage Music Boutique is the kind of store that's meant for musical gearheads, the kind who obsess over the original solid ash body of an early Fender Stratocaster and forever sworn to amplifiers that are loaded with , n

Hackaday

[Michael Wiebusch] found the leftovers of a wrecked vintage tube radio in a pile of electronics junk. Unfortunately, he could not recover any vacuum tubes in it.

Stereophile Magazine

Stereophile Magazine This and other homeopathic concepts are inconsistent with basic laws of physics and chemistry--the very laws that made it possible to, e.g., create transistors, , and much of the technology that underlies our systems. Wi

The Peak Singapore

The Peak Singapore When it comes to playback, most music lovers would probably opt for traditional systems that include a source which nowadays might be a network player or turntable, amplifier and speakers. If sound quality is essential, th

Elektor (blog)

Elektor (blog) The unit is built around Raytheon 6418 (Br. E: valves) for that mellow sound, a Savi SA9227 streaming controller (reportedly compatible with all Windows operating systems and Apple OS), and the Texas Instruments PCM5102A&nbs

Wilson Post

Wilson Post Those amps had . Creating this type of construction leads itself to some very tedious hard work," he said. Shaw, a Christian since age 9, has always been involved in church music. He has been involved in a couple of local church p

EDN.com

power amplifiers: Adding punch to your sound designAudiophiles always said that the best sound came from . There are schools of thought that say FETs are more closely related to the type of distortion and sound that produce in than BJTs.

Audio Media International

Audio Media International Waves Audio has unveiled Greg Wells ToneCentric, a new plugin that is part of the Greg Wells Signature Series. Created in collaboration with multiple ...