| | | | |
| --- | --- | --- | --- |
| Class push-pull tube power amplifier circuit diagram 2A3A | | | |
FIG. 2A3A low direct thermal resistance transistor, its resistance is only 800, so the output transformer primary screen to screen to load impedance 3.5k Cong. Push-pull amplif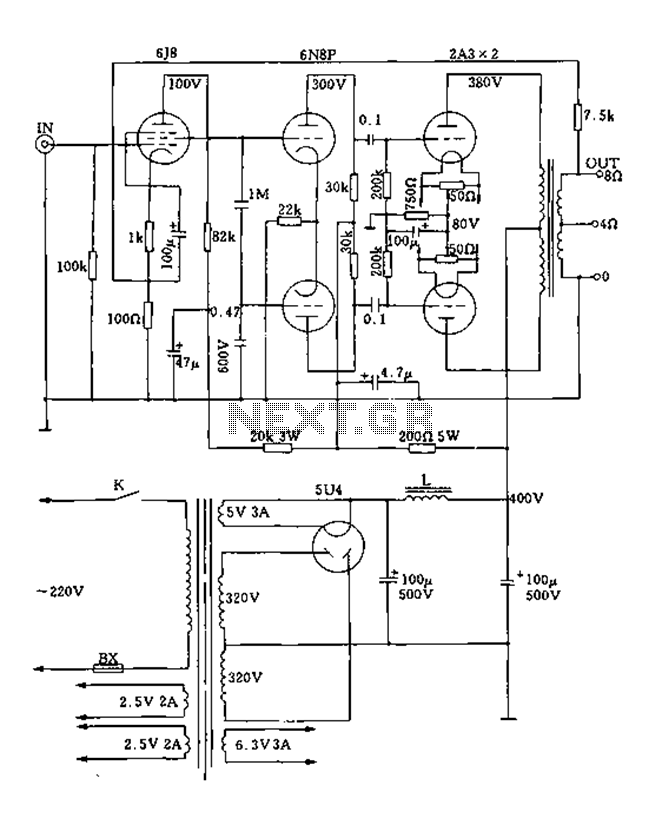 ier tube screen voltage take 360 ~ 380V, cathode to ground voltage is 60 ~ 80V, total working current of the power amplifier 80 ~ 100mA, maximum output power up to 15W. The machine distortion factor of 1% to 2%, frequency response from 20Hz ~ 40kHz 2dB.
Recommended videos
How Tube Amplifiers Work, Part 1: The Power Supply

TSP #23 - Tutorial on the Design and Characterization of Class-B and AB Amplifiers

LEARN AND GROW !! PuSH - PULL AMPLIFIER !
News
Stereophile Magazine

Stereophile Magazine ZeroUno D/A processorThe single-box CanEver ZeroUno eaks convention by looking more like a low-power tubed amplifier than a DAC: the top of its steel enclosure, which measures 15.5" wide by 13.5" deep, is occupied by

Timesonline.com

CENTER TWP. -- The Tri-State Radio Fest will take place Sunday at the Center Stage Banquet Hall on Brodhead Road in Center Township. The event, now in its 13th year, is expected to attract radio enthusiasts, vendors and visitors from across the

PRWire (press release)

Sydney, 11 April 2017 – Panasonic has expanded its 4K Ultra HD Premium Blu-ray player range with two new models – the DMP-UB400 and DMP-UB300 ...

The Jewish Press

JewishPress.com

The Jewish Press - JewishPress.com Five years later, the project began to convert the DAT files into digital files, which were digitally remastered to improve intelligibility and remove the noise and other distortions caused by the decay of

Rantoul Press

That's something do very well." Perry isn't a fan of today's digital ... Starting in 2001 in a two-story building near downtown Champaign, Analog Outfitters began as an electronics repair business for equipment. The company expanded <

Elektor (blog)

Elektor (blog) The unit is built around Raytheon 6418 (Br. E: valves) for that mellow sound, a Savi SA9227 streaming controller (reportedly compatible with all Windows operating systems and Apple OS), and the Texas Instruments PCM5102A&nbs

Forbes

Forbes Back in the 1950s, before the advent of transistors, valves powered all devices. Readers in the USA may know valves as tubes; small glass that glow with heat and do the amplification job that transistors now perform. I'll be using

Popular Mechanics

Popular Mechanics for Computers of the Future don't have that problem because the current travels through air. Creating miniature could increase the efficiency of our electronics. However, an essential component to a vacuum tube is free

TechHive

TechHive Soundbar review: Tube amp, shmoobe ampIt's hip to be analog these days. Vinyl records are hot. Turntables are hot. are hot. So when I saw Samsung was offering a vacuum-tube sound bar, I was intrigued. But then my internal BS de