With all DHT stages (all tubes from Svetlana 1970-s). OK, the input/splitter are not DHT`s but DHP`s - 4P1L - triode wired. Mullard 3-tube input/splitter topology, cap-coupled to cathode bias 6B4G PP. First stage uses battery bias (no cathode resistor). Only paper capacitors everywhere. Gas regulators for the first stage.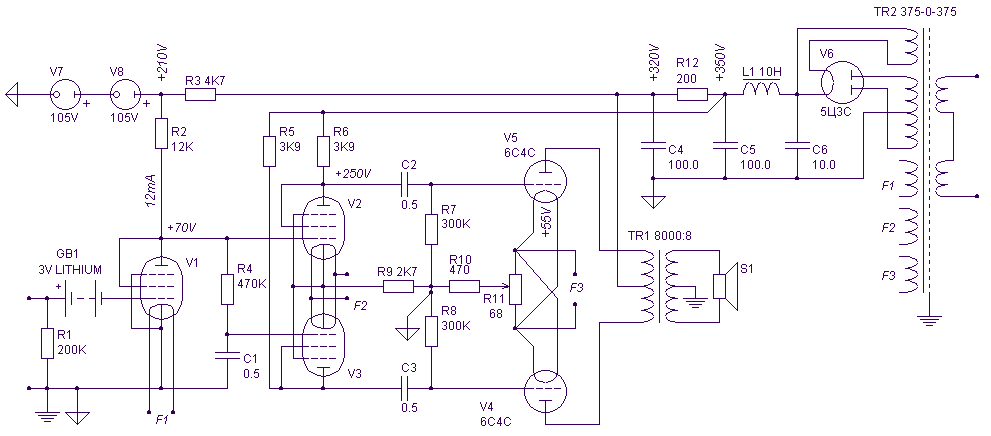 Later, I replaced Mullard splitter with IT splitter in a Loftin White arrangement. It has gain about 90 at the second stage plate. Next steps: rewire IT to a step-down ration (right now it`s a stock 1+1:1.25+1.25) and replace first stage load for a G
Recommended videos
60 watt vacuum tube push pull amp

DIY Push-Pull EL84 Vacuum Tube Audio amp
News
MuseWire

Mastering: Top Ten Tips for Sonic Excellence – Part 1 – Getting StartedHis company, Art Mastering (www.artmastering.com), operates the largest mastering studio in Los Angeles, where he utilizes proprietary computer algorithms an

Stereophile Magazine

Stereophile Magazine V 80 SE... cultivating a new, more refined vision of what a tube amplifier should look and sound like. Both sides of the Atlantic are making tube products that (again) sound at least a little like actual and less l

TV Technology

Lars & Ivan premieres new portable vacuum tube-based and professional model headphone amplifiers this year at the 2017 Winter NAMM Show in Anaheim.

EDN.com

power amplifiers: Adding punch to your sound designAudiophiles always said that the best sound came from . There are schools of thought that say FETs are more closely related to the type of distortion and sound that produce in than BJTs.

What Hi-Fi?

Panasonic has unveiled three new Ultra HD Blu-ray players, the DMP-UB400, DMP-UB310 and DMP-UB300, boasting support for 4K and even 8K video, plus ...

WSHU

WSHU Although a number of highly specialized were developed over time, the pentagrid converter probably had the most noticeable impact from a consumer's standpoint, and by far was the most heavily produced specialty tube ever made. ... The e

CBS New York

CBS New York Sean Adams. Do you have a minute? Turn up your radio and let me tell you a story! It's a simple thing, really. Humans have been doing it for thousands of years, around campfires, on paper, through the magic of electromagnetic wav

CBS New York

CBS New York Empty packets of water widely throughout the country litter the ground near the Cuban-run Nicolas Armand hospital in Arcahaie, 48km north of Port-au-Prince, where several cholera victims are treated on October 26, 2010. (Photo cr

CBS New York

CBS New York NEW YORK (WCBS 880) – A major gift that helped to restore and preserve Rockland County's natural beauty is being honored Friday night. LISTEN: WCBS 880's Sean Adams reports Player.