With all DHT stages (all tubes from Svetlana 1970-s). OK, the input/splitter are not DHT`s but DHP`s - 4P1L - triode wired. Mullard 3-tube input/splitter topology, cap-coupled to cathode bias 6B4G PP. First stage uses battery bias (no cathode resistor). Only paper capacitors everywhere. Gas regulators for the first stage.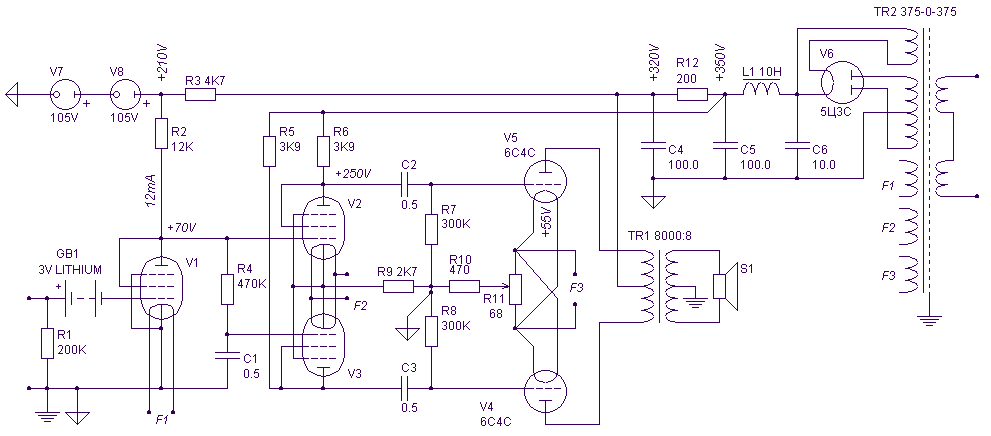 Later, I replaced Mullard splitter with IT splitter in a Loftin White arrangement. It has gain about 90 at the second stage plate. Next steps: rewire IT to a step-down ration (right now it`s a stock 1+1:1.25+1.25) and replace first stage load for a G
Recommended videos
Final Update: 813 Vacuum Tube Push Pull Hi-Power Audio Power Amplifier Project

60 watt vacuum tube push pull amp

DIY Push-Pull EL84 Vacuum Tube Audio amp
News
Robb Report

Robb Report . Valves. Triodes. Mono blocks. These are all terms that get an audiophile's pulse racing. The tube amplifier, which was the pinnacle of technology in the mid-20th century, has always maintained a loyal following amongst hobbyist

MusicRadar

MusicRadar If creating esoteric, droning soundscapes is your thing, then we think you might just want to get your hands on Erica Synths' new Fusion line modules.

The Straits Times

In life, one can opt for a Toyota Corolla or a Ferrari 488GTB supercar. Just like you can choose between the Apple EarPods and the Sennheiser HE 1 ...

SYS-CON Media (press release)

VANCOUVER, BRITISH COLUMBIA -- (Marketwired) -- 07/27/16 -- Tree Island Steel Ltd. ("Tree Island" or the "Company") (TSX: TSL) As a result of the continued growth of Tree Island, the Company is pleased to announce that effective September 1, 201

SYS-CON Media (press release)

ReadyTalk did exactly that. In his General Session at 19th Cloud Expo, Michael Chambliss, Head of Engineering at ReadyTalk, will discuss why and how ReadyTalk diverted from healthy revenue and over a decade of conferencing product development t

SYS-CON Media (press release)

The ENCELIUM® Wireless Area Lighting Controller (WALC) by OSRAM has been honored with an Architectural SSL Product Innovation Award (PIA) 2016 in the ...

SYS-CON Media (press release)

GumGum, the leading computer vision platform for marketers, today announced the launch of AdBuilder, an easy-to-use online portal enabling ands to ...

SYS-CON Media (press release)

SEATTLE, July 27, 2016 /PRNewswire/ -- DomainTools, the leader in domain name and DNS-based cyber threat intelligence, today announced the team will be on hand at the Black Hat USA 2016 conference August 3-4. Cybersecurity experts from the team&

SYS-CON Media (press release)

SAN DIEGO, July 27, 2016 /PRNewswire/ -- BP Logix, provider of BPM solutions for rapid workflow app development, today announced that it has been selected ...
Components & Modules Datasheets