| | | | |
| --- | --- | --- | --- |
| Variable Voltage Regulator | | | |
The op amp is wired as a 2 noninverting dc amplifier with a gain that is determined by the R3/R2 ratio. The inp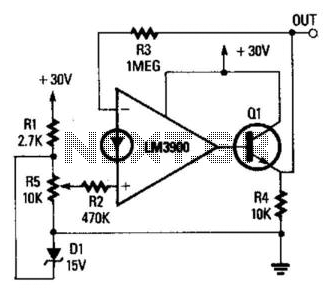 ut voltage to the op amp is variable between 0 and 15 V via R5. The output voltage is therefore variable over the approximate range from 0.5 to 30 V. The available output current has been boosted by adding transistor Ql to the output.
Recommended videos
LM317 Adjustable Voltage Regulator Tutorial

Dealextreme review: Produino Digital Mobilize/Cycle Time Delay Relay Module

Voltage regulator tutorial
News
Hackaday

Hackaday If you just want to prevent your garden from slowly turning into a desert, have a look at the available off-the-shelf home solutions, pick one, lean back and let moisture monitoring and automated irrigation take over. If you want to

Progressive Rail Roading

The railroad's communications service provider is eliminating a frame system for backbone and no longer will maintain that leased-line service, so the short line needs to switch over to a Verizon cell network, says Buckingham

Control Design

While mechanical relays can be sensitive to pickup of EMI on both the control voltage and the output, solid-state relays using opto or pulse transformer provide excellent solutions for high-EMI applications through the use of integral

Railway Technology

Prover is a world-leading provider of software products for development and V&V of railway control and signalling systems, such as CBTC, ERTMS and interlocking systems. By utilizing Prover products, customers reduce ...