| | | | |
| --- | --- | --- | --- |
| IR repeater with 555 timer | | | |
The signal emitted by an IR remote control contains two parts, the control pulses and a modulated carrier wave. The control pulses are used to modulate the carrier, a popular modulation frequency being 36 and 42KHz. The signal is radiated by an IR diode, typical wavelengths in the 850 and 950 nm region of the electromagnetic spectrum. Although this light is invisible to the human eye, it can be seen as a bright spot with a camcorder or digital camera.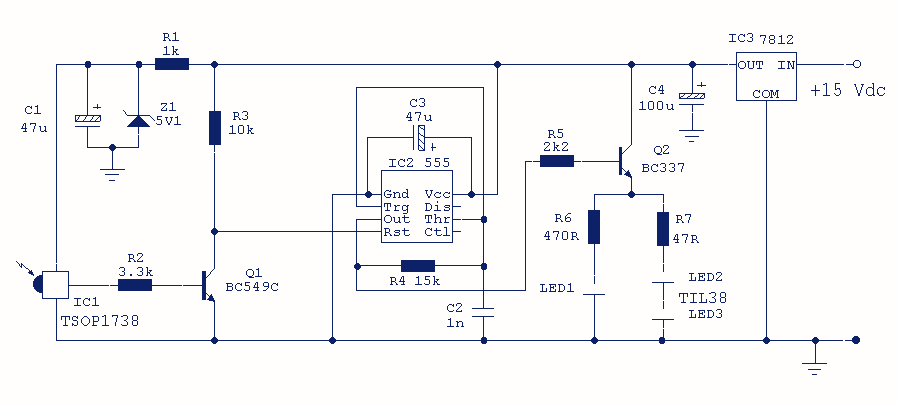 In this circuit, the TSOP1738 IR module removes the carrier leaving only the slower control pulses ( 1 - 3KHz) which appear at the output. R1, C1 and Z1 form a smoothed 5 Volt supply for the IR module. Under quiescent conditions (no input signal) the output of the IR module is high. Transistor Q1 will be on, resulting in a low collector voltage, restting the 555 oscillator. Q1 also acts as a level shifter, converting the 5 Volt output signal to 12 Volts for the 555 timer. When an IR signal is received, decoded control pulses turn Q1 off and on. Each time Q1 turns off, pin 4 of the 555 timer goes high and an oscillation will be produced for the duration of each data pulse. As the timing is crucialthe capacitor should have a tolerance of 5% or better and the power supply should be regulated. To allow for tolerance in components a 4k7 preset resistor is wired in series with R4. This adjustment allows R4 to be 15k to 19.7K creating output pulses of 21us and 27.58 us. As frequency is the reciprocal of periodic time then the oscillator adjustment is from 36.2Khz to 47KHz, allowing fine tuning for almost any appliance. The final output stage uses a BC337 transistor in emitter follower. The output pulse will not be inverted, and the current through the IR photo emitters is around 30 mA dc. This is of course an average value, measured with a digital multimeter. The red led as always, is a visible indication that an input signal has been received. The circuit may be modified to use a fixed resistor in the timing chain as shown below. In this example a voltage regulator is also recommended to prevent changes in supply voltage altering the output pulse. Before powering the circuit, remove IR LEDs. With no input red LED should be off. Now press a button on a remote control, red led should flicker. If that's the case then your circuit should be working ok. Install IR LEDs. We found during testing that IR signal emitted from remote and IR signal emitted from circuit are interfering each other and that's make receiving device not to react on receiving the signal, this happens when IR from remote and IR from circuit's LEDs are on the same room. To solve that we must isolate the IR beam of remote control. To do that we used a thin pipe in front of infrared sensor as seen in photo below, so that the beam emitted from remote hits the sensor directly. Another solution to this would be to put the emitting LEDs on a different room.
Recommended videos
How To Make Infrared Remote Controlled Circuit for Electrical appliances

TV Remote Jammer Circuit using 555 Timer IC

555 timers, IR LEDs and Remote control IR receivers
News
Daily Mail

Daily Mail And they definitely can't use two hands together in detailed ways, like replacing the batteries in a . Human hands are excellent at those tasks and much more. To even come close to rivaling what our hands are easily capable of, rob

Yahoo Finance

HANNOVER, Germany, April 25, 2017 /PRNewswire/ -- Delta, a global leader in power and thermal management solutions, announced today it is demonstrating ...

IOT Journal

... real-time analytics for condition monitoring, predictive maintenance and supply chain ; comprehensive device management and ; vertical application configurable real-time dashboards; and enterprise IT integration micro-services.

Diginomica

Diginomica Marketo is repositioning as an engagement platform that ings marketing and sales together in readiness for the engagement economy.

Hellenic Shipping News Worldwide

Hellenic Shipping News Worldwide Kalmar, part of Cargotec, is to extend its long-standing relationship with Dublin Ferryport terminals (DFT) with an order for Kalmar AutoRTG System. The order.

Yahoo Finance

We have given this a lot of thought and in our approach the terminal can start with and assisted moves, and evolve to full gradually." He continues: "We are very pleased to have concluded this deal with DFT, a

Progressive Rail Roading

Progressive Rail Roading ante at New Jersey rail yardPavonia is the only flat switching yard in North America that employs true one-person operations, without any assistance from utility field personnel, Conrail leaders claim. Moreover,

Manila Bulletin

in sea navigation imperils deployment of merchant mariners to shipsTime may come thereafter, that seafarers would not be needed to man ships," as or autonomous ships would be in place by then." Santos said. During the forum, Ad

The Boston Globe

The Boston Globe show on the roadChances are you've got more than one for your television and a fair number of light switches on the walls of your home. If you have a security system, it probably doesn't work in concert with the HVAC sy