| | | | |
| --- | --- | --- | --- |
| 3 LED Car battery Indicator | | | |
The operating principle of the circuit is very simple. The first Led D1 is placed in series with the resistor R2 and diode D4.An only be lit this LED indicates that the battery is ypofortismeni. For this reason Led D1 is red. If the voltage is greater than 12V, then netting R5 Z3 turns the transistor TR1, so the glows and Led D2 indicates that the battery of your car is okay and that is why color is green. Now, if the battery voltage exceeds 13,5 V in the same way it lights up and the third LED D3 in the middle of the transistor TR2.Stin cases this increase in voltage is detected by the panel R3 Z1 Z2.Afto means that your battery is yperfortismeni.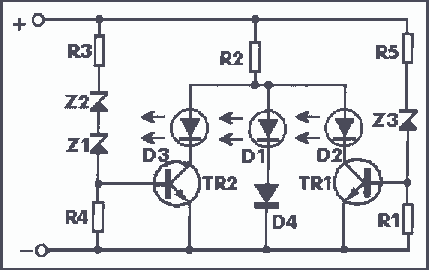 Specifications: Operating voltage: 9 - 14V DC operation: 40 mA Green LED: battery voltage 12 - 13,8 V Red LED: over voltage 13,8 V Amber LED: voltage below 12V