| | | | |
| --- | --- | --- | --- |
| Automobile-air-conditioner | | | |
This circuit disables the air conditioner compressor when additional engine power is required. It does so by monitoring the engine vacuum at the intake manifold. Ifthe vacuum drops to 40% of its normal level, the compressor clutch is disabled, removing the air conditioner load from the engine. After the engine returns to normal vacuum level, there is a 6 second delay before the compressor clutch is enabled and the air conditioner is reactivated. This allows 6 seconds of extra power, about 500 ft at 60 MPH, which increases the safety margin when passinganother vehicle.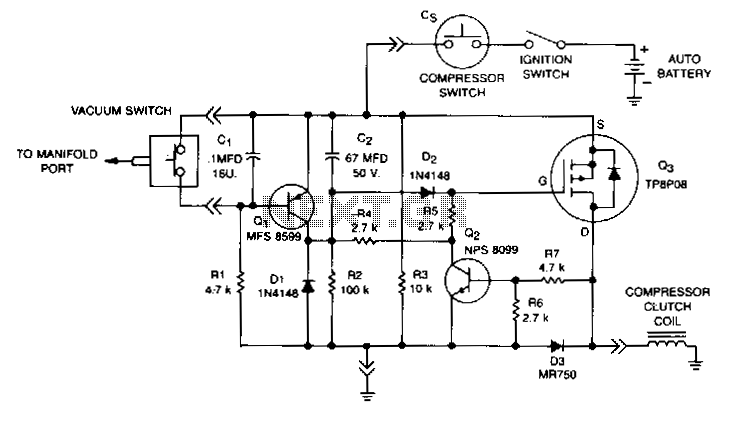 Loss of cooling is minimal because the air conditioner fan is not interrupted. When the engine is accelerated, manifold vacuum drops and vacuum switch VS opens to 40% of the normal manifold pressure. This causes Ql to turn on, discharging C2 and turning off Q3 via diode D2. When Q3 turns off, sn does Q2. When the engine reaches its normal operating vacuum, VS closes and Ql turns off, allowing C2 to charge for 6 seconds until Q3 turns on again.