| | | | |
| --- | --- | --- | --- |
| Lamp-Switching Circuit Circuit | | | |
A normally open pushbutton switch (SI) delivers a positive input pulse to pin 4 of Ul, triggering the 1C into action. The output of Ul at pin 6 supplies base-drive current to a Darlington pair comprised of Q1 and Q2, activating . 10- capacitor and any resistor value of from 1 to 10 can be used as the timing components.To use the circuit on an auto`s headlights, connect the relay`s normally open contacts across the car`s headlight switch and press SI to extend the on time.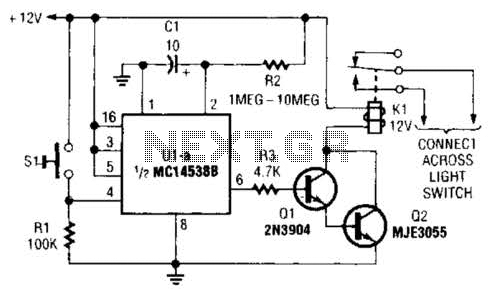 In connecting the circuit to control an ac-operated lamp, turn off the ac power and connect the relay contacts in parallel with the lamp`s power switch contacts.