| | | | |
| --- | --- | --- | --- |
| 1.5V LED Flasher Oscillator | | | |
The 8-lead plastic mini-DIP LM3909 IC was developed by National Semiconductor in the mid `seventies of the past century. It was a monolithic oscillator specifically designed to flash Light Emitting Diodes. By using the timing capacitor for voltage boost, it delivered pulses of 2 or more volts to the LED while operating on a supply of 1. 5V or less.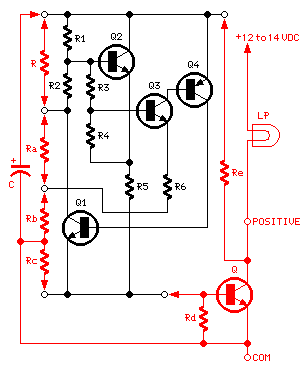 The circuit was inherently self-starting, and required addition of only a battery and capacitor to function as an LED flasher. Unfortunately, since 1998, the manufacturer discontinued the production of this chip. For this reason, and on request of some correspondents, I tried to emulate this IC operation using common discrete components, obtaining unexpected satisfactory results.