| | | | |
| --- | --- | --- | --- |
| MT8870D Integrated DTMF Receiver With Enhance Sensitivity | | | |
The MT8885 is a monolithic DTMF transceiver with call progress Filter It is fabricated in CMOS technology offering low power consumption and high reliability. The receiver section is based upon the industry standard MT8870 DTMF receiver. The transmitter utilizes a switched capacitor D/A Converter for low distortion, high accuracy DTMF signalling.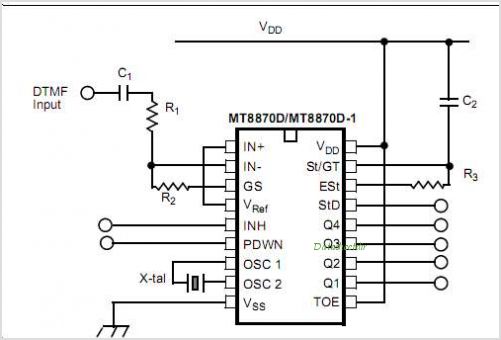 Internal Counters provide a burst mode such that Tone bursts CAN be transmitted with precise Timing A call progress Filter CAN be selected allowing a Microprocessor to analyze call progress Tones The MT8885 utilizes an adaptive micro Interface which allows the device to be connected to a number of popular Microcontrollers with minimal external Logic The MT8885 provides enhanced power-down features. The transmitter and receiver may independently be powered down via Register control.