| | | | |
| --- | --- | --- | --- |
| SOLAR BATTERY CHARGER CIRCUIT WITH OVER CHARGE PROTECTION | | | |
The ultimate source of energy is Sun. it is possible to generate current from sunlight using solar panels. These panels convert light energy into electrical energy. A solar panel consisting of a number of solar cells, which will produce a small amount of current but a bunch of solar cells may contribute enough energy to power a house hold item.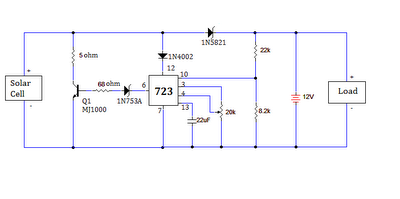 Here we are discussing about SOLAR BATTERY CHARGING CIRCUIT WITH OVERCHARGE PROTECTION. The voltage from solar panel will charge the battery to its maximum level. So there is a possibility of damaging the battery (Load) due to overcharging. In order to avoid this we have to introduce a Voltage Regulator using LM723 IC. The voltage regulator triggers whenever the voltage goes above a predetermined value and it enables the NPN transistor (MJ1000) thus the voltage from the solar panel is being grounded and no charge flows to the load.