| | | | |
| --- | --- | --- | --- |
| testing troubleshooting inverter | | | |
Just connect 22k fixed resistors across each transistor base and ground and then you may connect the 50K Dual pot leads across these resistors, that should imitate a 10k pot variations quite closely. Hi Swagatam, so just to be clear, you want me to remove the 10K resistors connected to the Base of each Transistor and replace with 22K resistors and connect another two 22K resistors from the Emitters to Ground.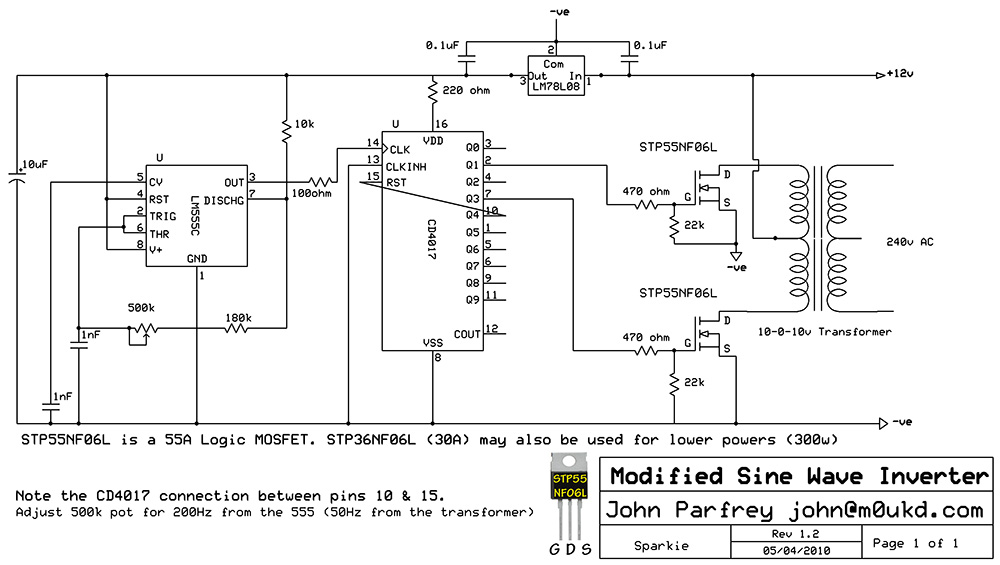 Then connecting the 50K Dual Pot across those connections. Is this correct Swagatam, when I have soldered the Pot into place, I want to make sure I`ve soldered it correctly before I place it into the Inverter. When I power up the circuit, and I turn the Pot, should the voltage at the Output of TR1 & TR2 be going Up or Down in a earlier e-mail I told you that the Dual Pot I had was 50K Ohms, I was mistaken. It is a 15K ohms Dual Pot. Do I still need the 22K ohms resistors, or a different value Since you say that with my PWM circuit the current consumption of the inverter shoots to a dangerous 14Amps, therefore I just thought, probably we can solve this by reducing the drive voltage to the gates of the mosfets. This can be simply done by controlling the base voltage of the buffer transistors. And that is exactly what we are trying to do by connecting a variable resistor across the base and the ground of each transistor. As discussed earlier, use lamp and ammeter set-up with the inverter and adjust the 15K pot until the current consumption becomes equal to your square wave design. Hi Swagatam, I performed that test with the headlight, Amp meter and PWM circuit, it was drawing 2. 1 Amps, but whenI tried to adjust the Pot, nothing really happened, the Amps did Not increase or decrease, only when i turned the Pot almost all the way left, it would kill the wave form, literly stopping the inverter, then turning the Pot back to the...