| | | | |
| --- | --- | --- | --- |
| Isolated RS-485 and RS-422 | | | |
Many RS-485 and RS-422 networks require isolation for safety, noise reduction, or ground loop elimination. A conventional circuit is shown in Figure 1. Unfortunately, optocoupler isolation is slow, complicated, and unreliable. Although RTS does not require the same speed as TXD and RXD, the optocouplers require a Schmitt trigger before the transceiver to condition the signal edges. Optocouplers also have to be driven harder to improve the slew rate of the output transistor to provide faster edges. These design considerations lead to a high component count and thus less reliability.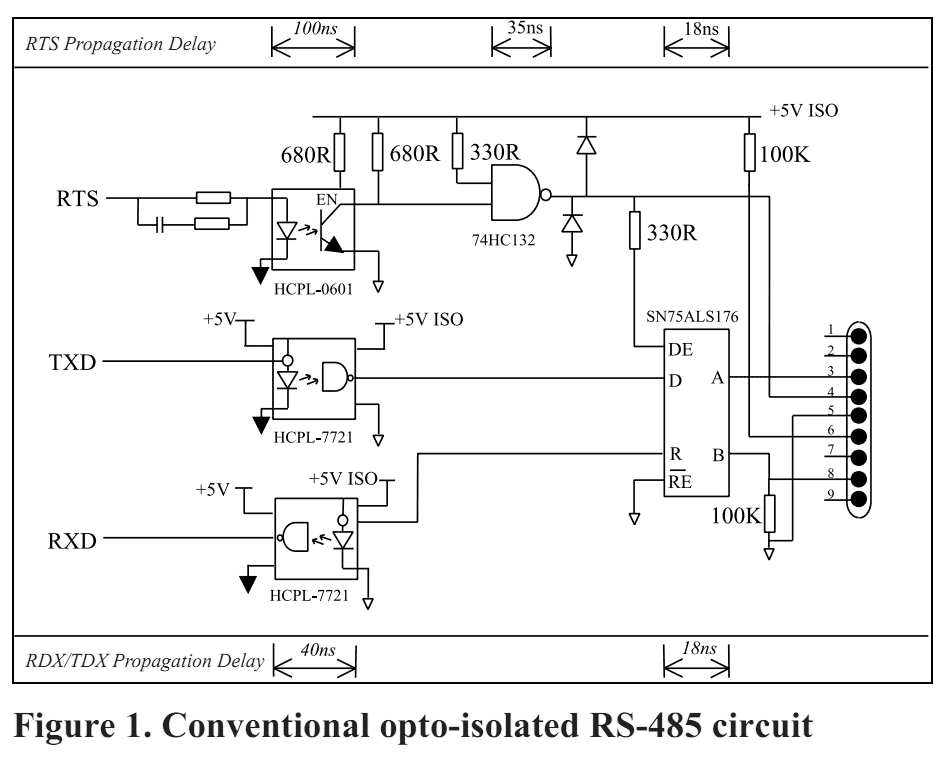 NVE offers a full line of IsoLoop® RS-485 and RS-422 Isolated Transceivers, including the workhorse IL485, IL422, and IL485W; the very high speed IL3585 and IL3522; the PROFIBUS compliant IL3685; the IL3200-Series fractional-load versions; the low-cost IL3100-Series; and the ultra-miniature 3-Series. IsoLoop integrated transceivers are far better than optocoupler circuits for propagation delay, skew, reliability, and component life. Figure 2 shows the component count of the traditional circuit of Figure 1. Figure 3 shows the component count for the equivalent function but better-performing IsoLoop solution. IsoLoop Isolated Transceivers are simple to use, better by design, and superior by technology.