This circuit was designed to control a 32 channel Christmas light show from the PC serial port. Originally designed with TTL logic, it has been simplified using CMOS circuits to reduce component count. It is a fairly simple, reliable circuit that requires only 4 common CMOS chips (for 8 outputs), an optical isolator, and a few discrete components. The schematic diagram (SERIAL.GIF) illustrates the circuit with 16 outputs which can be expanded with additional 8 bit shift registers.
visit page.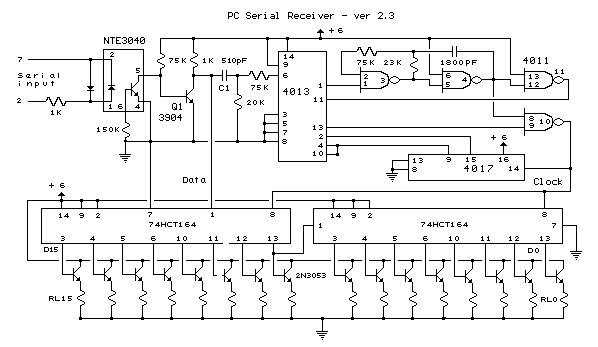 Recommended videos
Series and Parallel Circuits

New Invention - Circuit Scribe - Draw Circuits Instantly with conductive silver ink

Logic Gates and Circuit Simplification Tutorial
News
I-Connect007

Understanding the effects of the laser energy to the substrate material properly is essential in order to take advantage of the without creating unintended side effects. This paper presents an ... With the use of a laser, cutting any board <

The Verge

The Verge Amelia shot reportage photos of each stage of the process and mountains of discarded TVs, , cell phones —even an Apple II, complete with box. ... 99% of that was recycled; the remaining 1% was reused in some fashion or added t

Android Police

Android Police I believe SMT stands for Surface Mount , and refers generally to the process of mounting and connecting up all the components on the silicon that make up the phone's boards. I'll be honest: I'm not an engineer (could you tell

Farm Industry News (subscription)

"That can be very difficult, especially with how fast parts change." So while the exterior of a control unit may look the same from year to year, the components inside may be different. However, engineers must ensure all units work

The Punch

Bolarinwa Olawale, 27, emerged as the best graduate of Adekunle Ajasin University, Akungba Akoko, Ondo State, in the 2014/2015 academic session, with a 4.81 CGPA from the Department of Physics and Electronics. In this interview, he tells TUNDE A

Firstpost

IBNLive Besides, stock exchanges had put in place filters to stave off excessive volatility in stocks as well as derivatives segments. Brokerages and other market entities had also advised at that time to ensure there are no sudden spurts or

Institute for Ethics and Emerging Technologies

There may be several reasons why GSR is not widely used in psychotherapy, but one surely is that the was discredited in the 1950s when it was very prominently used in the Dianetics and Scientology movement. That was the time when Freud's

Computerworld

Computerworld For example, Georgia , the University of Tokyo and Microsoft Research have all created printable circuits over the past two years. One company, called Bare Conductive, has ... Mac and Linux operating systems. It connects to a v

I-Connect007

He's spent decades designing PCBs for a variety of applications, including defense, aerospace, , and high-performance audio. I asked David to share some of his thoughts on designing high- boards with increasingly finer spaces, traces and ..