This circuit was designed to control a 32 channel Christmas light show from the PC serial port. Originally designed with TTL logic, it has been simplified using CMOS circuits to reduce component count. It is a fairly simple, reliable circuit that requires only 4 common CMOS chips (for 8 outputs), an optical isolator, and a few discrete components. The schematic diagram (SERIAL.GIF) illustrates the circuit with 16 outputs which can be expanded with additional 8 bit shift registers.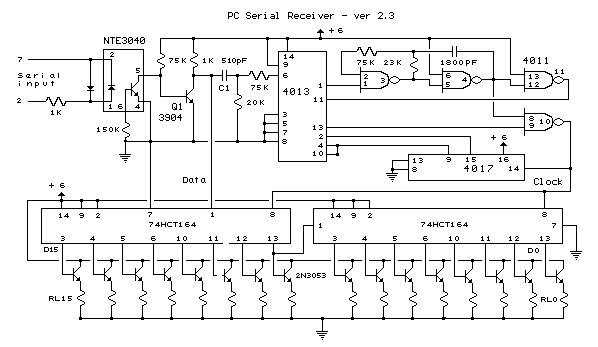 Recommended videos
Replacing a jack on a circuit board when the copper pads are missing

Voltage regulator tutorial

Car Stereo Teardown, Analysis and Hack - Blaupunkt Car 300
News
Elektor (blog)

Elektor (blog) This is ideal for products in which boards are mounted at different angles to each other and there is no requirement for ongoing flexibility. The circuit board only needs to be bent into the desired shape once, during assembly

The Verge

The Verge Amelia shot reportage photos of each stage of the process and mountains of discarded TVs, , cell phones —even an Apple II, complete with box. ... 99% of that was recycled; the remaining 1% was reused in some fashion or added t

Farm Industry News (subscription)

"That can be very difficult, especially with how fast parts change." So while the exterior of a control unit may look the same from year to year, the components inside may be different. However, engineers must ensure all units work

Livemint

Livemint Besides, stock exchanges had put in place filters to stave off excessive volatility in stocks as well as derivatives segments. Brokerages and other market entities had also advised at that time to ensure there are no sudden spurts o

Science Daily

The findings indicate that intricate interactions of components effectively change the balance of top-down and bottom-up processing, with learning enhancing the contribution of top-down control. ... National Institutes of Health

Computerworld

Computerworld For example, Georgia , the University of Tokyo and Microsoft Research have all created printable circuits over the past two years. One company, called Bare Conductive, has ... Mac and Linux operating systems. It connects to a v

IEEE Spectrum

IEEE Spectrum Today, that's done using sophisticated -aided-design software. These CAD tools are created by specialized companies that often work closely with chipmakers. The tools frequently contain millions of lines of code, and they change

Crain's Chicago Business

Crain's Chicago Business It's no longer enough to cram the ains of a desktop into a phone, which, in and of itself, is no mean feat. Now phonemakers have to give smartphones screens nearly as big as an ATM's while making them as thin and lig

BGR

BGR Apple's "iWatch" may or may not be an actual smartwatch. Whatever the much rumored and hotly anticipated wearable device is or is not, a new report claims it will finally debut this coming September after years of speculation.