| | | | |
| --- | --- | --- | --- |
| Low-Noise 420Mhz Atv Receiver/Converter | | | |
Ll, Ql, L2, and L3 compose an RF amplifier stage that feeds Ml, a doubly balanced mixer. Q4 is a l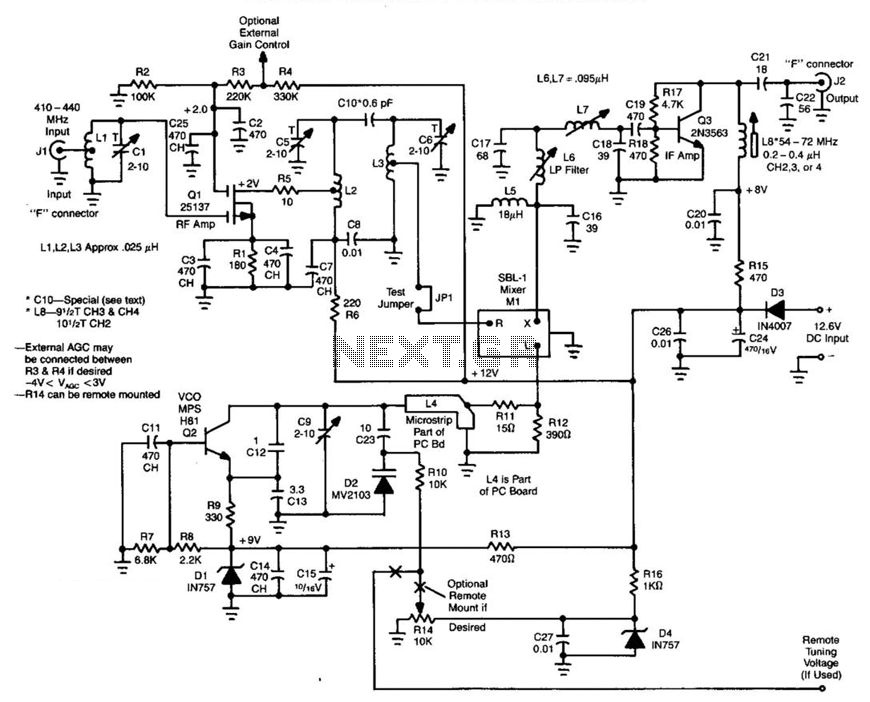 ocal oscillator stage in the 375-MHz range. Signals in the 420- to 450-MHz range from Ql are mixed in Ml and fed through filter L6/L7/C17, where only the 60- to 70-MHz (CH3/CH4) signals pass. The IF signal is passed to Q3, an IF amplifier. The overall gain is 25 dB and the noise figure less than 2 dB.
Recommended videos
How To :: Badlands 2500# Wireless Winch MOUNTED SWITCH MOD

How to Make a Digital TV Antenna

Low-noise block downconverter
News
Market Exclusive

The Company's Giga-tronics segment produces modular signal sources, up-, receivers and down- in the AXIe format covering a radio frequency () range of 100 megahertz to 18 gigahertz. The end user markets for these products are ...

Military & Aerospace Electronics

These include higher bandwidth data , gigabit serial data interfaces, wideband optical system links, digital packet standards, new FPGA IP protocols, and graphically-oriented design tools. By weighing the advantages and tradeoffs of each .

Broadcasting & Cable

Satellite continues to be a reliable and secure way to transmit oadcast and oadband services globally. At CommunicAsia 2017, WORK Microwave will demonstrate how satellite operators in the Asia-Pacific region can dramatically increase flexibility

Audio Media International

Audio Media International Like all Zaxcom miniature recorders, ZFR400 comes equipped with ZaxNet, a user selectable 2.4 GHz signal that provides remote control functionality. ZaxNet can automatically jam timecode on the ZFR400 upon powering,

Global Forecast to 2022

Key ...

Yahoo Finance

The integrated passive device market for data is expected to grow at a high rate between 2016 and 2022. The market growth can be attributed to the increasing demand for miniaturized modules in consumer gadgets such as smartphones and ...<

Highland Mirror

Daily News Journal The Company's produces a wide range of products including data amplifiers and linear products radio frequency () ICs power management products sensors based on micro-electro mechanical systems (MEMS) technology and other s

Telecom Lead (registration) (blog)

Tektronix AWG5200 Test and measurement company Tektronix has launched a new arbitrary waveform generator (AWG) for use in research, electronic test, and ...

RF Globalnet (press release)

San Jose, CA (Marketwired) - Integrated Device Technology, Inc. (IDT®) (NASDAQ:IDTI) and Seiko Epson Corporation (TSE:6724) ("Epson") the world leader in ...

MarketWatch

According to a new market research report "Integrated Passive Device Market by Base (Silicon and non-Silicon), Product (Baluns, Couplers, Harmonic Filters, ...