| | | | |
| --- | --- | --- | --- |
| Square wave-to-triangle converter | | | |
This fixed frequency triangular waveform generator driven by a TTL square wave generates typically 16-V p-p triangles at frequencies up to several MHz. It uses only one AND open collector gate, or one open collector inverter as a fast integrator with gain. Careful successive adjustments of R and PI are needed. When correct adjustments are reached, output amplitude and linearity are largely independent of the value of VB, from a minimum of 18 V up to 35 V.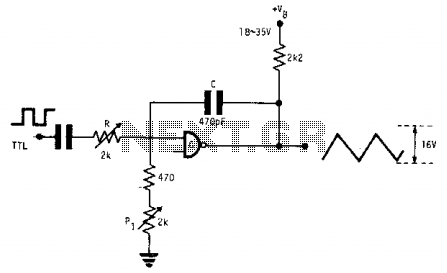 The value of C shown is for 100 kHz; at higher frequencies, it must be reduced in proportion.