For multiplying frequencies in the 1-to 150-Hz range, this circuit uses a 4046B and a 100 prescaler. The VCO output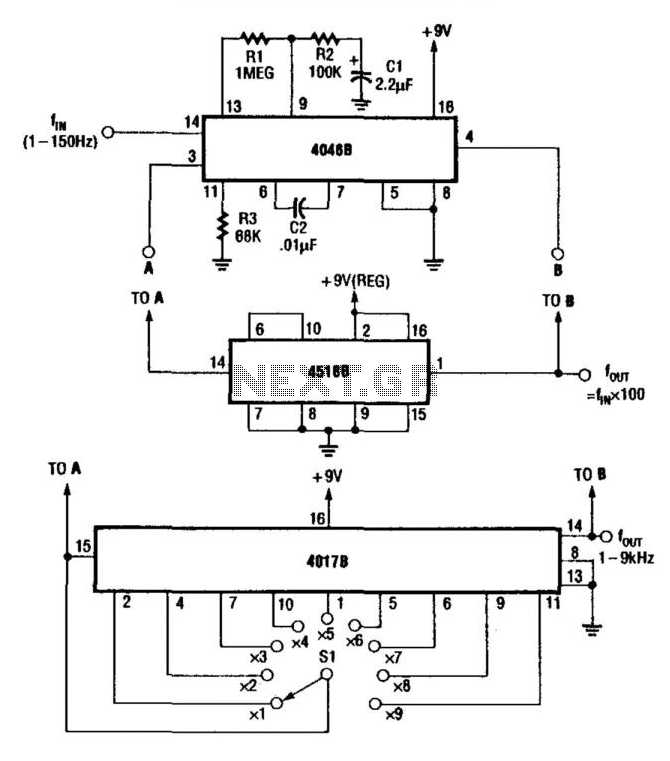 is phaselocked to the low-frequency input. This simplifies use of a frequency counter to measure LF signal frequencies. By using a 4017B and a 1-kHz. the circuit can be used as a 1-to 9-kHz frequency synthesizer or as a x10 frequency multiplier.
Recommended videos
4017 Decade Counter and Frequency Divider

Passive RC low pass filter tutorial!

How can we increase clock frequency in digital circuits by using parallelism?
News
Analysis, Growth, Trends and Market ...

Digital Journal

Fleet management refers to a vast array of telematics solutions designed primarily to empower commercial fleet-based organizations to increase profitability and ...

Autoblog (blog)

Autoblog (blog) gauge cluster worksFord has released a couple of videos detailing how the new Ford GT supercar's 10-inch, high-resolution gauge cluster works in the various modes, and how those modes change the information displayed and

Digital Journal

Additional services include pipeline line locating, , pipeline surveys and pipeline marking. They are a strategic partner in providing services to enhance pipeline safety. More information can be found along with a contact form on their <

SYS-CON Media (press release)

The DNP3-enabled Graphite platform provides remote access, and alarming with the added capability to display data in indoor or outdoor applications. This makes the solution ..... Brand owners are caught in a crossfire. From one

RF Globalnet (press release)

Saelig Company, Inc. announces the availability of the Aaronia GPS Logger - a six-parameter that has been designed for recording the position and orientation of RF antennas (such as the Aaronia HyperLOG X, HyperLOG EMI, and Magnotracker

ChemEngOnline

Figure 2. The Brooks SLA 5800 sealed, thermal mass-flow controllers and meters feature high accuracy, high zero stability and high repeatability. ... Events can also trigger of the most important process and device variables

Co.Design (blog)

USA TODAY As you may have guessed, this also introduces all sorts of possibilities for Aristotle automatically replenishing diapers and formula, too. "It looks like you need more diapers, would you like to order more?" Aristotle ... And even

Electronics360

Electronics360 This was initially a and telemetry system that gathered and sent data about a component, subsystem or complete system to a remote site for processing and alerted control centers about operating conditions. Its origins can be t

Food Engineering Magazine (registration)

Food Engineering Magazine (registration) "PLCs were designed for fast on/off processing and were the first step in automating applications such as automotive manufacturing," says Matt Newton, director of technical marketing at Op