For multiplying frequencies in the 1-to 150-Hz range, this circuit uses a 4046B and a 100 prescaler. The VCO output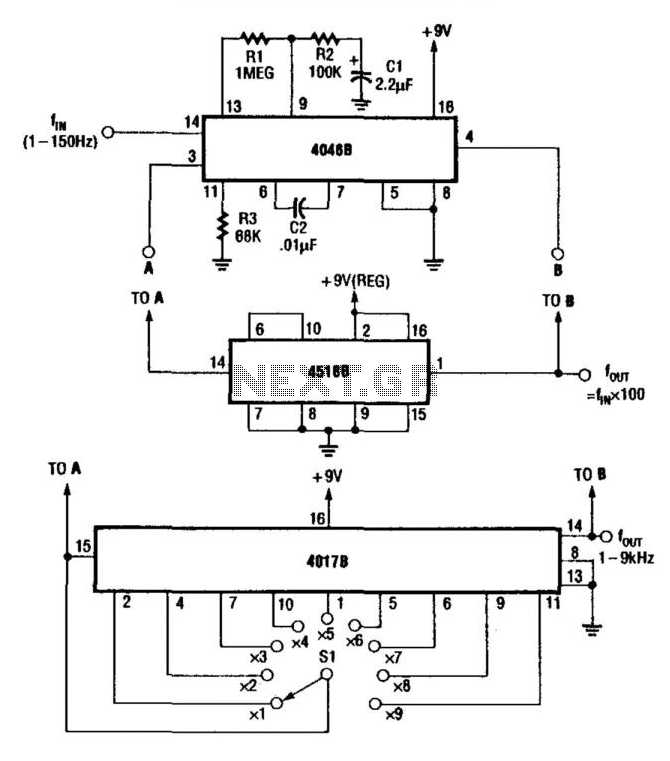 is phaselocked to the low-frequency input. This simplifies use of a frequency counter to measure LF signal frequencies. By using a 4017B and a 1-kHz. the circuit can be used as a 1-to 9-kHz frequency synthesizer or as a x10 frequency multiplier.
Recommended videos
Low Pass Filter - Brain Waves.avi

Passive RC low pass filter tutorial!

How can we increase clock frequency in digital circuits by using parallelism?
News
Autocar Professional

Autocar Professional National Instruments (NI), the US-based global test and measurement solution provider, is eyeing new opportunities in the connected world through its software capabilities. NI's platforms, which help companies in vehicle

ARC Advisory Group (blog)

Remote Sensor and the ROTAMASS Total Insight Product ...We have added a Process Guard function that can be used to select event patterns for the issuance of alarms, configure the triggering of based on alarms or manually set points, and sp

Wi-Fi Event Programmable Thermostat w/Humidity Control & Advanced Remote Sensors

CEPro

CEPro Each UP32xx accommodates up to 11 remote sensors, occupancy sensors and 2 inputs per thermostat for flexible climate monitoring, HVAC control and transitional event reporting. The embedded comprehensive alerting schema helps maintain .

Digital Journal

At PBIOS, TECAT will display its WISER sensor technology in a pigging solution for older pipelines. The pig utilizes a magnetometer sensor small enough to ...

Labmate Online

Labmate Online Thermoregulator Takes Thermoregulation to the Next LevelVelp presents the Vertex Thermoregulator VTF EVO, the innovative solution that takes temperature control to the next level. VTF EVO and its TEMPSoftTM software are a

iTWire

cultureFor example, a motor insurance company's customer might agree to in-vehicle in return for a "safe driver" discount. But what if they were involved in an accident? How would they feel about the data being made available to the police

Digital Journal

"We aim to provide flexible and reliable solution that suit the dynamic demands in any cold chain management process in Europe and America, since we understand the importance of real time data monitoring," said Alice, Elitech Product ...

New portable programmable digital multimeter

Electropages (blog)

Electropages (blog) multimeterThe USB interface is fully accessible in battery mode, allowing full when used with a laptop PC. The Dual measurement display shows the main and secondary reading simultaneously to provide either two parame

ThomasNet News (press release) (blog)

Analog and channels, along with high-speed counter inputs, allow the DT82E to easily connect to most sensors and data measurement sources. Temperature, voltage, current, 4-20mA loops, resistance, idges, strain gauges, frequency, ...