For multiplying frequencies in the 1-to 150-Hz range, this circuit uses a 4046B and a 100 prescaler. The VCO output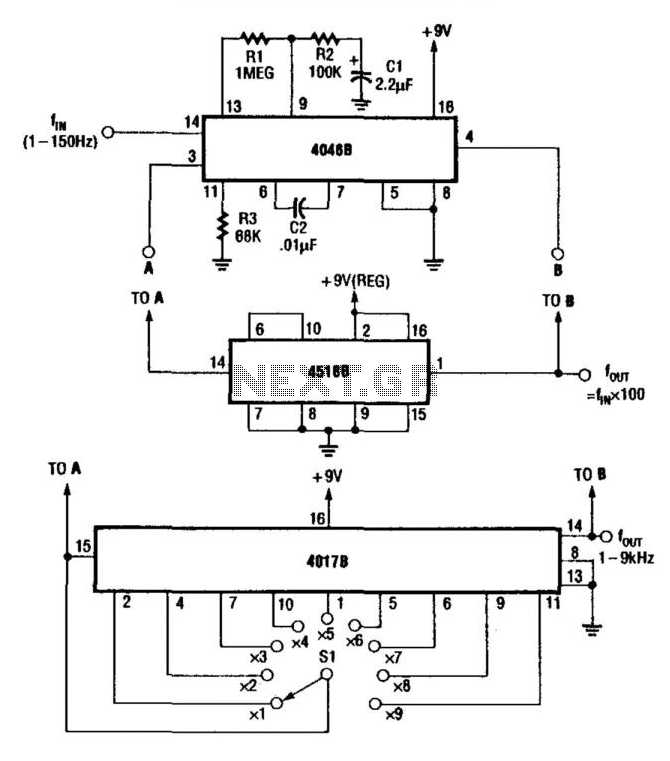 is phaselocked to the low-frequency input. This simplifies use of a frequency counter to measure LF signal frequencies. By using a 4017B and a 1-kHz. the circuit can be used as a 1-to 9-kHz frequency synthesizer or as a x10 frequency multiplier.
Recommended videos
Arduino Garden Controller - Automatic Watering and Data Logging

Reduce Noise in Your Sensor Measurements with an Active Low Pass Filter Part 1

Passive RC low pass filter tutorial!
News
SYS-CON Media (press release)

SYS-CON Media (press release) LOUISVILLE, Colo., April 26, 2017 /PRNewswire/ -- XetaWave, a Colorado-based wireless technology provider, today announced the release of XetaPAK, an ...

CAR Magazine

CAR Magazine Inside, there's one seat, a set of beautifully machined racing pedals and a carbonfie dashboard with a Cosworth instrument panel and system. Mini's trademark gigantic dial still remains in the centre of the dash, but now houses

Medgadget (blog)

In 2015, we introduced a near field communication (NFC) temperature label. The NFC is a supply chain label that records temperature readings of goods in the supply chain. ... The FDA-cleared patch measures temperatures between

Electronic Design

However, what if there was something that could combine the performance of a DSP, with the integration that an MCU can provide and the benefits of having standalone memory? System costs would quickly go down and system performance ...

MilTech

MilTech Switches for medium-voltage networks (ranging from micro to power switches) first need to undergo repeated testing to comply with different types of standards.

Ferret

Ferret The torque screwdriver can be paired with FUTEK's USB Solutions and SENSIT Software, creating the perfect laboratory platform for and live graphing measurements straight onto the operator's computer screen as depicted in the conceptua

CompositesWorld

CompositesWorld 4-spool -Electronic Tensioning System, which accommodates standard 75-mm/3-inch core outside pull materials with a maximum spool size of 300 mm/12 inches diameter by 13.6 kg/30 lb. Tension range: 4.5-45 N (1-10 lbf). 8-spool s

PACE Today

PACE Today ... as a perfect auditing tool to monitor such torsional measurements. Pairing this Miniature Reaction Torque Screwdriver (TAT200) with FUTEK's USB Solutions and SENSIT Software creates a suitable laboratory platform for and live

Dragzine.com

Dragzine.com The AEM AQ-1 Data Logging System (PN 30-2500) was the thing everyone was talking about when we caught up with AEM Performance at the 2016 PRI Show.