For multiplying frequencies in the 1-to 150-Hz range, this circuit uses a 4046B and a 100 prescaler. The VCO output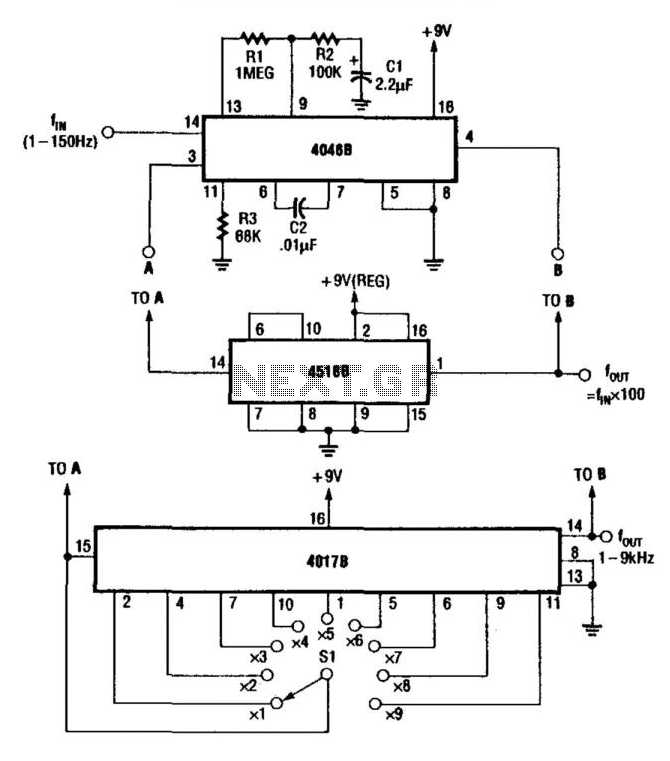 is phaselocked to the low-frequency input. This simplifies use of a frequency counter to measure LF signal frequencies. By using a 4017B and a 1-kHz. the circuit can be used as a 1-to 9-kHz frequency synthesizer or as a x10 frequency multiplier.
Recommended videos
Populaire video

Passive RC low pass filter tutorial!
News
AZoSensors

AZoSensors On March 21, 2017, Red Lion Controls, the global experts in monitoring, communication and control for industrial networking and automation, announced the new Graphite® Edge Controller. This new compact rugged industr

Press Release

Digital ...

Digital Journal

a leader in navigation and mapping products, and M2M DataSmart, wireless.

Yahoo Finance

YORK, Pa., March 21, 2017 /PRNewswire/ -- Red Lion Controls, the global experts in communication, monitoring and control for industrial automation and ...

ThomasNet News (press release) (blog)

Each Grant features 8 to 16 universal analog inputs and 8 inputs, along with 4 pulse rate/counter inputs. 4 alarm outputs notify users whenever measurement values go out of specification. The SQ2020s are configurable via integral

ScandOil

Downhole Emerson Automation Solutions has introduced the Paine 328-12-0010 pressure and temperature and transmitter, a high precision solution for process measurement and in downhole drilling applications. Downhole drilling ...

ScandOil

Marathon Oil Corporation has announced it has signed an agreement to sell its Canadian subsidiary, which includes the Company's 20% non-operated interest ...

Automation World

downhole to record and transmit pressure and ...Emerson Automation Solutions introduces the Paine 328-12-0010 pressure and temperature and transmitter, a high precision solution for process measurement and in downhole drilling applicati

Airport Technology

Airport Technology ... LED display, as well as on external devices such as PCs, tablets or smartphones. DEKAL software packages are USB and Wi-Fi link compatible, and contain measurement , graph drawing and data export features, as well as de

Network World

Network World Each node includes two Cisco Flexible Flash (FlexFlash) Secure (SD) cards, a single 120-GB solid-state disk (SSD) drive, a single SSD write-log drive, and up to six 1.2-TB SAS hard-disk drives (HDD) or up to six 3.8-terabyte (