This inverter uses a 12.6-V to 120-V transformer to deliver a quasi-sine wave that has the same rms and peak voltage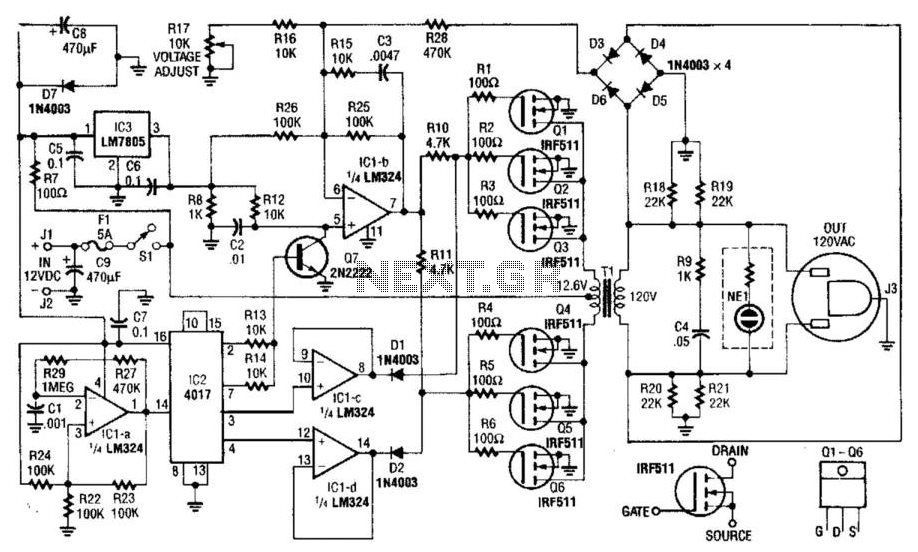 as a pure sine wave. Q1 to Q6 must be heatsinked. A 1.5` 4` aluminum heatsink was used on the prototype. The transformer should be a 3-A unit. The circuit uses feedback to help regulate the output voltage to 120 Vac. Notice that the output frequency is 75 Hz to avoid saturating the core of T1.
Recommended videos
⚡ Don

12 Volt Power Inverter Circuit ~ High Output/Freq Adjustable

Make Emergency Light DIY-Circuit!
News
Nasdaq

Nasdaq With over 25 years of leadership in oadcast semiconductor and standards, Semtech's leading oadcast video products support all oadcast data rates and formats with customer-focused functionalities. Semtech's robust solutions enable&nbsp

EconoTimes

"53GBaud PAM4 provides the optimal path to both 100G and 400G by creating a cost-efficient, integrated solution for customers," said Imran Sherazi of Marketing and Applications for Semtech's Signal Integrity Products Group. "T

Yahoo Finance

Yahoo Finance Enables Top Solutions in Second-Annual Global IoT ChallengeCAMARILLO, Calif., March 17, 2017 (GLOBE NEWSWIRE) -- Semtech Corporation (SMTC), a leading supplier of analog and mixed-signal semiconductors, today announced that

GlobeNewswire (press release)

01, 2016 (GLOBE NEWSWIRE) -- Semtech Corporation (Nasdaq:SMTC), a leading supplier of analog and mixed-signal semiconductors, today announced that its LoRa Wireless RF , featuring native GPS-free geolocation capabilities, has been ...

GlobeNewswire (press release)

and New Wireless Charging Platforms at electronica07, 2016 (GLOBE NEWSWIRE) -- Semtech Corporation (Nasdaq:SMTC), a leading supplier of analog and mixed-signal semiconductors, will feature a robust selection of platforms that enable connect

Nasdaq

Incorporated into Largest IoT Network in the UKCAMARILLO, Calif., Oct. 11, 2016 (GLOBE NEWSWIRE) -- Semtech Corporation (Nasdaq:SMTC), a leading supplier of analog and mixed-signal semiconductors, today announced its LoRa® Wireless RF

GlobeNewswire (press release)

Chosen by SoftBank for New IoT Network in JapanCAMARILLO, Calif., Sept. 22, 2016 (GLOBE NEWSWIRE) -- Semtech Corporation (Nasdaq:SMTC), a leading supplier of analog and mixed-signal semiconductors, today announced its LoRa® Wireless RF

GlobeNewswire (press release)

Featured in New Starter Kit for Fast Prototyping of Internet of Things ...CAMARILLO, Calif., Aug. 18, 2016 (GLOBE NEWSWIRE) -- Semtech Corporation (Nasdaq:SMTC), a leading supplier of analog and mixed-signal semiconductors, today announced

GlobeNewswire (press release)

Used to Keep Skiers Safe in the Swiss AlpsCAMARILLO, Calif., July 26, 2016 (GLOBE NEWSWIRE) -- Semtech Corporation (Nasdaq:SMTC), a leading supplier of analog and mixed-signal semiconductors, today announced that after a successful trial, T