It seems that guitar fuzz boxes have been around since the beginning of rock, and have seen little improvement over the years. This one is somewhat different because rather than simply distorting the sound, it also pulses in step with the peaks of the waveform from the pickup because of the Schmitt trigger op amp circuit.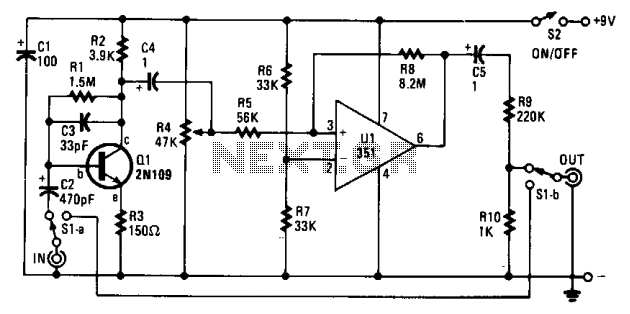 Capacitor C2 requires some explanation. It should normally be a 1- or 2-µ¥ electrolytic capacitor. However, we show the value as 470 pF because it's recommended as an experimental value giving far out effects.
Recommended videos
Fuzz Face Circuit Analysis

Build a Guitar Pedal in 10 mins! (Fuzz)

Chasing Tone 99 - How do the various clipping circuits work?
News
ScienceAlert

According to a new study, we can simplify e-waste recycling by pulverising dumped electronics into nanodust – which researchers say could be a more efficient and environmentally friendly way of eaking down unwanted appliances and into

Jacksonville Journal-Courier

Jacksonville Journal-Courier Even though closed- camera feeds would be monitored by guards , is susceptible to a host of problems, from equipment malfunctions to power outages or someone monitoring simply looking away for a few seconds. More

CyclingTips

coverage, day threeThe Taipei Cycle Show is always an interesting stop on the annual trade show as there is far more emphasis here on OEM manufacturing relative to Eurobike and Interbike, both of which focus more on the aftermarket with ea

The State Journal-Register

Bruce Rauner wants to replace guards in watchtowers with closed- cameras at nearly two dozen lower-security Illinois prisons, an effort to cut expenses for a cash-strapped state that has gone two years without a budget. ... Officials had

HPCwire (blog)

HPCwire (blog) Chips with Improved X-Ray Imaging"[We] demonstrate that X-ray ptychography – a high-resolution coherent diffractive imaging technique – can create three-dimensional images of integrated of known and unkn

BGR

BGR story of one of the biggest fights in self-driving car The story of one of the biggest fights in self-driving car . Chris Smith · @chris_writes. March 17th, 2017 at 7:12 PM ... Bloomberg Businessweek has the story on this pa

Live Trading News

Live Trading News Manufacturer ADCO V:CVM) (FRANKFURT: B3BN) (OTCQB: CRRVF) announces partnership with ADCO , a Michigan-based electronic design and manufacturing company. ADCO will be the exclusive provider of the custom board the sen

LancasterOnline

LancasterOnline : Lancaster man helps engineer toy featured on 'Shark Tank'For those objects to work, engineers have to design and program boards to translate software inputs and outputs into real-world effects. For example, one year Weh

BGR

BGR that prevents the next Galaxy Note 7 disasterThe software can determine whether a phone is charging normally, or whether there's a short the battery, a detail that's not apparent to the user, but that can be responsible for explosio