This receiver is built around a uPC1373 IR remote-control preamplifier, a sensitive 30-to-40 kHz tuned detector, an automatic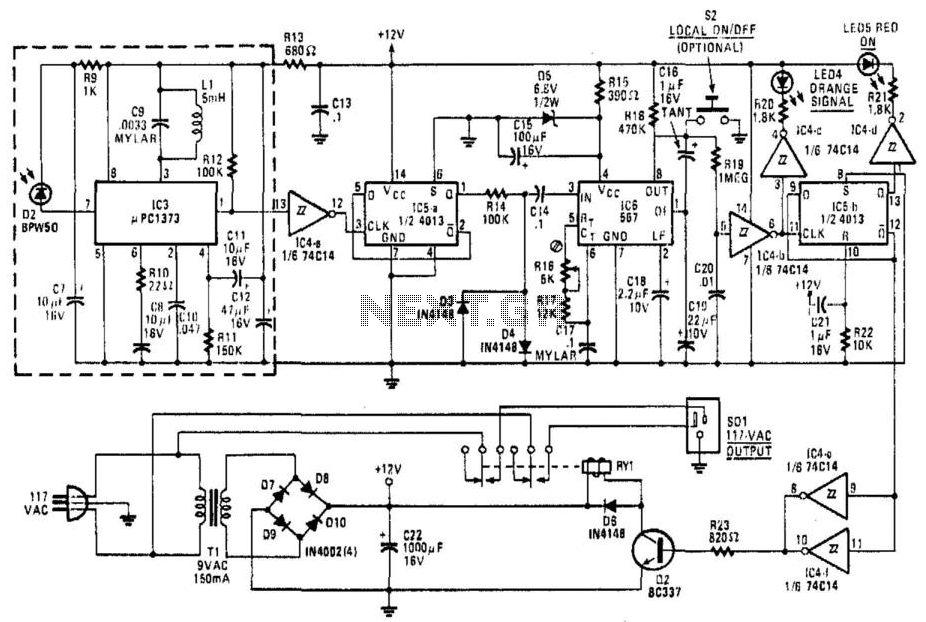 gain control, a peak detector, and an output waveshaping buffer. The demodulated signal from the preamp stage is sent to IC4A, a 74C14 Schmitt trigger. The squared-up 1 500-Hz signal is then sent to the clock input of IC5A, half of a 4013 dual `D` flip-flop. That 750-Hz signal is clipped to approximately 0.7-V p-p by diodes D3 and D4. The clipped signal is then fed to IC6, a 567 tone decoder. The output of that IC goes low whenever the frequency of the signal fed to it is within the lock range of its internal VCO. When IC6 detects a signal of the proper frequency, pin 8 goes low. The output signal is fed through another Schmitt trigger (IC4B), which drives another `D` flip-flop, IC5B. Schmitt trigger IC4B also drives IC4C, which in turn drives LED4, SIGNAL, which lights up whenever a signal is received. The Q output of IC5B drives two parallel-connected inverters. IC4C and IC4F turn transistor Q2 on when Q goes low. That transistor energizes the relay; its contacts switch the controlled device on and off.
Recommended videos
Building Electronic Circuits (Tutorial 6): Infrared Sensor

Infrared Detector Circuit

Microwave doppler sensor lamp with perplexingly simple circuitry.
News
EIN News (press release)

CAMARILLO, Calif., July 14, 2016 (GLOBE NEWSWIRE) -- Semtech Corporation (Nasdaq:SMTC), a leading supplier of analog and mixed-signal semiconductors, will demonstrate its LoRa wireless RF , including its recently announced LoRa ...

Nasdaq

"By tapping talent from around the globe, we have been able to leverage diverse perspectives, experiences and backgrounds to our advantage and introduce many industry-leading and innovative , like our LoRa for the Internet of ...

GlobeNewswire (press release)

Adopted by Metering Companies throughout ChinaCAMARILLO, Calif., June 02, 2016 (GLOBE NEWSWIRE) -- Semtech Corporation (Nasdaq:SMTC), a leading supplier of analog and mixed-signal semiconductors, announced today that its LoRa™ RF wire

Nasdaq

Selected for Advantech's M2.COM Internet of Things Sensor PlatformCAMARILLO, Calif., May 25, 2016 (GLOBE NEWSWIRE) -- Semtech Corporation (Nasdaq:SMTC), a leading supplier of analog and mixed-signal semiconductors, today announced that Adva

GlobeNewswire (press release)

For quarterly product updates, sign up for Semtech's e-newsletter . ... Internal green programs seek to reduce waste through material and manufacturing control, use of green and designing for resource reduction. Publicly traded

GlobeNewswire (press release)

The tri-mode charger supports two types of wireless charging : inductive and resonant. With inductive , the receiver and transmitter coils require closer alignment, resulting in an efficient use of wireless power transfer. With

Business Wire (press release)

Business Wire (press release) CAMARILLO, Calif.--(BUSINESS WIRE)--Semtech Corporation (Nasdaq: SMTC), a leading supplier of analog and mixed-signal semiconductors, announced that its advanced portfolio of 12G UHD-SDI products has set a new in

Business Wire (press release)

Business Wire (press release) Adopted by A2A for New Smart City InitiativeThrough the deployment of a LPWAN in the region and by offering resources for the design and implementation of smart , A2A, along with the Smart City Lab, aims to

The Atlantic

The Atlantic Investigators traced the failure of both the rudder and computer systems to a cracked solder joint boards. The rudder system had experienced problems 23 times since January 2014, according to the airline's maintenance records ci