The PWM controller uses complementary half-H peripheral drivers SN75603 and SN75604, with totem-pole outputs rated at 40 V and 2.0 A. These drivers effectively place the motor in a full-bridge configuration, which has the ability to provide bidirectional control. Timer U1 operates in the astable mode at a frequency of 80Hz. The 100-0 discharge resistor results in an 8-p.s trigger pulse which is coupled to the trigger input of timer U2. Timer U2 serves as the PWM generator. Capacitor C1 is charged linearly with a constant current of 1 mA from the 1N5297, which is an FET current-regulator diode.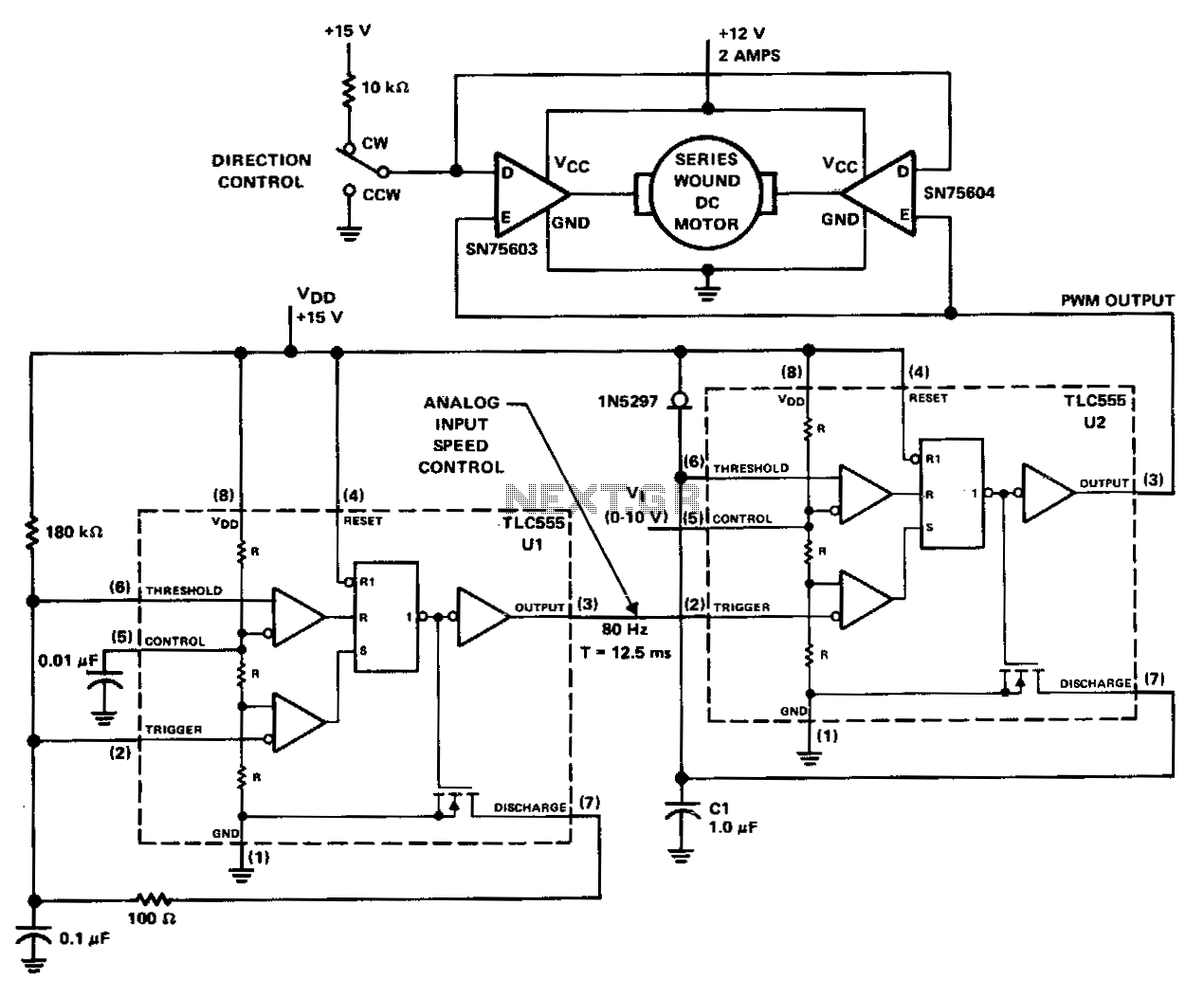 Motor speed is controlled by feeding a de voltage of 0 to 10 V to control input pin 5 of U2. As the control voltage increases, the width of the output pulse pin 3 also increases. These pulses controLthe on/ off time of the two motor drivers. The trigger pulse width of timer U1 limits the minimum possible duty cycle from U2.
News
Hindustan Times

Hindustan Times In the wake of terror attack on the Pathankot airbase earlier this year, the local police is encouraging shopkeepers to install closed- television (CCTV) cameras not only their establishments but also outside their shutters t

InsideSources

InsideSources With the U.S. Court of Appeals for the D.C. expected to rule on the Federal Communications Commission's internet regulations any day now, it's hard to believe none of the presidential candidates or more media outlets have ackno

PC Magazine

PC Magazine The Strategic Computing Complex is located in a classified area of the Los Alamos National Laboratory (LANL), so during a recent visit, PCMag met up with two of its supercomputing and quantum cryptography experts "outside the fenc

Business Wire (press release)

Business Wire (press release) CAMARILLO, Calif.--(BUSINESS WIRE)--Semtech Corporation (Nasdaq: SMTC), a leading supplier of analog and mixed-signal semiconductors, will demonstrate an array of products from its Protection, Power and High-

StreetInsider.com

(TDY) to Divest Teledyne PCT in $9.3M DealTeledyne Technologies Incorporated (NYSE: TDY) and Firan Technology Group Corporation jointly announced an agreement to sell assets of Teledyne's printed business ("Teledyne PCT") to FTG Circuits I

NDTV

NDTV Buying a smartphone or a tablet is overwhelming because there is too much to choose from, but thanks to sites like this one, there's a wealth of research that's been done, and data that's readily available online to help you make a decis

ReadWrite

"I think there are vulnerable groups out there for whom this might not be seen as the world's biggest gift." The U.S. ... The sensor is powered by magnesium and copper films, which when wet power the integrated the pill. Your

Digital Trends

Digital Trends Instead of whiz-bang solutions, Mossberg's proposed smart gun , which is being developed by his iGun Corp., ties a gun to a single user and makes it easy for that person to grab their gun and fire immediately in an emergency.

TIME

TIME You could argue the Minimoog did far more for music , or that the Fairlight was cooler, but visit average U.S. households from the 1980s forward and you're most likely to encounter the Clavinova. Yamaha's popular digital piano married ..