You can use that circuit to drive a relay of 12 V with a trigering signal of 5V. It uses 2 diodes 1N4002, 1 transistor 2N3904 and two resistors.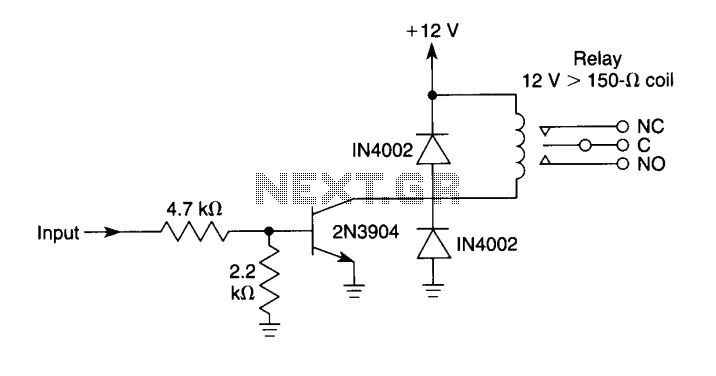 By changing the resistors value you can change the input triggering voltage.
Recommended videos
How To Make A Simple Relay Circuit

Simple Transistor relay circuit | Transistor as a switch

The easiest LATCHING RELAY CIRCUIT to understand ever! Both theory and practical explained.
News
Yahoo Finance

Yahoo Finance at CES 2017"The addition of this 40-watt, highly differentiated, ultra-high power wireless charging capability to Semtech's LinkCharge platform makes our robust and scalable wireless charging available for products o

GlobeNewswire (press release)

and New Wireless Charging Platforms at electronica07, 2016 (GLOBE NEWSWIRE) -- Semtech Corporation (Nasdaq:SMTC), a leading supplier of analog and mixed-signal semiconductors, will feature a robust selection of platforms that enable connect

GlobeNewswire (press release)

at 2016 China LoRa IoT SummitNANJING, China, Oct. 17, 2016 (GLOBE NEWSWIRE) -- Semtech Corporation (Nasdaq:SMTC), a leading supplier of analog and mixed-signal semiconductors, joined ZTE Corporation, a major international provider of teleco

GlobeNewswire (press release)

CAMARILLO, Calif., Sept. 29, 2016 (GLOBE NEWSWIRE) -- Semtech Corporation (Nasdaq:SMTC), a leading supplier of analog and mixed-signal semiconductors, today announced it will attend and showcase its LoRa® Wireless RF at the sixth ...

GlobeNewswire (press release)

Used to Keep Skiers Safe in the Swiss AlpsCAMARILLO, Calif., July 26, 2016 (GLOBE NEWSWIRE) -- Semtech Corporation (Nasdaq:SMTC), a leading supplier of analog and mixed-signal semiconductors, today announced that after a successful trial, T

TelecomEngine

"In order to serve the expected needs of companies using LoRa, our team developed groundeaking to leverage the full potential of IoT. Adding geolocation to end nodes without increasing the bill of material or draining the batteries should

GlobeNewswire (press release)

CAMARILLO, Calif., June 16, 2016 (GLOBE NEWSWIRE) -- Mohan Maheswaran, President and Chief Executive Officer of Semtech Corporation (Nasdaq:SMTC), a leading supplier of analog and mixed-signal semiconductors, received a 2016 Multicultural .

GlobeNewswire (press release)

Adopted by Metering Companies throughout ChinaCAMARILLO, Calif., June 02, 2016 (GLOBE NEWSWIRE) -- Semtech Corporation (Nasdaq:SMTC), a leading supplier of analog and mixed-signal semiconductors, announced today that its LoRa™ RF wire

GlobeNewswire (press release)

Selected for Advantech's M2.COM Internet of Things Sensor PlatformCAMARILLO, Calif., May 25, 2016 (GLOBE NEWSWIRE) -- Semtech Corporation (Nasdaq:SMTC), a leading supplier of analog and mixed-signal semiconductors, today announced that Adva