| | | | |
| --- | --- | --- | --- |
| Battery-Operated Black Light Circuit | | | |
The battery-operated black light uses a U-shaped, unfiltered, black-light tube, which requires approximately 250 Vac to operate. To create the 250-Vac 6-V battery, the circuit uses a one-transis-tor blocking oscillator that drives a ferrite inverter transformer. A blocking oscillator turns itself off after one or more cycles. In this circuit, it consists of CI, PI, Ql, Rl, and Tl. The oscillations are sustained because the base of Ql is connected to one of the windings on Tl. Transformer Tl is a step-up transformer that consists of a ferrite core, which has a few turns on the primary and many turns on the secondary.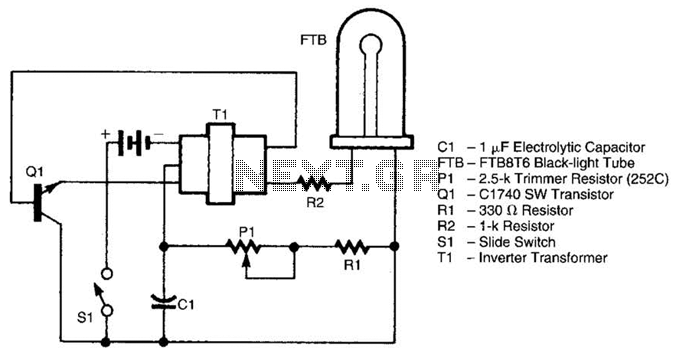 The oscillating (ac) output of Ql is fed to Tl, which, because of its large turns ratio, converts the low-voltage signal into a high-voltage alternating current, which is coupled through resistor R2 to the black- light tube. Resistor Rl and trimmer resistor PI limit the current flowing through the circuit. As the control on PI is rotated, more current flows in the circuit, producing a brighter light output.