| | | | |
| --- | --- | --- | --- |
| Easy street light control circuit | | | |
Pi is a good light can throw white moving lights circuit, it has a high sensitivity, stable performance and anti- interference good performance characteristics. Daytime photosensitive resistor RI.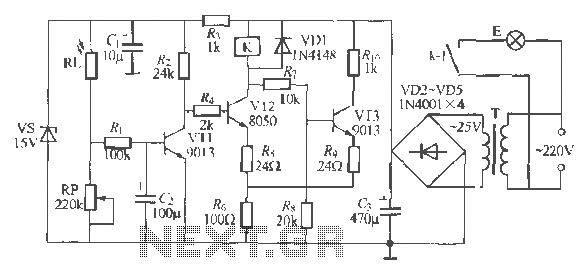 Illuminated by natural light exhibits low resistance, the transistor VT1 conduction, its collector is low, so the emitter-coupled trigger off the VT2, VTZ turned on. Relay K is not action, not bright lights E. Evening dark to a certain extent , due to RI. Feeling light line weakened resistance becomes large, the current is insufficient to sustain VT1 conduction, VT1 collector output provider level, emitter-coupled trigger flip that wr2 conduction, VT3 cutoff relay K close friends, close contacts kl road UE lit hair light. RP can change the electrical adjustment of the foot light control from the control power, so lights live under appropriate light sculpture made of light into electrical light feet. , (J composition under scrambling pulse snubber circuit to prevent short-term exposure to light at night or day deciduous H, fly paper and other short-term occlusion Taipa prime the circuit malfunction, T use 220V / 25V, 5VA quality power transformer, when requested L Q Oh no heat .K energized sheet j JQX-] 3F, DC24V contact capacity AC, 220V, io / rfJ in power electromagnetic relays.