| | | | |
| --- | --- | --- | --- |
| Incandescent switching circuit | | | |
Incandescent is a two-wire connection Life Extension open curse, i A warm-up time than its H K, so scorpionfish life bubble E is quite pregnant. After closing the Ji Guan S, 220V AC only negative 3F week by VD1,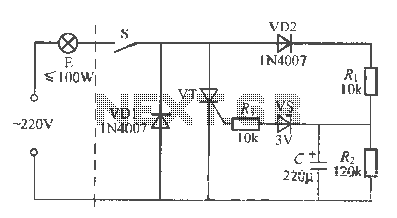 S E energizing the lamp made of light, this time for the semi-pressure warm-up state. AC positive half cycle through the VD2 and R. ., R dividing the capacitor (- charging until the voltage across C L rose to more than 3V , it will be behind the breakdown voltage regulator tube vs thyristor VT opened, then only Mou piezoelectric light bulb E electricity. Half way press Warm-up time mainly by the regulator and vs value of the capacitor C determines the capacity of the data when asked preheat icon about 2s .VT can trigger current small micro-way thyristor trigger, such as 2N6565, MC, R100 -type 8 etc. .vs is 3V, 1 / 2W Zener diode. no special requirements other components.