| | | | |
| --- | --- | --- | --- |
| LED operates as light sensor | | | |
Using a simple 741 amplifier connected as a current-to-voltage converter with the LED as the current source, the voltage at the output is proportional to incident light. The junction is Q biased only by the difference between the output summing node junction potential and ground, preventing the possibility of reverse breakdown. The photon-generated current equals the short-circuit current of the junction, which is linearly related to incident light.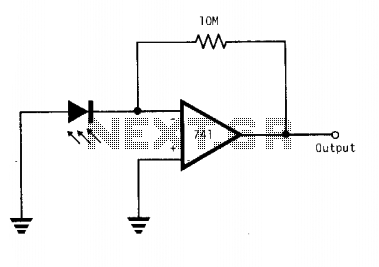 The sensor requires a level of incident illumination that depends on the degree of opacity of the LED Fig. 51-5 package.