| | | |
| --- | --- | --- |
| Continuity tester for pcb | | |
The continuity tester is for tracing wiring on printed circuit boards. It only consumes any appreciable power when the test leads are shorted, so no On/Off switch is used or required. The applied voltage at the test terminals is insufficient to turn on diodes or other semiconductors. Resistors below 50 ohms act as short circuit; above 100 ohms as open circuit. The circuit is a simple multivibrator—Tl and T2, which are switched on by transistor T3. The components in the base of T3 are Dl, Rl, R2, and the test resistance.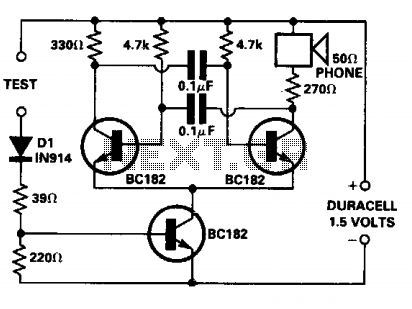 With a 1.5 volt supply, there is insufficient voltage to turn on a semiconductor connected to the test terminals. The phone is a telephone earpiece but a 30 ohm speaker would work equally as well.