| | | | |
| --- | --- | --- | --- |
| Servo tester with PIC12F675 | | | |
This is a simple servo tester which will comprehensively test the capabilities of almost any modern servo. It has two pushbuttons, CENTRE and SWEEP and a potentiometer which works as follows: - CENTRE Does exactly that, centers the servo, afterwards the potentiometer determines position. - SWEEP Sweeps the servo back and forth at a rate determined by the potentiometer setting. The PIC uses its internal timer to set up a constant frame duration of 20ms and the on/off ratio is set by the user.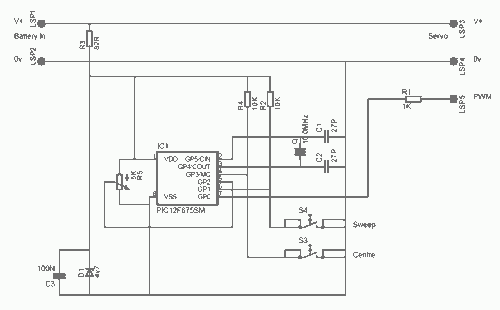 Parts: R1 = 1K R2 = 10K R3 = 82R R4 = 10K R5 = 5K potentiometer C1 = 27pF C2 = 27pF C3 = 100nF D1 = 4,7V zener diode Q1 = 10MHz crytal IC1 = PIC12F675
Recommended videos
pic 12F675 Controlling a servo motor

PIC12F675 Learning Project: Electronic Code Lock
News
iStreetWire

Johnson & Johnson (JNJ) failed to extend gains with the stock declining -0.61% or $-0.73 to close the day at $118.71 on light trading volume of 6.3M shares, ...

Seeking Alpha

The company offers under the and name and development tools to enable system designers to program for specific applications. MCHP was founded in 1989 and is headquartered in Chandler, Arizona.

Barron's (blog)

TWN Shares of analog chip maker Microchip Technology (MCHP) are up $5.22, or 9%, at $61.85, building upon last night's after-hours gains, after the company yesterday afternoon beat Q2 revenue and profit expectations, and forecast this quarter

iStreetWire

iStreetWire It also provides development tools that enable system designers to program for specific applications; analog, interface, mixed signal, and timing products comprising power management, linear, mixed-signal, high-voltage, thermal&n

Microchip Technology Incorporated (NASDAQ:MCHP)

Markets Daily

The Company's portfolio consists of specialized 8-bit, 16-bit, and 32-bit and 16-bit dsPIC digital signal controllers, which feature on-board Flash (reprogrammable) memory technology. In addition, the Company offers a oad

Electronic Design

Electronic Design a Way to Online Development1) ings cloud-based development tools to developers. It is a complete MPLAB X integrated development environment (IDE) environment. This includes debugging hooks to local devices. There are s

EE Times

EE Times 15) announced a new cloud-based integrated development environment (IDE) for the company's . According to Microchip (Chandler, Ariz.), the free MPLAB Xpress cloud-based IDE is the easiest way for users to get started with MCUs,&

Market Realist

According to research firm Gartner (IT), Microchip (MCHP) reclaimed the top position in terms of revenue in the 8-bit segment in 2014. The company also grew its market share in 8-bit, 16-bit, and 32-bit multipoint control units (or MCUs

ElectronicsWeekly.com

ElectronicsWeekly.com Add to Bookmarks. By Richard Wilson 25th June 2014. Microchip adds data encryption to . Microchip has tuned its eXtreme Low Power (XLP) range with increased data protection capabilities. Recommended Articles ..
Components & Modules Datasheets