| | | | |
| --- | --- | --- | --- |
| A SPECIAL INTERFACE Joystic ( 68HC11A1) | | | |
Using the software during flight simulation models of planes: REAL-FLIGHT, we first chose a housing of any transmitter empty direct connection potentiometers innings. However this is not good because, first races of the potentiometers are only 90 degrees, which makes precision control worse, but mostly we could not have the opportunities SUPERTEF: the exponential , couplings, mixing. Moreover, for training room when it rains or sale, its better to keep feelings of the issuer field using usual. The JOYTEF plugs instead of the normal HF platinum which has the exact dimensions. He draws his power and the signal sequence that decodes and sends it to the connector of the PC game via a flat cable 10 son. We have added a more noteworthy: The inverters of lanes 6 and 7 allow the control of digital inputs with no additional switch.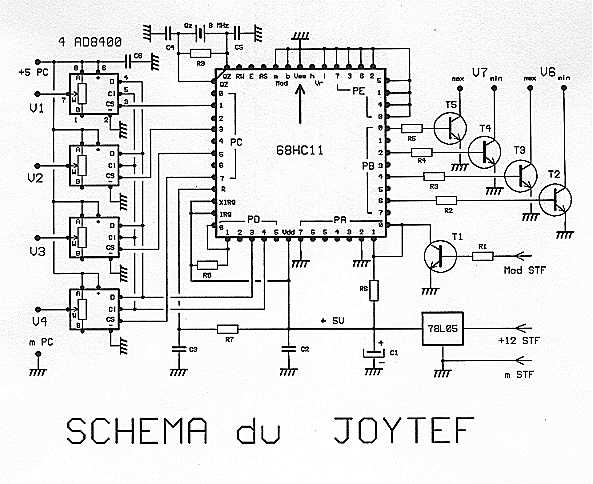 The 68HC11A1 operates in BOOTSTRAP by lines drawn at PD0 and PD1 + by R8. The operating program may then reside in the 512 bytes of EEPROM. It is very comfortable. The sense sequence 0 of SUPERTEF is put in the right direction by T1 (positive pulse) and above all reduced to the level 0-5V. It is applied to the capture inputs PA0 and PA1. Captures the rising edges PA0 and PA1 descendants. Time measurement is done under interrupt. Times and channels are measured in cycles ?C (½ ?S). So we get 2 times the length microseconds. And 1.5 ms at neutral gives 3000. This value is divided by 8 then deduced 248 3000 / 8 - 248 = 127, which corresponds to the central value of the range 8-bit (0-255) The 7 channels are well codified, giving a value from 0 to 255 when the track goes round mini Max is from 1000 to 2000 microseconds. If this range is exceeded, the software disables the overflow. The binary outcomes of the first 4 channels are transmitted in digital potentiometers, marvels that do the same thing ... but the mechanical model electronically. The models chosen because available and fairly cheap have a value of 100 k W . These are AD8400 from Analog Devices. They are programmed in serial mode, SPI, through a sequence of 10 bits. (Both 0 and 8-bit value, MSB first). The signal "CS" can choose among 4 AD8400. This is the PC port that handles this switch. The data is sent by PD3 and the clock signal required by PD4. This...