| | | | |
| --- | --- | --- | --- |
| Furnace Fuel Miser Circuit | | | |
A timer (LM555CN) and decode counter is used to generate duty cycles from 10% to 100% to control the time a heating system can operate. V2 is a decode counter that can be switched from 10% to 100% duty cycle. V3A and form a latch that drive Al, LED1, and V4. The triac TRI is used as an ac switch, in series with the thermostat that controls the heating system. Electric-heating systems thai do nut contain a low-current thermostat (as in the previous installation), use a heavy-duty thermostat that directly feeds current to the heating element.For such systems, it will be necessary to install a heavy-duty relay (Kl in this example) to control the heavy heating-element current.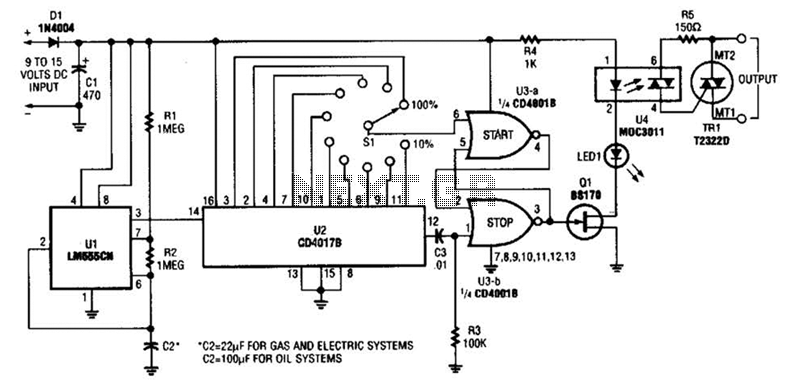 Some oil-fired systems use three-wire thermostats to control the operation of the burner motor and ignition system by activating a relay. This is a typical installation for such systems.