| | | | |
| --- | --- | --- | --- |
| 2N2222 Crystal Oscillator | | | |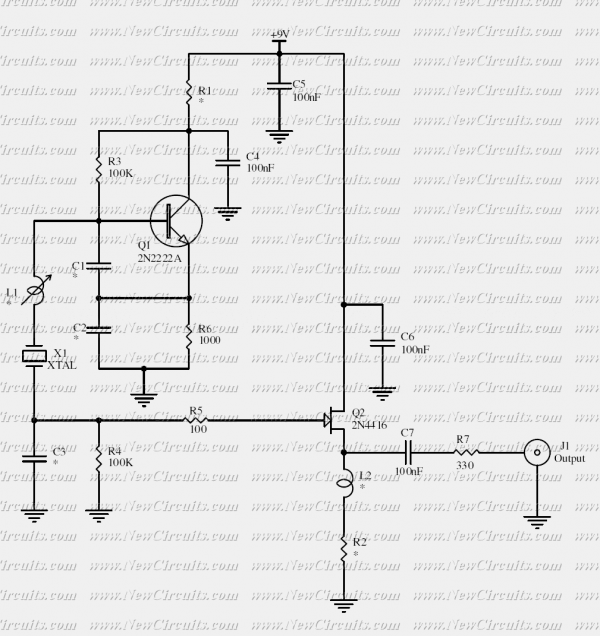 C3 may be reduced for larger output voltage or to allow lower drive level or it may be increased when lower output levels are desired. The 1k emitter resistor may be replaced with a choke when using overtone crystals. Select the choke to resonate with C2
Recommended videos
Electronic Basics #17: Oscillators || RC, LC, Crystal

Crystal Oscillator Circuit

Recovering Silver tabs from Crystal Oscillators
News
MarketWatch

MarketWatch

FOUNTAIN INN, SC--(Marketwired - October 24, 2016) - AVX Corporation AVX, +1.02% a leading manufacturer of passive components and interconnect ...

Business Wire (press release)

Effective immediately, Avnet will offer a oad lineup of standard and custom , precision AT, SC, IT and FC cut , piezoelectric transducers and GPS disciplined modules from Bliley Technologies to customers in the Americas

WhaTech

market growth potentially worth 3.28 billion USD by 2022 dominated by temperature ...The global market is expected to grow at a CAGR of 4.4% between 2016 and 2022 to reach USD 3.28 billion by 2022 from USD 2.40 billion in 2015. Growing dem

MarketWatch

Market Worth 3.28 Billion USD by 2022According to the new market research report on the " Market by Mounting Scheme (Surface Mount and Thru-Hole), Cut (AT, BT, and SC), General Circuitry (SPXO, TCXO, VCXO, FCXO, and OCXO), Application, and

WhaTech

market that is expected to reach USD 2.41 billion by 2020According to the market report "Next Generation Market: By End Use Verticals (Industrial, Automotive, Others), By Product Type (Temperature, Voltage, Frequency Controlled, Othe

Electronic Design

Electronic Design The timing-control circuit for a high-speed analog-to-digital converter (ADC) requires a time-base generator (a ), a voltage-controlled (VCO), and phase-locked loop (PLL) to ensure that the clocks' output closely matches

Digital Journal

Market to Record an Impressive Growth Rate During the Forecast 2024New York City, NY -- (SBWIRE) -- 10/11/2016 -- are the main components of an electronic device. It uses piezoelectricity exhibited by certain . It creates the waveforms whi

Army Technology

Frequency control specialist, Euroquartz has launched a new range of low-power ultra-miniature quartz from Statek designed for use in a wide range of applications, including military communications, battery-operated devices

RF Globalnet (press release)

AS9100 approved frequency control specialist, Euroquartz is exhibiting at Embedded Design Show (19-20 October 2016, Ricoh Arena, Coventry) and ...