| | | | |
| --- | --- | --- | --- |
| 2N2222 Crystal Oscillator | | | |
This crystal oscillator is designed to operate with fundamental crystals with less than 1 mW dissipated in the crystal. The signal current is filtered by the crystal and develops a voltage across a capacitor with about 500 ohm of reactance. The resulting sinewave has low distortion and phase noise. A JFET buffer is included to drive lower impedance loads. Further buffering with an emitter follower and a voltage step-down transformer or matching network is recommended for driving 50 ohm loads.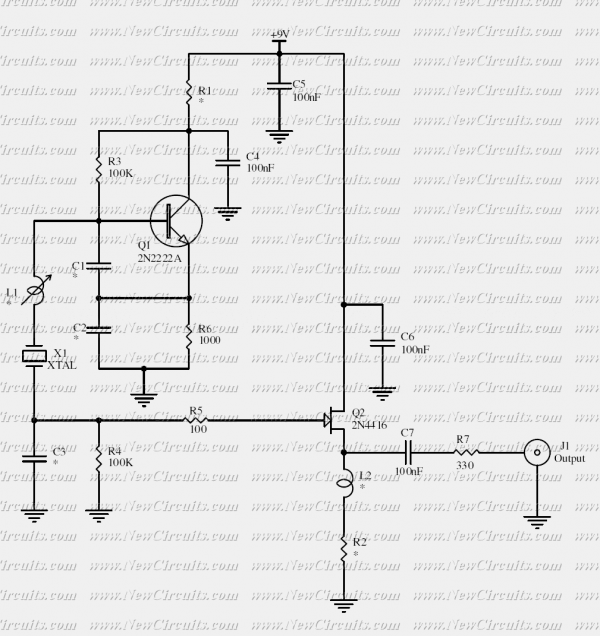 C3 may be reduced for larger output voltage or to allow lower drive level or it may be increased when lower output levels are desired. The 1k emitter resistor may be replaced with a choke when using overtone crystals. Select the choke to resonate with C2
Recommended videos
Electronic Basics #17: Oscillators || RC, LC, Crystal

Crystal Oscillator Circuit

What is an oscillator? Oscillator tutorial in HD!
News
Press Release Rocket

Press Release Rocket Market to Reach USD 2.41 Billion by 2020According to the market research report "Next Generation Market: By End Use Verticals (Industrial, Automotive, Others), By Product Type (Temperature, Voltage, Frequency

ThomasNet News (press release) (blog)

ThomasNet News (press release) (blog) July 27, 2016 - Intended for linear LED lighting and other commercial and industrial coplanar and extended card applications, 70-9159 Series STRIPT™ insulator-less, single 2-piece contacts with lock

Marketwired (press release)

FOUNTAIN INN, SC--(Marketwired - July 25, 2016) - AVX Corporation, a leading manufacturer of passive components and interconnect solutions, has added a ...

SPIE Newsroom

SPIE Newsroom Fully fiber-integrated femtosecond laser systems covering the visible spectrum could take advanced biomedical imaging techniques from the laboratory to ...

New high-performance high-reliability crystal oscillators

Electropages (blog)

Electropages (blog) Designed for use in applications that demand high reliability, two new ranges of Euroquartz Mil-spec are now available from Saelig. Available in industry-standard dual-in-line packages, the new EQXO-1000BMK and EQXO-3

ECNmag.com

ECNmag.com Provide High ReliabilitySaelig Company, Inc. has announced two new ranges of military specification , designed for use in applications that demand high reliability. Available in industry standard dual-in-line packages, the new

WhaTech

market to 2022 are amongst the core components of any electronic device. They use the property of piezoelectricity, which is exhibited by certain , most notably quartz, to create waveforms with accurate frequency based on the mechanical

Electronics EETimes (registration)

Electronics EETimes (registration) Euroquartz (Crewkerne, UK) aims the military specification for applications that require high reliability, tight frequency caliation tolerance and high stability over a wide temperature range. Frequency

RF Globalnet (press release)

Frequency control specialist, Euroquartz has launched two new ranges of military specification designed for use in applications that require high reliability. Housed in industry standard 14-pin DIL (dual-in-line) packages, the new ...<