| | | | |
| --- | --- | --- | --- |
| Crystal oscillator provides low noise | | | |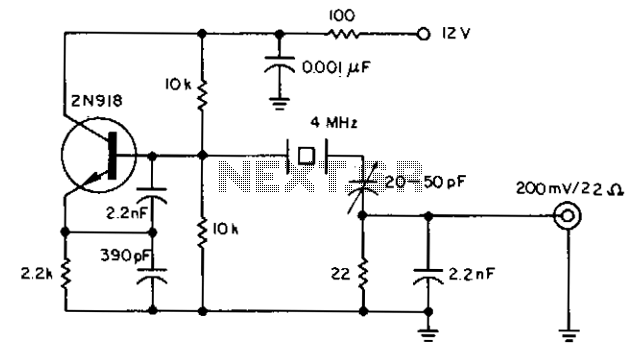 The noise bandwidth is limited to less than 100 Hz. All higher harmonics are substantially suppressed—60 dB down for the third harmonic of the 4-MHz fundamental oscillator frequency.
Recommended videos
Electronics: Introduction to LC Oscillators circa 1974 US Air Force Training Film

Crystals Go to War 1943 Reeves Sound Laboratories; Piezoelectric Quartz Crystals for Radio
News
IndustryARC Research

GlobeNewswire (press release)

Market Surges With Rising Health Concerns - IndustryARC ResearchHyderabad, India, March 24, 2017 (GLOBE NEWSWIRE) -- The report "Next Generation Market: By End-Use Verticals (Industrial, Automotive, Others), By Product Type (Temperat

Industry Forecast to 2025

Rising Espousal of Fostered Automotive Electronics ...

Yahoo Finance

NewsMaker Market - Industry Forecast to 2025 - Rising Espousal of Fostered Automotive Electronics ...The Global Market is poised to grow at a CAGR of around 5.2% over the next decade to reach approximately $3.98 billion by 2025. This in

Radio magazine

Radio magazine Special designs and special applications will need special frequency . You can't do everything with a synthesizer, and indeed, the phase noise of a /multiplier chain is generally better than all but the best synthesizers

Radio World

Radio World Radio World - The definitive source for information on radio technology, radio industry news, management techniques, applications-oriented engineering and ...International Crystal Will Close | Radio magazineRadio magazine

ARRL

Manufacturing Going Out of BusinessInternational produces RF control devices — quartz , , QCM , filters, TCXOs/VCTCXOs, and precision . Royden R. Freeland Sr. founded International in 1950, at first operating out of his garage. One

Ars Technica

make their appearance, no blue police box reportedIn any given direction, there is a characteristic length over which the repeats itself. If I were located somewhere in the middle of a and moved in any direction by the characteristic leng

Embedded Computing Design

Micro Crystal now offers oscillators in advanced tiny packages, measuring just 1.2 by 2.0 by 0.7 mm. This hermetically sealed package hosts the IC together with ...

The Republic of East Vancouver

Research Corridor has published a new research study titled "Temperature Compensated Voltage Controlled Crystal Oscillators (TCVCXO) Market – Growth, ...Crystal Clock Oscillators Market Research Report Now Available at ...Th

RF Globalnet (press release)

Mercury Electronics Europe has announced a new range of temperature compensated crystal oscillators (TCXO) that are designed for high accuracy timing ...