| | | | |
| --- | --- | --- | --- |
| High frequency crystal oscillator | | | |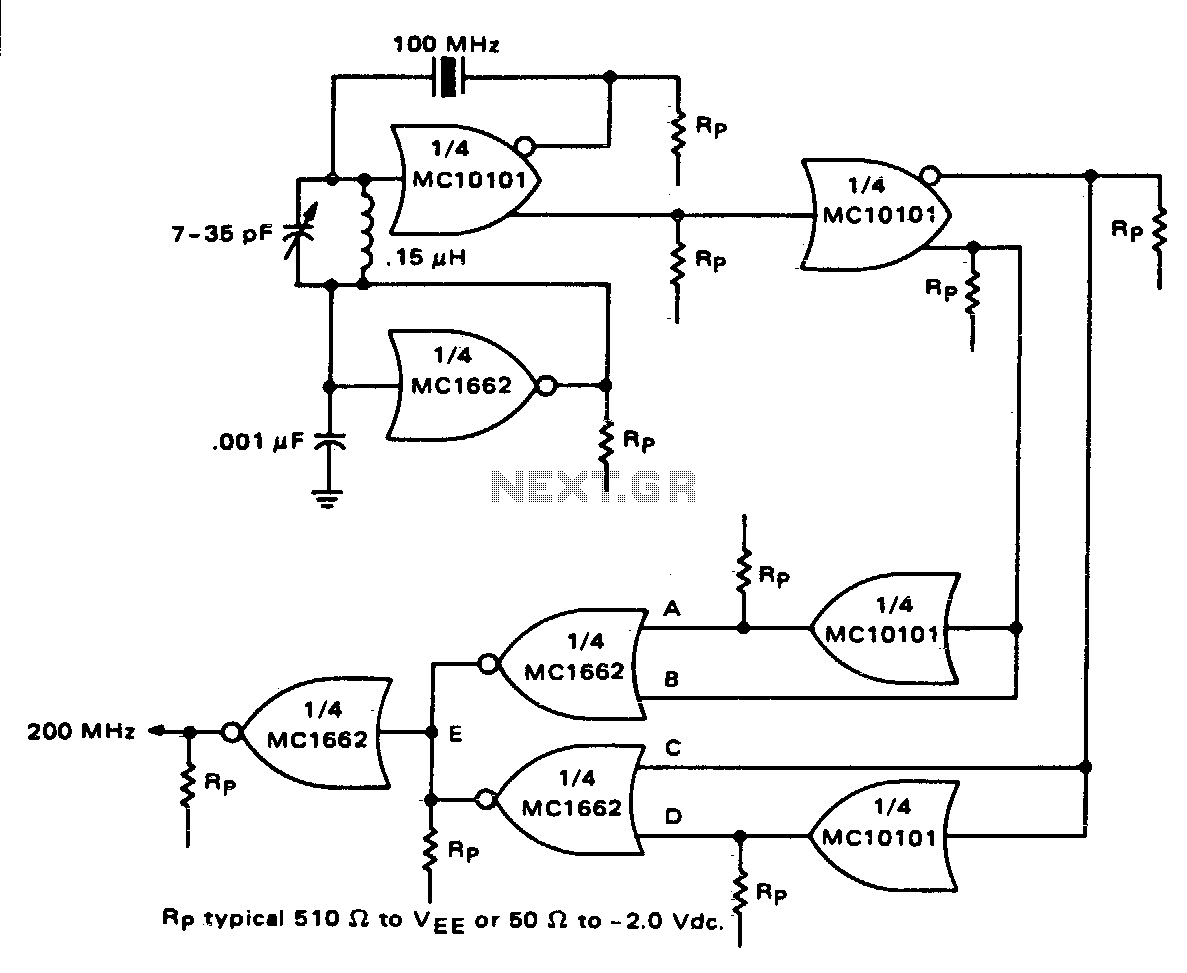 For a 50% duty cycie at the output, the delay to the true and complement 100 MHz signals should be 90°. This may be built precisely with 2 ns delay lines for the 200 MHz output or approximated by the two MC10101 gates as shown.
Recommended videos
Electronics: Introduction to LC Oscillators circa 1974 US Air Force Training Film

TSP #4 - Frequency Generation: Crystals and Ring Oscillators (Part 1/4)

Crystal Oscillator Circuit
News
Lexology (registration)

Lexology (registration) Technology Properties argued that the district court erred by limiting an "entire " to one "whose frequency is not fixed by any external ." According to Technology Properties, the claimed invent

Red Dirt Report

Red Dirt Report ? (Maktub)At ICM, the produced RF control devices — quartz , , QCM , filters, TCXOs/VCTCXOs, and precision , according to the article. Ham radio operators, it said, would have to look elsewhere. I thought about the "

Phys.org

Phys.Org

Phys.Org A team of engineering researchers from UCLA and OEWaves has developed an optical micro-oscillator, a key time-keeping component of clocks that could ...

NDM Columns

NDM Columns Crystal Clock Oscillators The Crystal Clock Oscillators research report by QY Research represents an inclusive evaluation of the Global Crystal Clock Oscillators ...Global Crystal Oscillator Market Expecting Worldwide Growth

MarketWatch

According to the new market research report "Timing Devices Market by Type ( (MEMS and ), Resonators, Clock Generators, Clock Buffers, and Jitter Attenuators), Material (, Ceramic, and Silicon

HiTechReporter

Market 2017 Bliley Technologies Inc ...Global Temperature Compensated Voltage Controlled Market key Manufactures are Bliley Technologies Inc., Filtronetics Inc., IQD Frequency Products, Ractron Electronics, QVS Technologty. The market repo

HiTechReporter

HiTechReporter Global Crystal Clock Oscillators Market Major Manufacturers are Silicon Labs, Ecliptek, Kycocera Crystal, Aacon, IQD Frequency Products. The market report ...

MilTech

Clock Market 2017-2021: CAGR, Drivers, Opportunities, Challenges, Manufacturers & Forecast Clock Market Report Forecast 2017-2021 is a respected source of insightful data for business planners. Global Clock Market provides the indus

GlobeNewswire (press release)

According to the report, the global crystal oscillator market accounted for around USD 2.60 billion in 2016 and is expected to reach approximately USD 3.41 ...