| | | | |
| --- | --- | --- | --- |
| Crystal-controlled-reflection-oscillator | | | |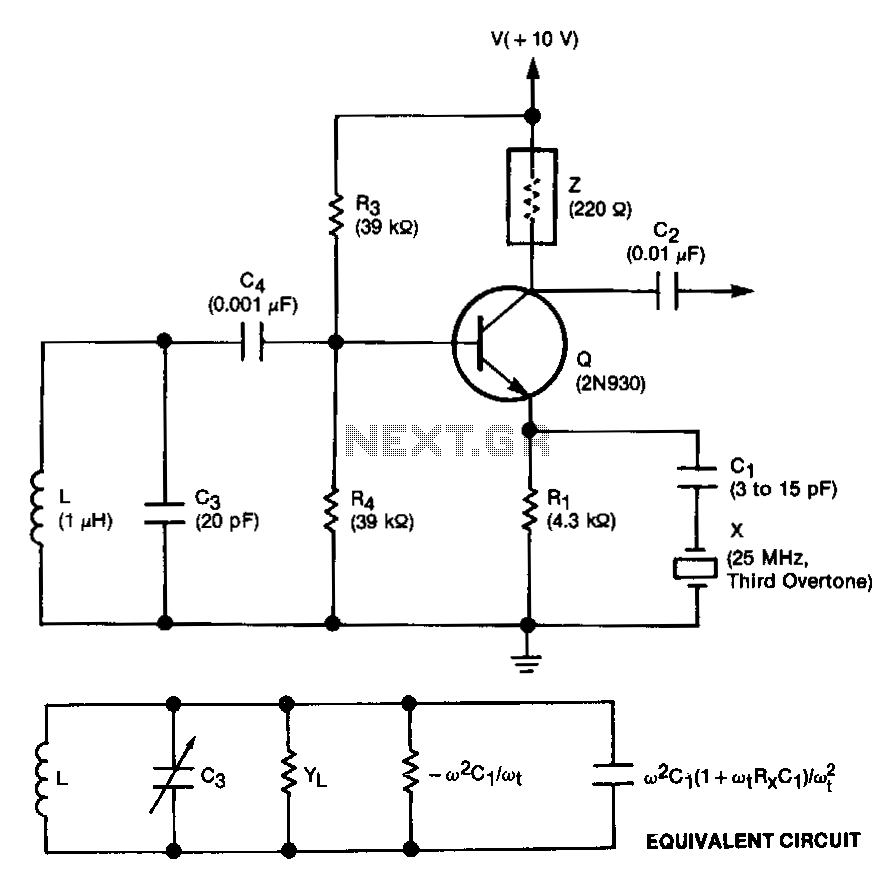 The emitter of transistor Q is connected with variable capacitor Cl and series-resonant crystal X. The emitter is also connected to ground through bias resistor Rl. The base is connected to the parallel combination of inductor L and capacitor C3 through de-blocking capacitor and C4 and is forward biased with respect to the emitter by resistors R3 and R4. Impedance Z could be the 220-0 resistor shown or any small impedance that enables the extraction of the output signal through coupling capacitor C2. If Z is a tuned circuit, it is tuned to the frequency of the crystal.
Recommended videos
Electronic Basics #17: Oscillators || RC, LC, Crystal

Electronics: Introduction to LC Oscillators circa 1974 US Air Force Training Film

Crystal Oscillator Circuit
News
Satellite PR News (press release)

Global Crystal Oscillator Market analysis is provided for the World markets including development trends, competitive landscape analysis, and key regions ...

TechAnnouncer (press release) (registration) (blog)

TechAnnouncer (press release) (registration) (blog) The accuracy of a semiconductor clock is determined by a time base which typically has a 32.768 kHz . These are very cheap but fall behind in terms of timekeeping, thereby reducing the acc

WhaTech

With rising demand in different platforms, Global Next Generation Crystal Oscillator Market is estimated to grow at a CAGR of 6.25% with total revenue of $2.41 ...

Marketwired (press release)

FOUNTAIN INN, SC--(Marketwired - Feuary 09, 2017) - AVX Corporation ( NYSE : AVX), a leading manufacturer and supplier of passive components and ...

ThomasNet News (press release) (blog)

ThomasNet News (press release) (blog) come with DSP technology for precise temperature control.NDK's NH20M20LB and NH37M28LK High-Precision are designed to raise the bar for frequency accuracy in base stations for mobile communications

Hackaday

If you make crystal radios, you've probably got a few crystal earpieces. The name similarity is a bit coincidental. The crystal in a crystal radio was a rectifier (most ...

Satellite PR News (press release)

Satellite PR News (press release) The report "Next Generation Crystal Oscillators Market: By End Use Verticals (Industrial, Automotive, Others), By Product Type (Temperature, Voltage, Frequency ...

PR Newswire (press release)

According to a new report published by Allied Market Research, titled, "Crystal Oscillator Market-Global Opportunity Analysis and Industry Forecast, 2014-2022," ...

MarketWatch

According to the new market research report on the "Crystal Oscillators Market by Mounting Scheme (Surface Mount and Thru-Hole), Crystal Cut (AT, BT, and ...