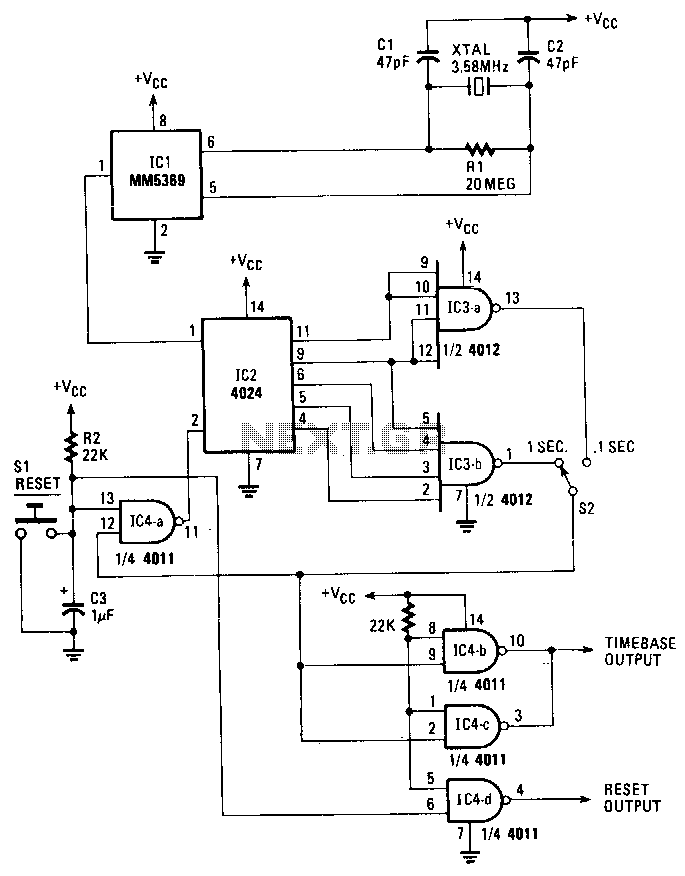 Depending on which position pulse-select switch S2 is on, one of those gates will provide an output/reset pulse of the selected width.
Recommended videos
Electronic Basics #17: Oscillators || RC, LC, Crystal

Oscillator Crystal Test Circuit

Crystal Oscillator Circuit
News
ThomasNet News (press release) (blog)

ThomasNet News (press release) (blog) October 21, 2016 - Supplied in 3.2 x 2.5 mm package, TXF temperature compensated (TCXO) offers LVCMOS, LVPECL, and LVDS output with frequency range of 10 MHz to 1.4 GHz. Standard temperature stability is

EconoTimes

The Company has a well–established global reputation for continually developing and delivering high–performance precision and timing solutions. "Kyocera Device holds a large market share with its product line of miniaturized

WhaTech

market growth potentially worth 3.28 billion USD by 2022 dominated by temperature ...The global market is expected to grow at a CAGR of 4.4% between 2016 and 2022 to reach USD 3.28 billion by 2022 from USD 2.40 billion in 2015. Growing dem

MarketWatch

Market Worth 3.28 Billion USD by 2022According to the new market research report on the " Market by Mounting Scheme (Surface Mount and Thru-Hole), Cut (AT, BT, and SC), General Circuitry (SPXO, TCXO, VCXO, FCXO, and OCXO), Application, and

Global agreement for supply of comprehensive range of frequency control products

Electropages (blog)

Electropages (blog) The series temperature-compensated (TCXOs) are designed specifically for applications that require a high stability but don't have either the physical space for or power to drive an oven-controlled (OCXO).

WhaTech

market that is expected to reach USD 2.41 billion by 2020According to the market report "Next Generation Market: By End Use Verticals (Industrial, Automotive, Others), By Product Type (Temperature, Voltage, Frequency Controlled, Othe

Electronic Design

The timing-control circuit for a high-speed analog-to-digital converter (ADC) requires a time-base generator (a ), a voltage-controlled (VCO), and phase-locked loop (PLL) to ensure that the clocks' output closely matches

Army Technology

Frequency control specialist, Euroquartz has launched a new range of low-power ultra-miniature quartz from Statek designed for use in a wide range of applications, including military communications, battery-operated devices

RF Globalnet (press release)

AS9100 approved frequency control specialist, Euroquartz is exhibiting at Embedded Design Show (19-20 October 2016, Ricoh Arena, Coventry) and ...